C – I really can't believe I am going to make an entire week of vegetarian soups and stews.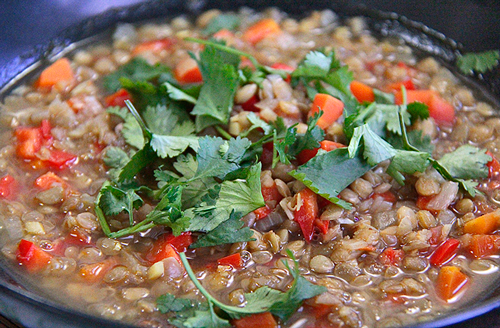 No meat what-so-ever. I really hope I can do this. It's going to be a lot of soup … and no meat. I love meat. But, I have been on a kick of eating less meat, hence last week's warm winter salad week. I am actually enjoying finding creative new recipes that have more vegetables in them.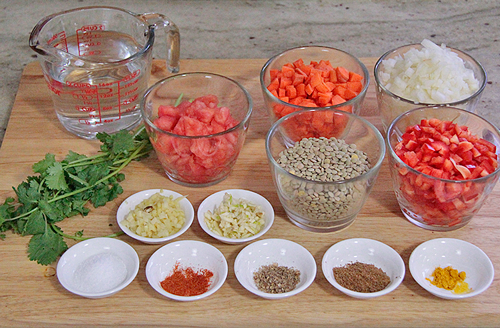 They are really good, too. It also helps that I have been missing the food at the meditation retreats I go to. Weird, I know, but soups like this Moroccan Lentil Soup are really tasty and incredibly filling.

This Moroccan Lentil Soup was one of my first experiences ever of eating vegetarian. I didn't like it much at first. I've grown to like it over the years. It's a cleansing soup. Light and refreshing. It's surprising, since it's a lentil soup. I would have expected it to be heavy and dense.

I love that this soup has so many different textures and flavors. I love that the lentils are cooked perfectly. Not mushy or raw. Just perfect. The vegetables melt in your mouth.

I love the fresh cilantro that finishes off the dish. It really adds a fresh taste to the soup. The spices and herbs really make this a well balanced recipe. The spices are not too over powdering or too spicy, either.

There are a few things you might need to know about this soup. If it isn't seasoned with enough salt, it will be really bland. You won't be able to taste any of the Moroccan spices. Make sure to season enough. Taste as you go.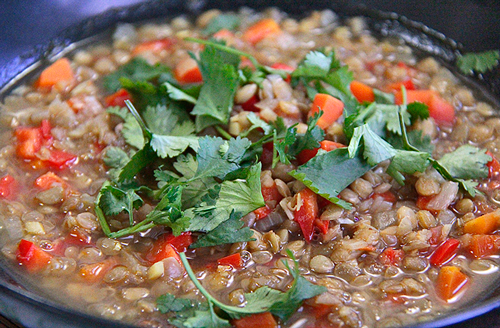 | | | |
| --- | --- | --- |
| Vegetarian Soup and Stew Week: Moroccan Lentil Soup | | |
Prep time: 20 mins
Cook time: 50 mins
Total time: 1 hour 10 mins
Ingredients
1 cup lentils
6 cups cold water
1 Tbsp olive oil
1 medium-size yellow onion, diced
Salt to taste
Cayenne pepper to taste
1 small carrot, diced
1 small red or yellow bell pepper, diced
1 tsp cumin seeds, toasted and ground
½ tsp ground coriander
⅛ tsp turmeric
4 garlic cloves, finely chopped
1 Tbsp grated fresh ginger
½ pound fresh tomatoes, peeled, seeded and chopped
2 Tbsp chopped cilantro
Instructions
Sort and rinse the lentils. place them in a pot with the cold water. Bring to a boil, then reduce the heat and simmer, uncovered, until tender, about 20 minutes.
While the lentils are cooking, heat oil in a medium-size saute pan and add onions, ½ teaspoon salt and a few pinches of cayenne. Cook over medium heat until the onions are soft, 7 to 8 minutes.
Add carrots and bell peppers, another ½ teaspoon salt and all the spices. Cook for 5 minutes.
Add garlic and ginger. Cook for another minute or two.
Add the vegetables and tomatoes to the lentils and their broth.
Cover and cook for 30 minutes.
Season to taste with salt and cayenne.
Garnish each serving with cilantro.
Serve.
Enjoy!
This soup gets better as the days go by. It's a great soup to make a few days in advance. It will last a good while.
If you are looking to start eating more vegan or vegetarian meals, start with this soup. It's delicious and really filling. It's also really easy.
Adapted from: "Fields of Greens: New Vegetarian Recipes From the Celebrated Greens Restaurant" By Annie Somerville.