C – Are we really eating a meal without meat?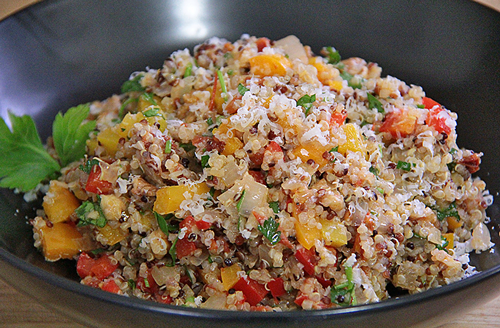 Jim and I looked at each other with a big question mark on this one. We rarely ever go full vegetarian. We did have some leftover cooked meat in the refrigerator. But, it just wasn't appealing. Another glance at each other and the decision was made.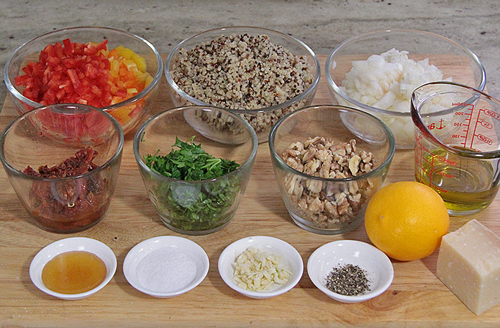 Yup, a full vegetarian meal … for once.

I get scared at these full-on vegetarian meals. Will we be full at the end or will we still want meat? Usually, I can't seem to find the right balance of protein to vegetables in a vegetarian dish. It's hard. I think that's why I can't eat vegetarian very often.

I think this meal has the perfect ratio of protein to vegetable. The quinoa, walnuts and Parmesan cheese have a lot of protein. I was happy. I almost couldn't believe I was eating an entire vegetarian dish. Woohoo!

It was a good and filling dish. The quinoa really filled me up. I loved the crunchy vegetables and walnuts. The flavors were amazing. Salty cheese and oven roasted tomatoes all melted into the quinoa with sweet and lemony flavor of the dressing.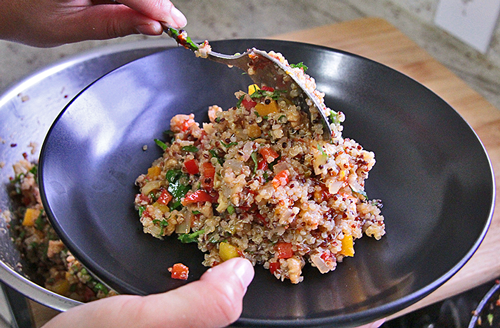 I almost forgot there wasn't any meat in it.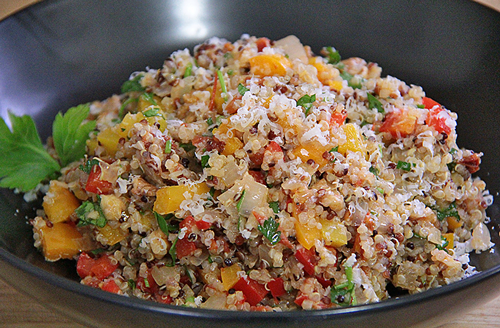 | | | |
| --- | --- | --- |
| Warm Winter Salad: Quinoa Salad with Walnuts and Herbs | | |
Prep time: 15 mins
Cook time: 20 mins
Total time: 35 mins
Ingredients
1 cup quinoa
1¾ cups chicken stock (recipe link below)
1 Tbsp grapeseed oil
1 yellow onion, chopped
3 cloves garlic, minced
¼ cup oven roasted tomatoes, finely chopped (recipe link below)
2 bell peppers (ideally a mix of orange, yellow or red), ¼ inch dice
1 cup walnuts, toasted and chopped
1 cup flat leaf parsley, roughly chopped
½ cup Parmesan cheese, grated
1 Meyer lemon zest and juice
1 Tbsp honey, to taste
Salt and pepper to taste
¼ cup olive oil
Instructions
Rinse quinoa and place in a sauce pan with chicken stock. Bring to a boil, then reduce to low. Cook for 15 minutes or until all liquid has absorbed. Turn off heat and set aside.
Meanwhile, place lemon juice and zest, honey, salt and pepper into a small bowl. Mix well.
Drizzle in olive oil, while whisking until emulsified. Adjust seasoning to taste. Set a side.
In a medium saute pan, add oil and heat on high. Add onions and saute for about 1 minute.
Add garlic and oven roasted tomatoes. Cook until softened. About 1 minute.
Add bell peppers. Cook for 3 minutes until soft, but still has a bite to it. Remove from heat.
Add onion/bell pepper mixture into cooked quinoa.
Add walnuts, parsley, Parmesan cheese. Mix well.
Drizzle in dressing. Mix well.
Serve.
Enjoy!
Chicken Stock recipe
Oven Roasted Tomatoes recipe
At the end of the meal, I was satisfied. To the very last bite. I was proud of myself.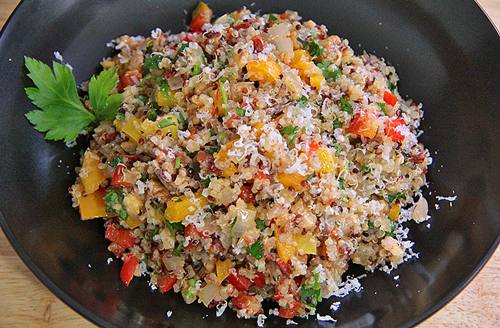 Another vegetarian dish added to the list of things I can make. Yay!