C – Don't rush this recipe.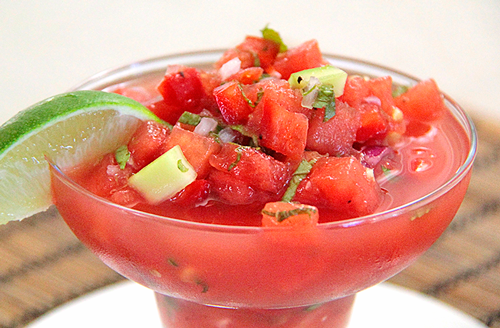 It gets better as it ages for a couple of days. The first day, it tasted Ok. It was a bit too sweet and the ingredients didn't blend well. The second day was a lot better. It was like night and day.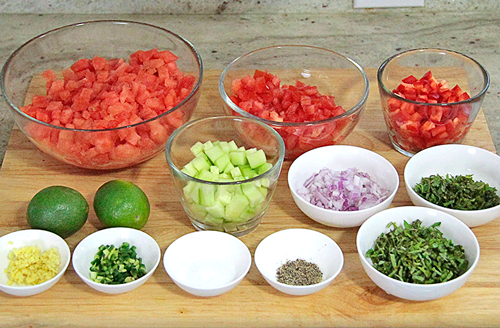 Wow. Everything blended well together. I couldn't stop eating it. Not too spicy.

The third day it got spicy. If you really like it a bit spicy, wait three days.
I couldn't wait. So, I ate a bowl every day this week. It's so refreshing and delicious. I couldn't believe I was getting full from just watermelon gazpacho.

I loved how the vegetables were still crispy, even after soaking in the soup for days. They felt so fresh. It felt like I was eating a bowl of Summer.
I really recommend making this on a hot summer's day. It will be really refreshing.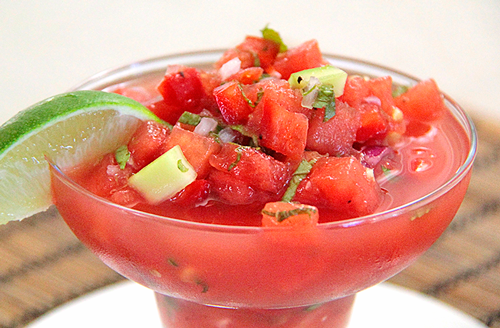 | | | |
| --- | --- | --- |
| Farmer's Market Week: Watermelon Gazpacho | | |
Prep time: 10 mins
Cook time: 24 hours
Total time: 24 hours 10 mins
Ingredients
4 cups roughly chopped seedless watermelon, plus 6 cups diced
2 cups tomatoes, diced
1 cup cucumber, peeled and diced
½ cup red bell pepper, diced
3 Tbsp basil, finely chopped
3 Tbsp lime juice
3 Tbsp fresh mint, chopped
2 Tbsp red onion, diced
2 tsp, ginger, minced
1 tsp, grated lime zest
½ tsp, green serrano chile, minced
Lime wedges for garnish
Salt and pepper to taste
Instructions
Puree 4 cups of watermelon in a blender until liquified.
Pour into serving bowl. Stir in the 6 cups diced watermelon and all the remaining ingredients. Mix well.
Cover and chill soup for at least 3 hours. Preferably overnight to allow flavors to fuse and vibrant red color develop.
Serve chilled.
Enjoy!
Just leave it in the refrigerator for a few days and have some when you feel like it.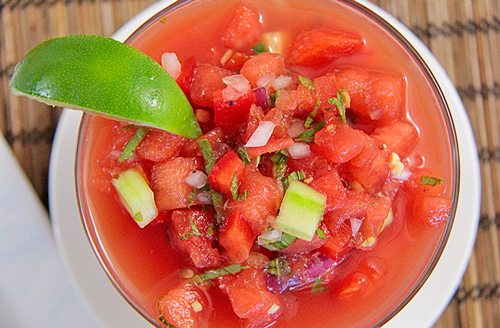 It lasts up to a week in the refrigerator. Enjoy!
Adapted from: Vegetarian Times Magazine, June 2014