C – Growing up Cambodian (Khmer), I ate a lot of meat.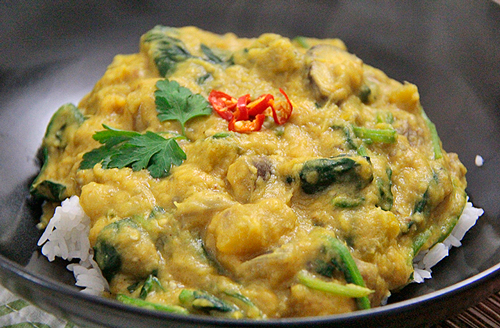 There weren't too many vegetarian meals. If there were, we would ask for meat. When I started meditating, I asked my dad if he could try making vegetarian Khmer food. He wasn't sure it could be done.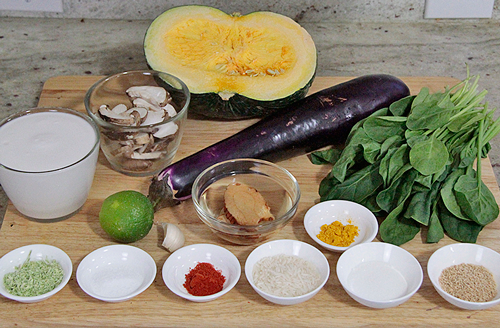 The national ingredient in Cambodia is pickled mud fish. It was in many of the dishes we ate. It's definitely not vegetarian friendly.

Well, that didn't give me many chances of figuring out what to eat, if I ever wanted to be a Khmer vegetarian.

One year, my dad and I stumbled upon a great mediation course. There was vegetarian Khmer food being served. We were both shocked. Even more surprising was that it was the best Khmer food I had ever eaten. Even the non-Cambodian mediators were amazed at how wonderful the meals were.

My mind was opened. I really wanted to find the recipes. Unfortunately, they were top secret. I would have to be a cook in the kitchen to know what the recipes were. Luckily, my friend the Internet helped me find this recipe.

This stew uses coconut milk, instead of pickled mud fish to make the base. Instead of fish sauce, mushroom powder is added to enhance the flavors. I really didn't miss either in the dish.

The taste test was great. It actually tasted like the original stew, just without the meat. I actually prefer it to the one with the meat. The broth is nice and thick. There is a great sweet, salty, spiciness in the dish. The mushrooms added a complex texture that almost made it feel like meat. I loved the simple vegetables in the stew too.

We usually use Kaffir lime leaves in the stew, but I couldn't find any in Sacramento. I just substituted lime zest. It's not quite the same, but it added a similar quality.

It was a great stew and much easier to make than the meaty version. I only spent 30 minutes cooking this versus the usual hour cooking it with chicken.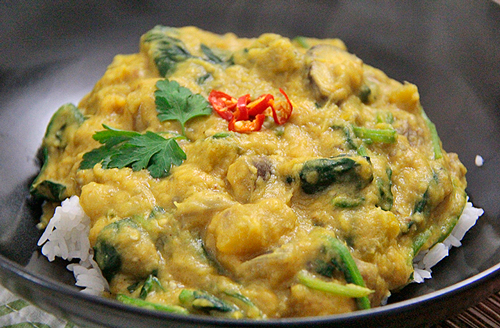 | | | |
| --- | --- | --- |
| Cambodian Vegetable Stew: Samlor Kor Ko | | |
Prep time: 20 mins
Cook time: 30 mins
Total time: 50 mins
Ingredients
1 Japanese egg plant, cut into bite size chunks
4 fresh shiitake mushrooms, sliced thinly
2 cups fresh pumpkin, peeled, seeded and cut in cubes
2 slices dried or fresh galangal, rehydrate
1 lime, zested, or a Kaffir lime leaf
1 Tbsp minced lemon grass
½ tsp turmeric powder, or 3 pieces fresh turmeric roots
½ tsp paprika
1 cup coconut milk
2 cups water
1 clove garlic
5 oz. frozen or fresh spinach, chopped
1 Tbsp mushroom powder (optional)
1 Tbsp sugar
2 Tbsp roasted rice powder (steps in the instructions)
1 tsp salt
Instructions
Place 2 tablespoons of white rice into a shallow pan. Slowly toast on medium-low heat until golden brown.
Place toasted rice into a spice grinder and grind until fine. Set aside.
Put coconut milk, water, lemon grass, galanga, lime zest, turmeric, paprika and garlic in a blender. Blend well.
Place eggplant and the shiitake in a soup pot. Pour the mixed spices sauce over, and cover the pot with lid. Simmer for 10 minutes.
After 10 minutes, add pumpkin. Cover and cook until the pumpkin is tender.
Add spinach and cook until tender.
Season with sugar, salt, mushroom powder and roasted rice powder. Stir well.
Serve hot with rice or hot bread.
Enjoy!
I guess I will have to try to find more Khmer vegetarian recipes.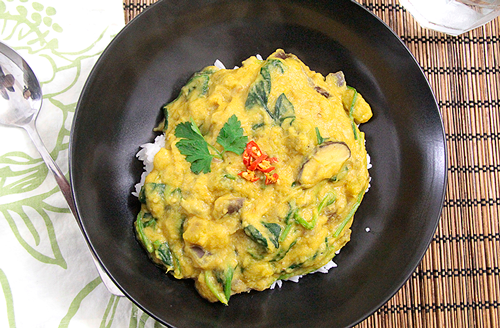 Maybe one of these days I will volunteer for a Cambodian mediation retreat and learn to cook vegetarian style.
Adapted from: http://www.cambodia-cooking-class.com/recipes-2.htm