Update and Redux: C — It's still a challenge to figure out the time for these molten cakes. My little toaster oven ranges from 10 to 13 minutes. But, I still love the overall taste of this recipe. It's simple and the mix can be made ahead of time. It's great to make for Valentine's day for two or many people.
C – Maybe 12 minutes. Nope, undercooked.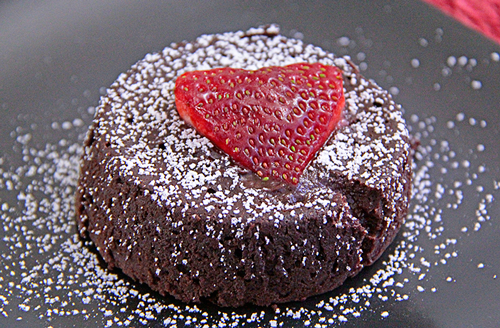 Maybe 14 minutes. Nope, overcooked and slightly burnt. Maybe 13 minutes … almost, but it's still a little burnt. Maybe a smaller ramekin size, or maybe a bit bigger and then change the temperature and time again.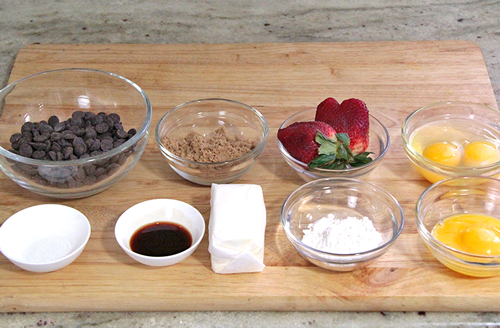 It's been like this for weeks. I am surprised my boyfriend hasn't gotten sick of these cakes yet. Well, there goes the special Valentine's day treat for him.

I still can't seem to get it perfect. I have overcooked and burned it. Some didn't even have the molten part in them. I have undercooked it and made it into a warm pudding (actually, that tasted great). I am still having trouble getting the perfect ratio of cake to molten chocolate.

I think we have had 20 of these cakes in the last month. It's one of his favorite desserts, so I really want to get it right. He loves being the guinea pig. Especially, when it comes to anything with chocolate. It's been a fun date-night adventure for us.

I really have to be patient and not get frustrated when the test doesn't work out well. It's a cheap and easy recipe to do again … and again. We bake it in a small toaster oven, one at a time. We keep changing the time and the temperature.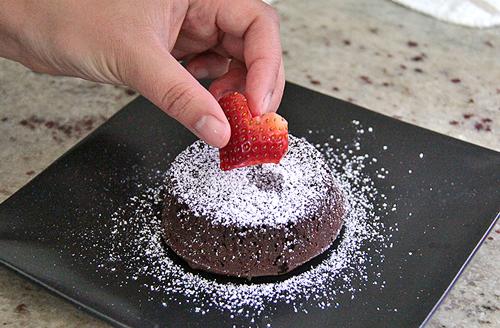 His ideal molten chocolate cake consists of cake that is perfectly cooked all the way around. Not dry or burnt. Chocolate sauce in the middle isn't too sweet, and there's lots of it. It's a challenge to get it all in one recipe. I almost got it. I figured out cooling it in the refrigerator until I was ready to bake was the best technique. Put it in the oven just before you are ready to eat.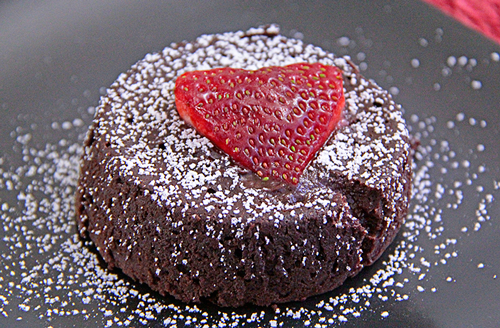 | | | |
| --- | --- | --- |
| Valentine's Week: Molten Chocolate Cake | | |
Prep time: 15 mins
Cook time: 13 mins
Total time: 28 mins
Ingredients
1 stick unsalted butter
6 oz bittersweet chocolate
2 eggs
2 egg yolks
¼ cup dark brown sugar
Pinch of salt
2 Tbsp all purpose flour
1 tsp vanilla
Strawberries for garnish
Powdered sugar for garnish
Instructions
Melt butter and chocolate in a double broiler. Combine well. Set aside.
Place eggs, egg yolk and sugar into a mixing bowl. Blend on medium speed until light yellow.
Carefully fold chocolate into batter. (I did it in three segments to make sure that all the chocolate was incorporated.)
Add in the flour, salt and vanilla. Fold in carefully. Make sure all the flour is incorporated, but don't over mix.
Divide mix into four well greased 3½ inch ramekins.
Place in the refrigerator for at least 30 minutes or longer before baking.
Preheat oven to 325 degrees.
Remove ramekins from refrigerator and bake in oven for 13 minutes, more or less, depending on your taste preference.
Remove from oven and let sit for about a minute.
Pass a knife around the edges. Invert onto a serving plate. Wait 10 seconds before removing the ramekin.
Sprinkle with powdered sugar.
Garnish with strawberries.
Serve.
Enjoy!
It's still not quite right. Am I a perfectionist? But, you should really give it a try. It's a great cake and I love the texture of the gooey molten chocolate and cake combined. My boyfriend's a bit picky. My favorite formula so far has been 325 degrees and 13 minutes. It could be different for you. Give it a try.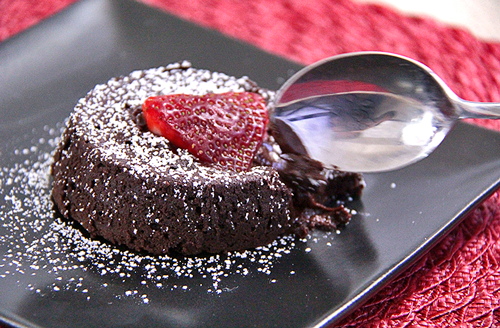 Well, I guess you know what we're doing on Valentine's day. Hope you have a happy Valentine's Day.