C – This English toffee is so addicting.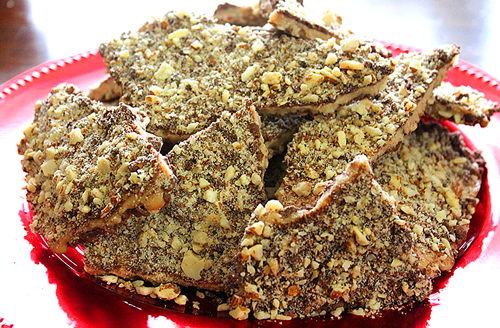 I think it's the best toffee I have ever had. I know I said this about yesterday's pecan pie. But here at Be Mindful. Be Human. we are on a quest for the best of everything. Thank goodness Jessica's mom had this recipe. I am so grateful.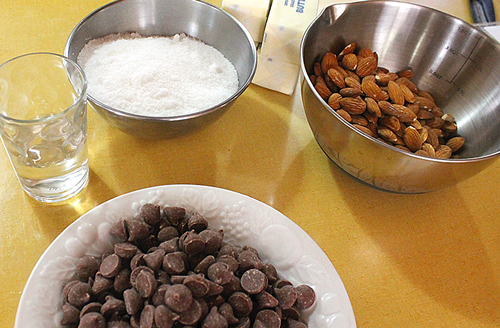 I knew it was going to be something special when Luke asked Jessica to make it. He doesn't often eat sweets even when Jessica makes them. But my favorite part is seeing the words "best ever" on the page of the recipe card Jessica had out. I knew it had to be really good.

I couldn't believe how simple it was to make.

With the right tools, the perfect cooking time and Jessica's fast professional baking skills, this toffee was done in a flash.

Tender crunchy caramel sprinkled with finely chopped almonds and milk chocolate. It was so good. I loved that it wasn't rock solid. I really loved that it wasn't super sweet.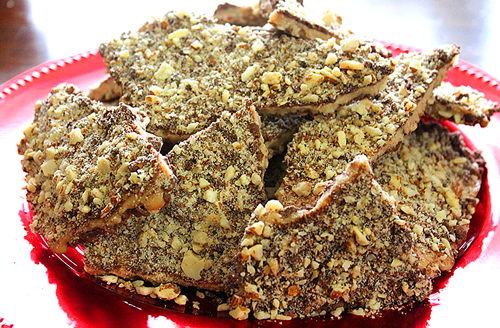 | | | |
| --- | --- | --- |
| The Best Ever English Toffee | | |
Prep time: 45 mins
Cook time: 30 mins
Total time: 1 hour 15 mins
Ingredients
2 cups whole unblanched almonds
1 lb milk chocolate
1 lb butter
2 cups sugar
6 Tbsp water
Instructions
Finely grind the almonds in a food processor. Scatter half onto a clean ungreased sheet pan. Reserve the rest in a bowl.
Finely grind the chocolate in the food processor. Scatter half on top of the almonds. Reserve the rest in a separate bowl.
In a large saucepan, combine the butter, sugar and water.
Cook over medium heat, stirring with a whisk until the mixture reaches 290 degrees.
Pour very quickly onto the almonds and chocolate in the sheet pan. Spread with a heat resistant rubber spatula.
Sprinkle the rest of the chocolate over the sugar mixture.
Sprinkle the rest of the almonds over the chocolate.
Refrigerate and break into pieces. Store in an airtight container.
Enjoy!
I could have eaten the whole batch by myself.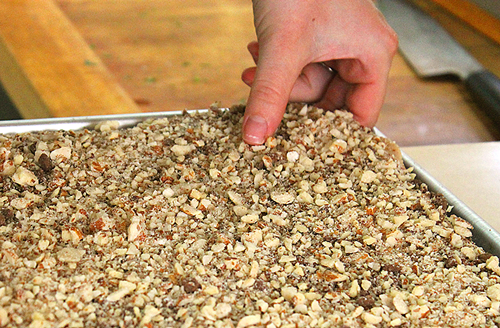 I loved that we ended up fighting over who got the last piece. It was THAT amazing.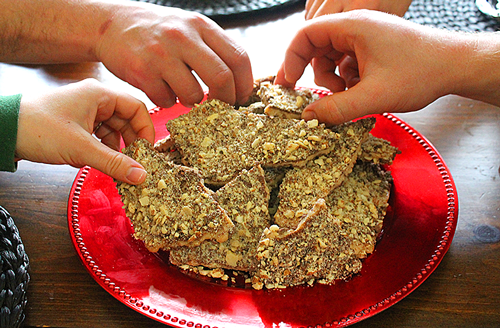 I might have to get Jessica's approval to sell the stuff. It's THAT good.