J – Blood oranges are so seductive.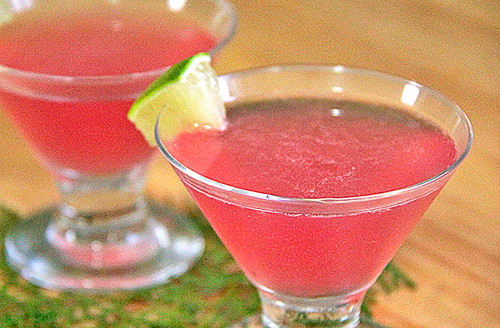 Just the name alone makes you think, well, a little playfully. Keeping with the Valentine's theme and wanting the evening to get off to a romantic start, we wondered what adult beverage would go well.
"For both the boys and the girls," Luke added. He does have a point.

A Gimlet seemed appropriate. Classic, celebratory and, if properly made, appealing to both genders.

The classic gimlet is made with lime. That seemed so boring. And, not very colorful.

We decided on making it with blood orange, instead. The really cool thing about a blood orange, besides it's rich red color, is that it is not all that sweet alone.

That meant we could make the boy's drinks tart and the girl's drinks sweeter … if that's what they wanted. Or, we could reverse roles … Luke wasn't so sure about that one.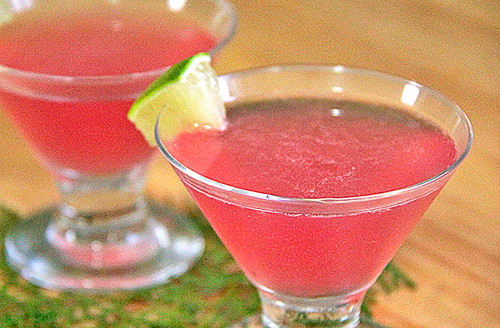 | | | |
| --- | --- | --- |
| Valentine's Week: Blood Orange Gimlet | | |
Prep time: 25 mins
Cook time: 2 mins
Total time: 27 mins
Serves:
Two 1½ oz servings
Ingredients
3 oz sugar
3 oz water
2 blood oranges, juiced
2½ oz gin
ice cubes
l lime, cut into small wedges for a garnish
Instructions
Place water and sugar into a sauce pan. Let simmer on medium heat until sugar has dissolved. About 1 to 2 minutes.
Place in refrigerator until completely chilled.
Pour blood orange juice and simple syrup mixture into a squeeze bottle. Shake well to mix.
Place gin into a cocktail shaker. A Mason jar works really well, too.
Add 1½ oz of simple syrup/juice mixture into shaker.
Add 2 ice cubes.
Shake well.
Strain and pour into serving glass.
Garnish with a lime wedge.
Serve.
Enjoy!
Simple to make. Keep the syrup/juice mixture in a squeeze bottle for fast refills.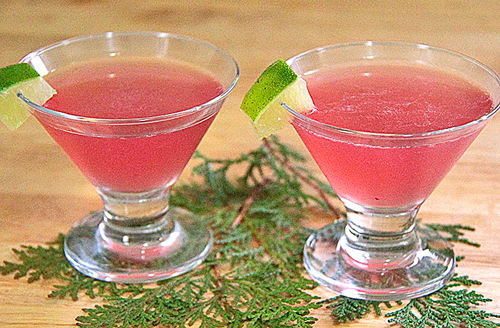 Very tasty. Starts the evening off just right.