Update and Redux: C – It's Winter. It's cold. There isn't anything better on a cold winter day than eating potatoes. We mean lots of potatoes. It's potato week. To start off potato week, we had to share one of our favorites, sweet potato souffle. There's nothing like pillows of sweet potato to start the week off right.
C — What new, creative thing can I do with sweet potatoes?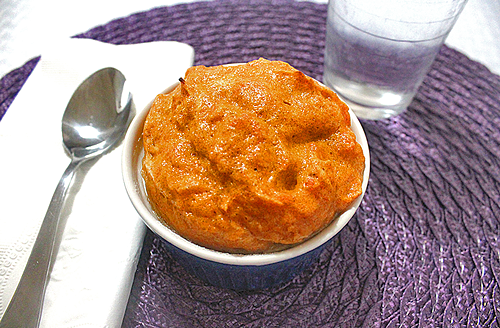 I have been racking my brain. Jim mentioned this great recipe from one of his favorite chefs. I thought I could make it. But, after looking at the recipe, I realized sweet potatoes just became really fattening and too rich. Plus, it took 2 hours. That wouldn't be a good use of my time or help my diet. I wanted to recreate her roasted sweet potato recipe using less fat and taking less time. Unfortunately, every idea ended up looking like something we'd already made. So it was back to square one.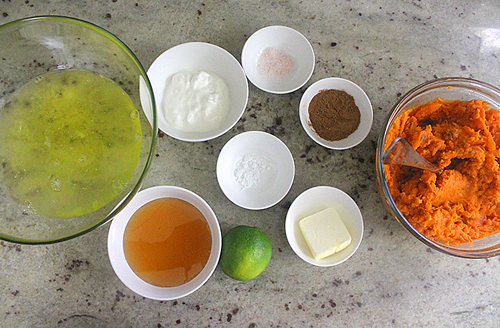 I thought, dessert, maybe? Sweet potatoes are already sweet and delicious just baked. Maybe with just a few spices they could be over the top. I was going to try to make a pie. But, it involved too much sugar and fat. Then, I thought I could make tarts. But, I've had enough tarts for a while! Something more challenging was where I was going with this.

Sweet potato souffle! But, just the word souffle scares me. There are a few reasons:
They look hard to make.
The oven in the Be Mindful. Be Human. kitchen is really bad. The door doesn't close tightly. What makes me think I can actually bake one of these things and have it work? Lastly,
It could be even more fattening than the sweet potato pie. To my surprise, the souffle looked reasonable. I think I am going to like this one.

But patience might be the mindfulness act today:
Baking the sweet potatoes — 1 hour.
Whipping egg whites by hand — 15 minutes. (Its a really good arm workout)
Carefully folding sweet potatoes and egg whites together — 5 minutes.
Baking the souffle and remembering not to open the door until it is done — 15 minutes.

And the results are good! It worked. The souffle didn't deflate! My oven is alright after all!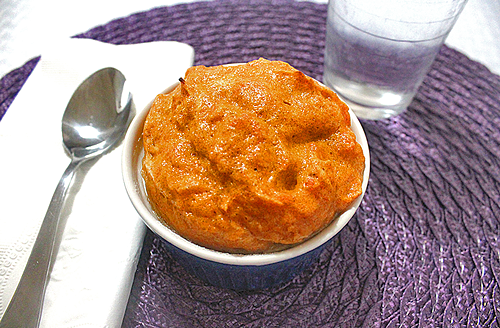 Prep time: 1 hour 25 mins
Cook time: 15 mins
Total time: 1 hour 40 mins
Ingredients
2 pounds of sweet potatoes, baked, peeled and smashed
1 Tbsp unsalted butter
2 Tbsp sugar
¼ cup raw honey
1 Tbsp pumpkin pie spice
⅛ tsp salt
¼ cup sour cream
2 tsp lime juice
8 egg whites, at room temperature
⅛ tsp cream of tartar
Instructions
Preheat oven to 400 degrees. Place rack on lower third of oven.
Prepare seven 3½ inch ramekins. Butter dishes and dust with the two tablespoons of sugar.
In a medium bowl, place mashed sweet potatoes, pumpkin pie spice, salt, sour cream, and lime juice and mix well.
In another large bowl, use a mixer or a whisk to beat eggs until foam starts to form. Add cream of tartar.
Continue beating until eggs form stiff peaks.
Fold in ¼ of the sweet potato mixture, then carefully fold in the rest.
Divide mixture into the prepared ramekins
Place on a baking sheet and bake for 15 minutes. Remember DO NOT OPEN THE OVEN DOOR UNTIL TIME IS UP. Also don't bang the stove or souffle will deflate. Souffle will be done when puffed and beginning to brown.
Served immediately.
Enjoy!
They were healthy without a lot of fat, sugar, or starch and LOTS of protein from all the egg whites. A bit of honey to make them slightly sweet and some pumpkin pie spice to make it feel like a dessert.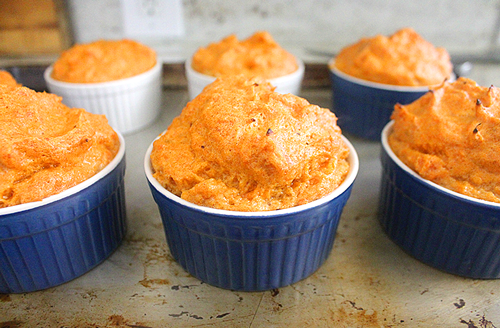 I really liked it. However, it does deflate if you don't eat it right away.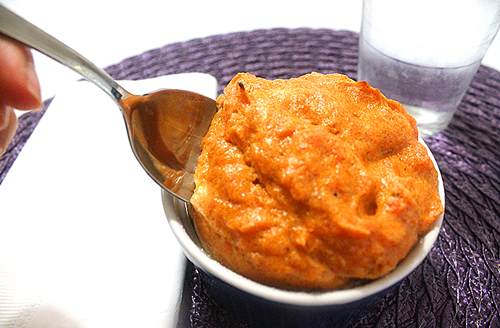 Make sure you eat it right away for the best experience.