Update and Redux: C – This special dessert was a lot easier to make than I thought it was going to be. It's soft and delicious with a wonderful creamy filling with fruit. It needs to be made.
C – I always wanted to make a Swiss roll cake.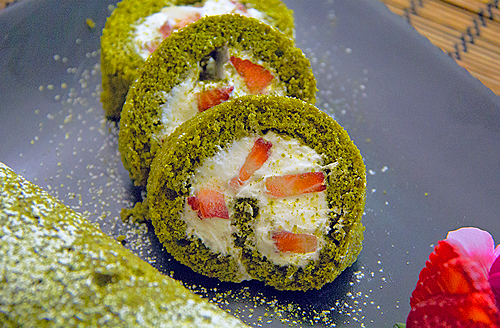 I just didn't know how easy it was to make. This might be the cake I make all the time. I served this to guests and they were really impressed.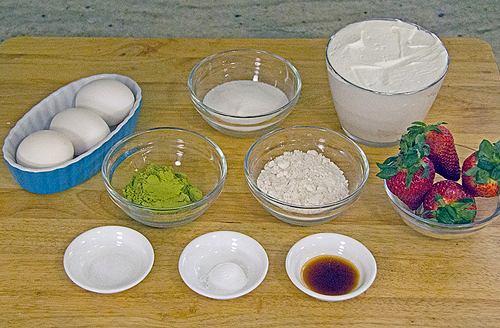 Although, there were a few issues I came across.

First, the cake was a bit thin. I did have to work carefully removing the parchment paper from the cake.

My suggestion just remove the parchment paper slowly and the cake will come off easily. The edges may get a little damage but you can always cut that part off and have a taste.

Second, don't just fill the cake and then roll it up.

It might cause cracking if you leave the cake to cool completely and then roll. Instead, once it's cool enough to handle, I suggest peeling the parchment paper and, then, place another piece of parchment paper on the other side.

Roll it up and leave it to cool completely. This allows the cake to shrink and not crack. It worked out really well. I unrolled it and then filled it up with cream.

Third carefully roll the cream.

You don't want all of the cream to ooze out of the cake. Don't press the cake while rolling. Just carefully roll it back up. There will be some cream that comes out but not too much.

This is one of my favorite desserts. I was so surprised how much better a homemade one tasted than a store bought one. The cake is super moist. I love that the cream is on the inside.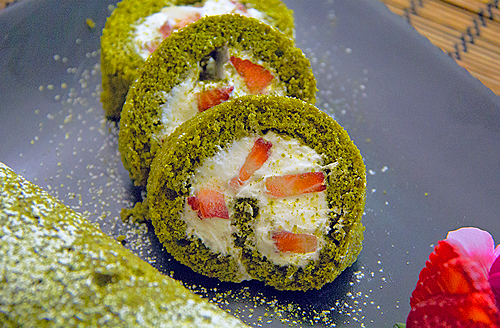 | | | |
| --- | --- | --- |
| Green Tea Week 2016: Matcha Green Tea Swiss Roll With Whipped Cream and Strawberries | | |
Prep time: 1 hour
Cook time: 12 mins
Total time: 1 hour 12 mins
Ingredients
3 eggs
5 Tbsp sugar
4 Tbsp flour
2 Tbsp Matcha green tea powder
A pinch of salt
1 tsp baking powder
1 tsp vanilla extract
2 cups whipped cream
4 strawberries, cut into slices lengthwise
Instructions
Preheat oven to 350 degrees.
In a stand mixer or with a hand mixer place the eggs and sugar in a mixing bowl and beat on high for 10 minutes until the mixture is white and fluffy.
Meanwhile in another mixing bowl, mix flour, green tea powder and salt. Mix well.
Once the eggs/sugar mixture is nice and fluffy, reduce the speed, add the vanilla and mix for about 30 seconds.
Add the flour mixture a few spoonfuls at a time. Mix well.
Pour mixture into a parchment lined ¼ cake pan. Spread evenly and lightly drop the pan on the counter a couple of times to remove the big air bubbles.
Bake for 12 minutes.
Remove the pan from the oven and, again, lightly drop the pan a few times.
Remove the cake from the pan and place on a wired rack to cool for 15 minutes.
Carefully remove the parchment paper from the cake. Place new parchment paper on both sides of the cake.
Roll the cake and keep it rolled until completely cooled. About 30 minutes.
Unroll the cake and pipe strips of whipped cream.
Place sliced strawberries in between each strip of cream.
Carefully roll the cake back up.
Wrap the cake in plastic wrap and chill for 30 minutes or more before serving.
Slice the cakes and sprinkle some powdered sugar over top if desired.
Serve.
Enjoy!
I added a bit too much cream. So, instead of creating a Swiss roll with a spiral, it ended up becoming a circle. I think it looks great, still.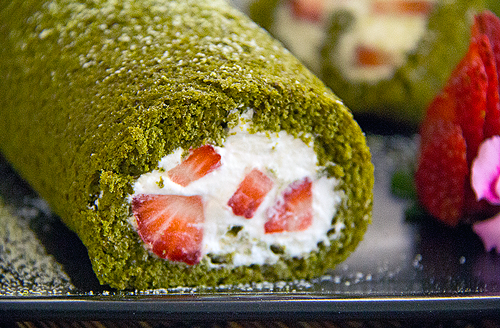 I was impressed how easy and great this cake was. Now, I have to try making it with cocoa powder. I can't wait to see if it will work.