J – I was not expecting such a dish from Anthony Bourdain.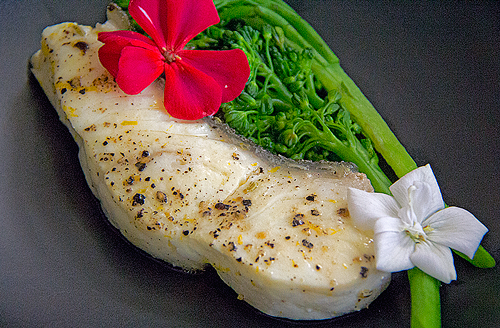 I got his Appetites cookbook as a gift over the holidays and finally had time to explore it. Beautiful book. Many recipes calling to me. Bold. Rich. Lots of cool ingredients. Need to set aside some time for this one.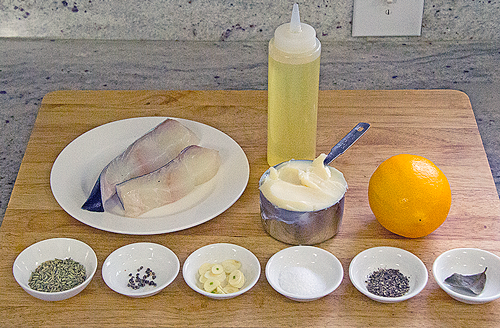 But, we had to try something …

Love halibut. Had some duck fat available … of course. Why not?

The recipe recommends serving with pureed potatoes. We passed on that. Too much white on the plate.
Simple blanched broccolini, instead. Turned out to be a great choice.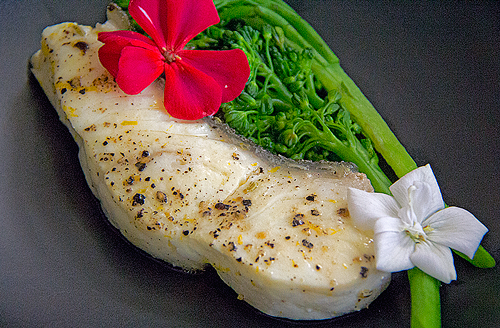 | | | |
| --- | --- | --- |
| Chef and Cookbook Thursday: Halibut Poached in Duck Fat | | |
Prep time: 2 hours
Cook time: 15 mins
Total time: 2 hours 15 mins
Ingredients
1 lemon
1 Tbsp canola or other neutral oil
1 Tbsp fennel seeds
Seeds from 2 cardamom pods
1 bay leaf
4 garlic cloves, peeled and sliced
2 halibut fillets (about 12 ounces each; ask your fishmonger to remove the white belly skin, but to leave the dark dorsal skin attached)
Salt and freshly ground black pepper to taste
1 quart rendered duck fat (available at various gourmet retailers and some butcher shops)
Instructions
Using the microplane grater, finely grate the lemon zest into a small mixing bowl and add the oil, fennel and cardamom seeds, bay leaf and garlic, mixing well.
Rub the fish on all sides with the mixture and refrigerate in a casserole or zip-seal plastic bag for at least 2 hours and up to 24.
Remove the fish from the refrigerator about 15 minutes before you're ready to poach it. Brush off the excess garlic and seeds. Season it on all sides with salt and pepper.
In a large, heavy-bottom pot, heat the duck fat over medium heat until it reaches 150 degrees F, monitoring the temperature with the instant-read thermometer.
Slip the fish into the pot and ladle the fat over so it is submerged.
Let cook for 5 minutes, then remove from the heat, cover, and let sit for 10 to 15 minutes, until the fish has an internal temperature of 150 degrees F.
Carefully remove the fish from the pot with a slotted spoon or fish spatula, adjust seasoning if necessary.
Serve.
Enjoy!
Surprisingly, this dish is delicate, subtle and rich at the same time. Perfect fish. Delicious herb flavors. The richness of duck fat … not overdone.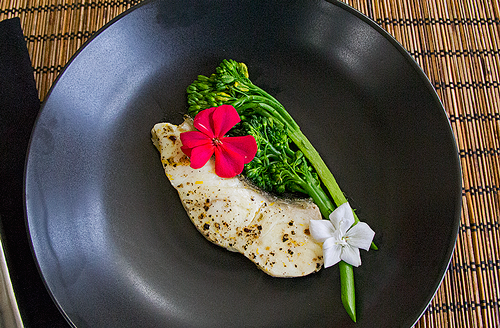 Thanks, Tony! Looking forward to more deliciousness.