J – Are your sandwiches losing their zip?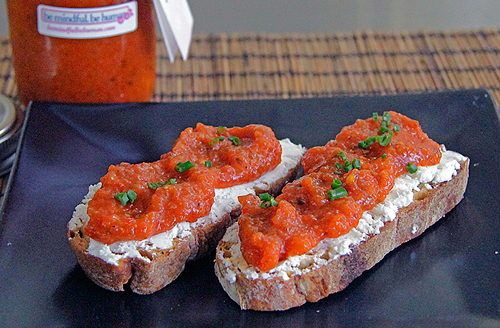 Do your bruschetta lack that little something extra … a certain je ne sais quoi? Never fear. This smoked bacon pepper jam fixes all ills. It's also really addicting.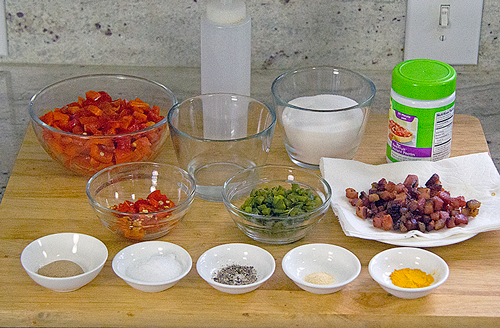 Smoked bacon. Sweet, spicy pepper. Not-too-sweet jam. Oh, my!

I discovered it at my favorite Amador winery, Domain de la Terre Rouge, at one of their many special tastings. In this case, it was a massive list of Bill's syrahs, in both magnums and 750s.

For the larger events, they also have delicious snacks available.

One snack was a simple platter of goat cheese topped with smoked bacon pepper jam, and served with crispy crackers.

I sampled several times. I bought a couple of jars. Now, we just had to do our own version.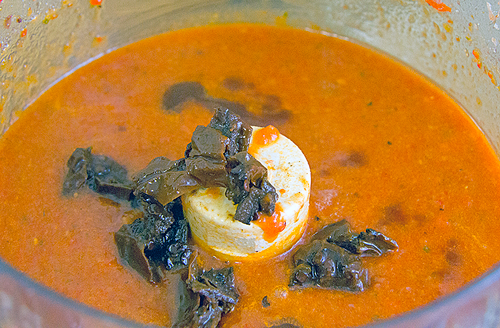 We always have plenty of house-made smoked bacon at the ready. Peppers, sugar, water and pectin are easy.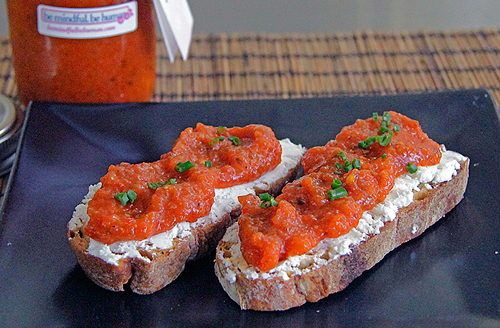 | | | |
| --- | --- | --- |
| Sandwich Monday: Bacon Pepper Jam | | |
Recipe type:
Sauces, Sides
Prep time: 15 mins
Cook time: 20 mins
Total time: 35 mins
Ingredients
1 cup granulated sugar
3 Tbsp no-cook pectin
½ cup cooked bacon, cut into small pieces
2 red bell peppers, roasted, skin and seeds removed, chopped (about 2 cups roasted)
2 Fresno chilies, roasted, skin removed, chopped
2 Jalapeno peppers, roasted, seeds removed (optional), chopped
1 Chipotle pepper in adobo sauce, chopped plus a tablespoon of adobo sauce
¼ teaspoon granulated garlic powder
2 Tbsp distilled vinegar
⅛ tsp Turmeric powder
¼ cup water
Salt and pepper to taste
Instructions
Mix together pectin and sugar in a small bowl and set aside.
Add bacon to a food processor and pulse until finely ground.
Add peppers, some salt and pepper. Pulse until smooth.
Add water, garlic powder, vinegar and Turmeric. Pulse until incorporated.
Add the sugar/pectin mixture and pulse until incorporated. Taste and adjust for seasoning.
Place into small mason jars or storage containers. Place in the refrigerator overnight.
Serve.
Enjoy!
The trick, now, was figuring out the rations. Not too hard, since it is basically a jam. We ended up addding chipotle and some adobo sauce for additional flavor. The instant pectin worked well, but next time we will use the cooked kind for better consistency.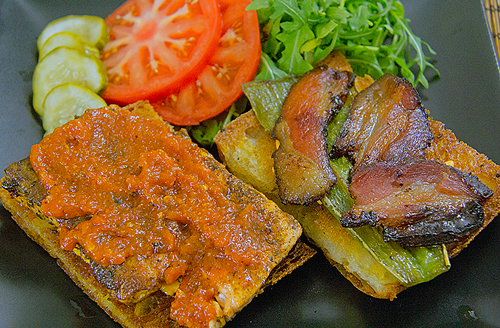 So delicious. We have been using this stuff on just about everything [like the salmon BLT above]. Almost time to make more.