Update and Redux: C – There's nothing like a delicious, rich chocolate mousse cake to make a good day better. Indulge a little or a lot. This cake is worth every delicious bite.
C – Going out to eat means going big.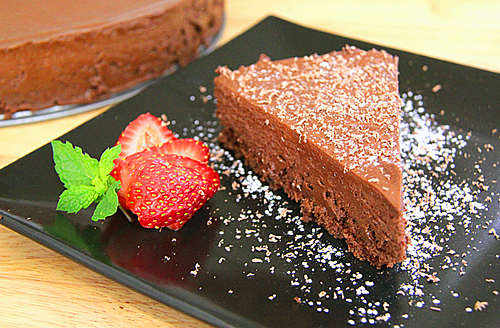 I usually treat myself. I love it. Exploring new things, tasting the richest thing on the menu. Calories? I don't care! I go out to a nice restaurant three to four times a year. So when I do, I want to try something spectacular.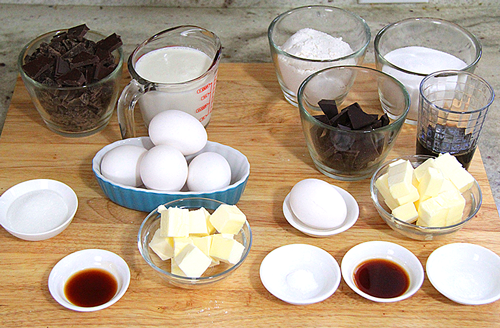 Desserts usually are a no-holds-barred item for me. Of course, I want to share it with whomever is with me.

Going out with my boyfriend is the best, because he will always looks at the dessert menu. Sometimes he will order two or three desserts for us to split! A chocolate dessert is often the target.

This mousse cake would probably be the ideal dessert for him. An extreme hit of creamy fluffy chocolate, with a dense and rich chocolate-cake layer on the bottom.

It's one of those desserts you want to keep repeating "oh wow" with every bite.

Of course, using the best ingredients really makes a difference. Use semi-sweet chocolate to get the perfect balance of sweetness to chocolate taste. I loved this dessert. It wasn't too sweet and just a small slice was really satisfying.

You don't need to eat a lot of this, since it is so decadent. With a small cup of espresso to finish off the meal, this dessert will satisfy any chocoholic.

It was a lot easier to make than I thought it would be. The souffleed lemon custard I made yesterday was a lot harder.

The only hard part in this recipe was folding the egg whites and whipped cream so it doesn't deflate.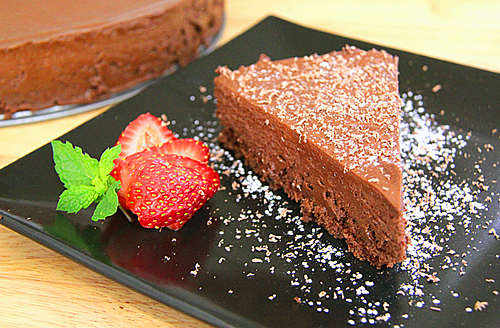 Prep time: 40 mins
Cook time: 12 mins
Total time: 52 mins
Ingredients
3 ounces unsweetened chocolate, chopped
8 Tbsp unsalted butter, cut into small pieces
¼ cup hot black coffee
1 cup sugar
1 cup all-purpose flour
½ tsp baking soda
Pinch of kosher salt
1 large egg
1 tsp vanilla extract
9 ounces bittersweet chocolate, chopped
6 Tbsp unsalted butter, cut into small pieces
1 cup heavy cream
4 large eggs, separated
½ tsp vanilla extract
2 Tbsp sugar
Instructions
Preheat oven to 350 degrees.
Line a 13×19 inch rimmed baking sheet with parchment paper.
Put chocolate and butter in a medium bowl, pour coffee over both. Wait 5 minutes until they melt. Whisk to combine.
When thoroughly melted and combined, add the sugar and whisk until dissolved. Just a minute or two.
Sift the dry ingredients into the bowl of chocolate. Whisk to combine.
Add the egg and vanilla. Continue to whisk until the batter is smooth.
Pour the batter onto the prepared sheet pan and spread it as evenly as possible. It will be a very thin layer. Be sure to get into the corners.
Bake until the cake springs back in its center when touched. 10 to 12 minutes.
Remove cake from the oven and let it cool to room temperature.
When cool, cut out a circle of cake the size of the springform pan you want. An 8 ½ to 9 inch pan works best. Use the bottom of the pan as a template. I used a parchment paper pattern made from the pan bottom.
With a wire whisk in a stand mixer or hand mixer, beat the cream to medium peaks. The cream will hold its shape when whisk is lifted. Refrigerate the whipped cream while preparing the rest of the mousse.
Set a medium heat-proof glass or stainless steel bowl over a pot of simmering water. Add the chocolate and the butter and mix stirring frequently until melted. Remove the pot from the heat.
Whisk the egg yolks and the vanilla into the chocolate-butter mixture and set aside.
In a separate bowl with a wire whisk or hand mixer beat the egg whites until foamy.
Gradually add the sugar and continue to beat the whites to medium peaks. The whites hold their shape when whisk is lifted.
Using a large rubber spatula, gently fold the white into the chocolate in thirds, being careful not to deflate the volume of the egg whites. Add the next next thirds just before all the white streaks are gone.
When the whites are almost thoroughly mixed, begin folding the cream in two stages. Carefully fold it until thoroughly mixed.
Pour mousse into the cake-lined springform pan and smooth the top.
Refrigerate at least 6 hours.
Before unmolding, carefully run a warm spatula or thin knife around the cake on the inside of the pan. Remove the sides of the pan.
Slice.
Serve.
Enjoy!
It was a nice mindful exercise, almost Zen-like when folding in the mixture.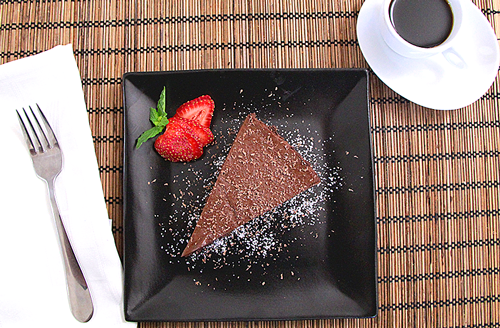 I had as much fun making this as I did eating it. Can't wait to make one for my next dinner party.