C – Whenever Jim and I eat at a Bistro, dessert often gets passed up.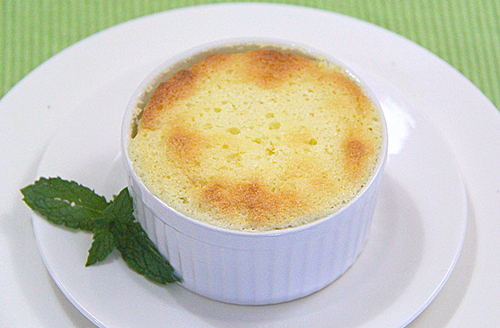 We usually order really rich food in the previous courses. We are too full to even look at the dessert menu. Or, we want to be mindful of our waistlines. It's sad, since I love going out and getting desserts. I do occasionally manage to manipulate Jim into agreeing to look at the menu and splitting a dessert. I usually go toward something lemon flavored, since I know Jim loves anything with lemon. He just can't resist.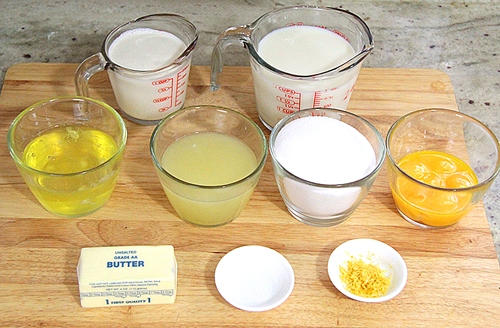 I think if this souffleed lemon custard dessert was on the menu, I would order an entire souffle just for myself. Jim can get his own. Or, eat faster than he does, so I could get more. This was so good.

It doesn't quite look like a normal souffle. It really isn't a normal souffle. It isn't as puffy as a normal souffle. I was doubting myself. I could have overmixed it and it didn't rise properly. Souffles are really challenging to make. Mixing it too much can leave you with a flat souffle. Opening the oven door can also lead to a deflated souffle. One really has to be careful and mindful.

When I broke into it, I first thought it wasn't completely cooked. Then, I remembered that this isn't a normal souffle. It has custard in it. The custard is this delightful surprise at the bottom. The top was a nice pillow of souffle. The custard was like a sauce for the souffle that balanced really well. Smooth and creamy with pillow-soft cake-like souffle on top.

I loved everything about this dessert. Rich, creamy and not too sweet. There is a lot of sugar. But, that is to balance out the super-tart lemons. I loved the light fluffy souffle on top. It was so flavorful and lemony. I wanted another! Too bad I ate so much for lunch, I would have easily had seconds.

It's one of those desserts that I can dream about. If I were at a bistro, I would want to come back just for this dessert. I have been to a few places like this. It was so good.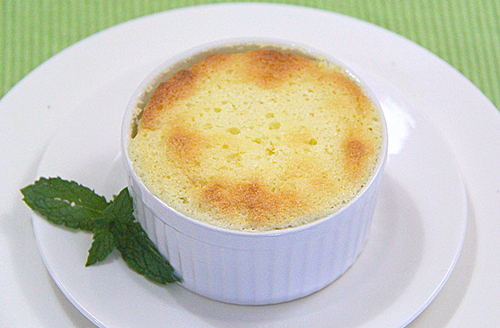 Prep time: 30 mins
Cook time: 50 mins
Total time: 1 hour 20 mins
Ingredients
8 Tbsp unsalted butter, softened at room temperature
1 + ½ cup sugar, divided
6 large eggs, separated into yolks and whites
1 cup fresh lemon juice (about 6-8 lemons)
Pinch of salt
⅔ cup sifted all purpose flour
1 tsp grated lemon zest
2 cups whole milk
1 cup heavy cream
Instructions
Preheat oven to 350 degrees.
Using a stand mixer or hand mixer, cream the butter and 1 cup of the sugar at high speed until fluffy. About 5 minutes.
Turn mixer down to medium speed. Add egg yolks, one at a time, beating after each addition. Turn off mixer and remove bowl.
Add lemon juice, salt, flour and lemon zest all at once. Mix by hand until just barely combined.
Stir in milk and cream. Mix by hand again. It should look lumpy.
In a stand mixer or hand mixer, using the whisk attachment and a clean bowl, begin beating the egg whites on low speed.
Gradually add the remaining ½ cup sugar and increase the speed to high. Continue beating the whites until they are medium peaks. Overbeating the whites will dry them out.
Using a large rubber spatula, gently fold the egg whites into the egg yolk/flour mixture, a-third-at-a-time, until just barely combined. Some of the whites may still be floating on the top, which is fine. Overmxing will prevent the whites from puffing up nicely.
Pour into a 10-inch cake pan that is at least 2 inches high, or 12 small ramekins like we did.
Bake custard in a water bath. Put the cake pan or ramekins in a high-sided baking disk or in a roasting pan. Fill pan with warm water about one-third of the way up the sides of the cake pan or ramekins.
Bake until custard is just barely set and the top is well browned, 40 – 50 minutes for the 10 inch baking dish or 30 minutes for the individual ramekins.
Remove from water bath and allow to cool to room temperature.
To serve from a single cake pan, use a big spoon or spatula and scoop out the souffleed custard, making sure to get some of the puffed-up top and some of the creamy custard. Serve ramekins individually.
Enjoy!
One of my favorite parts about this souffle is that it's even better cold.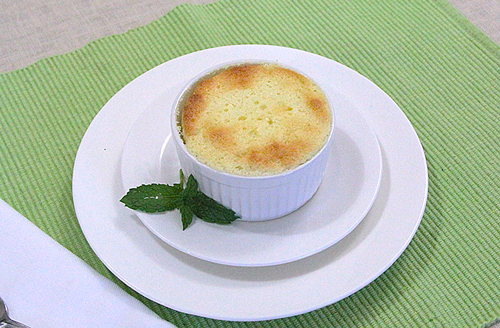 The next day, it was almost like an ice cream with creamy custard. LOVED IT!
Adapted from: "Bistro Cooking At Home" by Gordon Hamersley