C – The Meyer lemons on my neighbor's tree are perfectly ripe.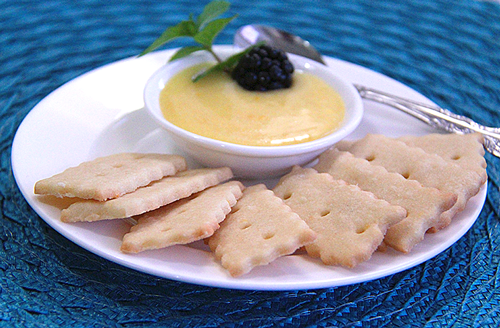 I am so excited. They have allowed us to use them. I have been looking forward to this week's theme for a while and I almost completely forgot about it. So it's Meyer lemon week. Of course, Jim cautioned me not to go overboard on making sweets.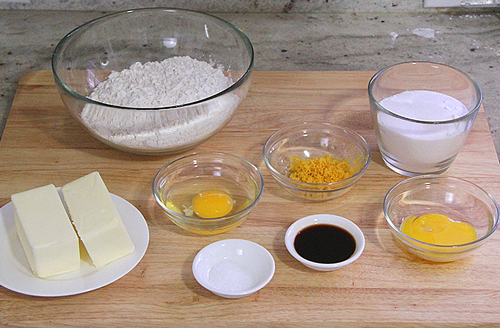 I think he knows me too well. I had four desserts already lined up this week. Good call, Jim. Now, there are only two recipes that are sweet.

First off, a sweet recipe, lemon shortbread cookies. A quick and easy cookie. The hardest part is rolling the things out and making shapes. I need practice. I am not a big fan of working with dough. I guess I need to be more mindful and relaxed about it. I need to remember I am not in a hurry making these.

They turned out fine. The first batch made me a bit stressed. I didn't flour the surface and the rolling pin enough, so it was a bit sticky. The second batch was much easier to handle.

The baking part was a snap. Since they are shortbread cookies, they don't expand much. I ended up loading the sheet pans with as many as I could. It only took me 16 minutes to cook all my batches.

Our favorite part is always the taste test. The cookies were flavorful. Not too sweet, with a wonderful, light lemon taste to them. They were really nice by themselves. I also ate them with some lemon curd and they were great. The texture was wonderfully tender and delicate. You could cook them a bit more to make them almost a sweet cracker, if you would like.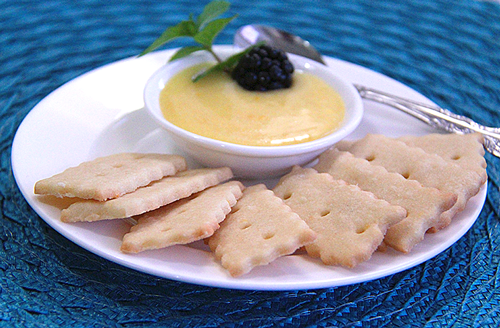 | | | |
| --- | --- | --- |
| Meyer Lemon Shortbread Cookies | | |
Prep time: 90 mins
Cook time: 16 mins
Total time: 1 hour 46 mins
Serves:
120 1×2 inch cookies
Ingredients
½ pound unsalted butter, room temperature
2 Meyer lemons, finely zested
1 cup superfine sugar (or, process regular sugar in a food processor for 30 seconds)
½ teaspoon salt
1 large egg yolk
1 large egg
2 tsp vanilla
2½ cups all-purpose flour
Instructions
Cream butter, lemon zest, sugar and salt in a large bowl with a mixer at medium speed.
Add in the egg yolk. Mix well.
Add in the egg and the vanilla. Mix well.
Reduce speed and add the flour until just combined.
Divide the dough in half and wrap in plastic. Place in refrigerator for at least one hour (up to two days).
Preheat oven to 375 degrees with two racks, one in the upper third and one in the lower third of the oven.
Working with one batch of dough at a time, roll out the dough to ⅛ inch thickness on a well floured surface.
Cut out shapes with cutters, try using as much dough as possible. The dough should only be re-rolled once.
Bake 2 sheets at a time until the cookies are slightly golden brown at the edges (about 6-8 minutes). If you cookies are thicker than ⅛ inch, you may have to bake them longer.
After baking, immediately transfer to a cooling rack and cool to room temperature.
Serve or store in an air tight container up to a week.
Enjoy!
The taste test went almost too well. I was getting scared the cookies would be gone before we finished shooting. They were so good.
I loved them! It was a great start to Meyer lemon week.