Update and Redux: J – We had to crank up the Way-Back Machine to full blast to retrieve this recipe from Luke … one of our very first. Still super simple and super delicious. Especially now that more Spring vegetables are here.
J — Simple, easy and refreshing salad.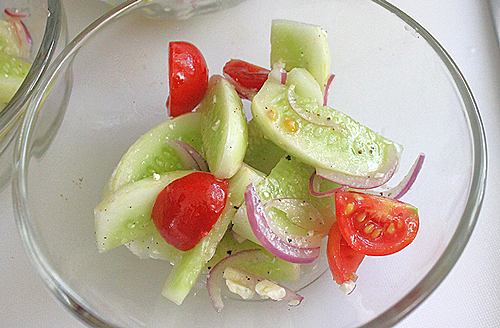 It's easier said than done. Keeping things fresh and simple is probably one of the most important things I've learned cooking with Luke. I thought I had that down in my own cooking, since I treated cooking like a design project. Subtracting stuff is one of the most important things you can do in design. Same idea with cooking. Not adding stuff to a recipe without a clear purpose is very important. Mindfulness kicks in here: I can always learn to simplify.
Luke pretty much invented this salad on the fly in the farmer's market. I've done that too. The difference is, I always buy WAY too much… and throw things away a few days later. Bad idea.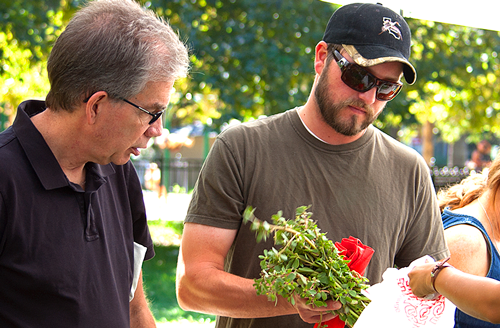 And, then, back in the kitchen, a few minutes of slicing …

Add a simple vinaigrette, toss and serve topped with a bit of feta. You're done. Simple. Easy. Refreshing.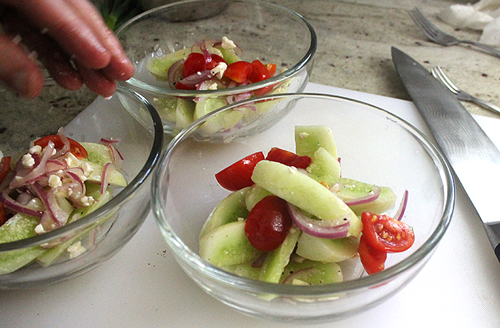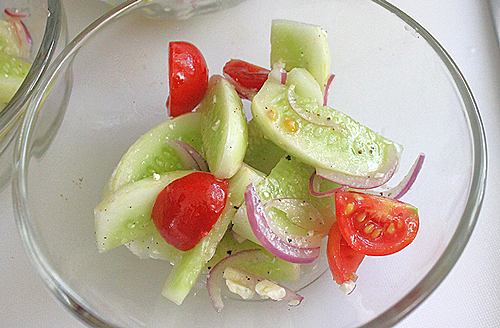 Prep time: 15 mins
Total time: 15 mins
Ingredients
2 lemon cucumbers, sliced lengthwise in ¼ inch wedges
1 small red onion, cut in quarters and sliced very thin lengthwise
12+ ripe cherry tomatoes, sliced in half
½ cup feta cheese, crumbled
¼ cup extra virgin olive oil
¼ cup fresh lemon juice
Salt and pepper to taste
Instructions
Combine first 3 ingredients in a large bowl
In a small bowl, whisk oil and lemon juice to emulsify
Salt and pepper to taste, whisk again. Toss in large bowl with salad
Serve in individual bowls and top with crumbled feta
Enjoy!