C – This week is Bake Week. Yay!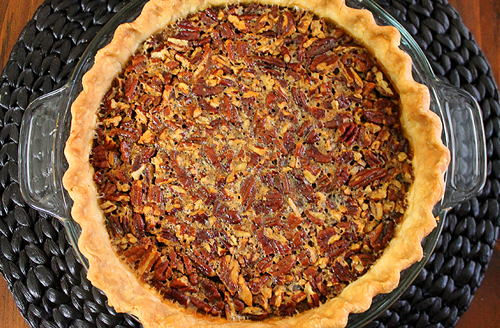 It's a week before the holidays begin, so it just had to be. Jessica will be joining us and creating her favorite holiday baking recipes. I am so grateful she was able to help out with Bake Week. I don't think I would have wanted to test out all these sugar recipes and not have good ones for you. Jessica and her family have been making baked treats for years and have found some of the best. Thanks Jessica for letting us in on all your secrets.

To begin the Bake Week festivities we made pecan pie. Not just any pecan pie. It's the best pecan pie I have ever had. I am so glad that it tasted good because I would never have heard the end of it from Jim, if it wasn't good. With all the planning for bake week, I didn't get to ask Jim if he liked or disliked this recipe. It was only after we finished baking the pie that he mentioned he's never liked pecan pie. Oops.

When the pies were finished, of course Jim received the first bite. Delicious! He was hooked. I have to admit, if we didn't have all the other sugary treats coming this week, I would have asked for seconds or maybe thirds.
The pie crust is mealy and not flaky like the apple and pumpkin pie crust. It needed to be that way. It's the same recipe, but just a different technique. Refrigerating the dough, rolling it out, putting it into a pie pan, refrigerating it again and freezing it before par-baking makes all the difference. It's a light crust. But, it holds it's shape well with the liquid filling.

Then, there is the filling. The perfectly sweet — but not too sweet — filling is great. It has a perfect pecan-to-filling ratio, which isn't over powering. It just complements everything. Such a great pie.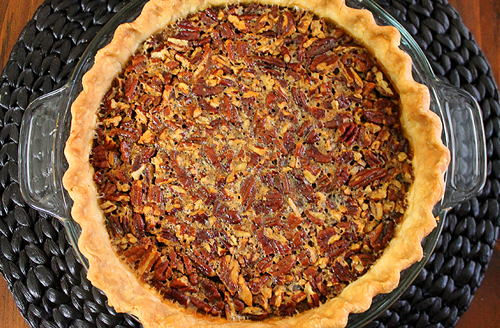 | | | |
| --- | --- | --- |
| The Best Pecan Pie Ever!!! | | |
Prep time: 2 hours 30 mins
Cook time: 1 hour 15 mins
Total time: 3 hours 45 mins
Ingredients
Crust for Prebaked Pie Shell
1¼ cups unbleached all purpose flour
½ tsp salt
1 Tbsp sugar
3 Tbsp vegetable shortening
4 Tbsp unsalted butter, cold and cubed
4-5 Tbsp ice water
One 9" partially baked pie shell
3 eggs
¾ cup light corn syrup
½ cup brown sugar
3 Tbsp unsalted butter, melted and slightly cooled
1 tsp vanilla
Pinch of salt
1⅓ cups pecans, toasted then chopped
Instructions
Crust for Prebaked Pie Shell
In a food processor, combine the flour, salt and sugar.
Scatter the shortening in small chunks over the flour mixture and process until the mixture looks like coarse sand.
Add in the butter and pulse until the butter is the size of small peas.
Pour in the cold water and process until the dough just comes together.
Turn out onto a piece of plastic and wrap well. Refrigerate for at least an hour or up to 2 days.
Roll out and place in pie plate. Crimp edges.
Refrigerate until firm, about 40 minutes.
Freeze until very cold, about 20 minutes.
Line the pie shell with foil and fill with dried beans or pie weights.
Fold the edges of the foil around the edges of the pie shell to protect it from burning.
Bake at 375 degrees for 25-30 minutes, or until it looks dry and is light in color.
Carefully remove the beans and foil and continue to cook until light golden brown, about 5-6 minutes for a partially baked pie shell. For a fully baked pie shell, bake for about 12 minutes until deep golden brown.
Cool.
In a bowl, combine the eggs, corn syrup, brown sugar, melted butter, vanilla and salt. Whisk until blended.
Scatter the toasted pecans evenly in the cooled pie shell.
Carefully pour the egg mixture evenly over the nuts, being careful to not disturb them too much. They will move around a little.
Bake at 350 degrees until the filling is set and slightly puffed, about 30 minutes. The center should still jiggle slightly when the pan is gently shaken.
Let cool on rack. Serve warm or at room temperature, top with whipped cream if desired.
Enjoy!
We added some whipped cream and served it at room temperature. It was amazing.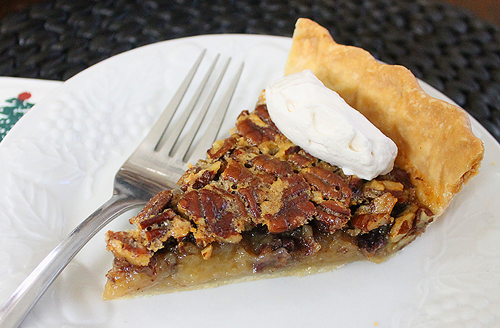 This will have to be a new part of my holiday traditions.