Update and Redux: C – Pumpkin pie is one of my favorite pies. I have eaten an entire pumpkin pie by myself. Especially a pumpkin pie like this one Jessica made. It's made completely from scratch and it's so delicious. It takes two days to make. But, you will notice the difference immediately. If you ever get an opportunity to make a pumpkin pie from scratch, take it and use this great recipe.
C — It's one of my favorite desserts.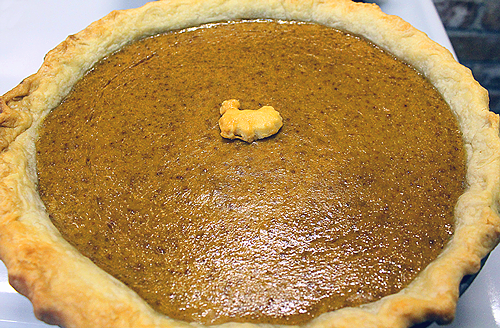 Pumpkin pie with a little freshly whipped cream. Yummy! My mom used to buy grocery-store pies, but the mass produced ones are never that great. So, when she suggested that we start making them from scratch, I was all over it. Of course, I would buy the frozen pie dough along with the canned pumpkin puree. It always turned out good. Better than the pre-made, store-bought stuff, anyway.

I always wondered if I could make a pumpkin pie completely from scratch, by roasting a pumpkin and making a crust. It's been my dream pie for a while now. I even mentioned it to Jim one year. He said it's too much effort just to get the same taste as the can.

I was disappointed, since it sounded like Jim knew what he was talking about. Well, it turns out Jim was wrong.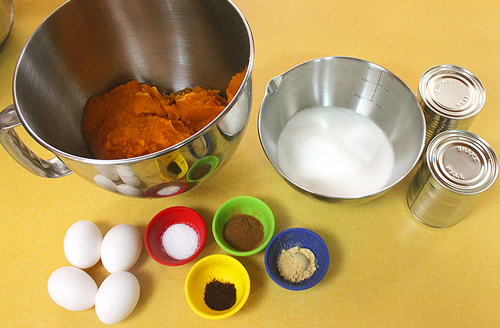 This Thanksgiving, Jessica and Luke decided to make a pumpkin pie from scratch. My dream pie is being made by professional chefs! Yipppeeeee!!! They start by getting a fresh pumpkin and roasting it, pureeing it and straining most of the water out of it. Draining the pumpkin is a very important step. You don't want soupy pies.

Once the pumpkin was drained, a few spices and eggs are added (Jessica's special recipe). When we tasted the pie filling, we knew it was a lot better than the stuff from a can. It was a lot richer. The canned filling is less intense and seemed to have some kind of filler when we compared it to the roasted pumpkin.

Of course, the pie crust had to be made from scratch too. It's the same pie crust as the Apple Pie. Nice soft dough rolled out thin to give the perfect ratio of filling to pie.

It was the most amazing pumpkin pie I have ever eaten and I have eaten many. There is something wonderful about the rich, creamy and concentrated taste of a freshly roasted pumpkin. I couldn't believe we were making it from scratch. Jessica is a genius! The pie crust was so tender and flaky. It made it over the top. We topped it with some spiced rum whipped cream. OMG!!!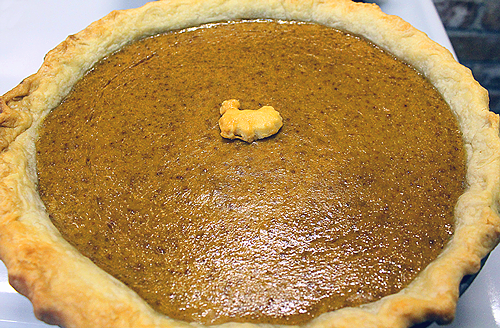 | | | |
| --- | --- | --- |
| Pumpkin Pies From Scratch with Spiced Rum Whipped Cream | | |
Prep time: 45 mins
Cook time: 2 hours
Total time: 2 hours 45 mins
Ingredients
1 large white pumpkin
salt
2½ cups unbleached all purpose flour
1 tsp salt
2 Tbsp sugar
½ cup vegetable shortening
12 Tbsp unsalted butter, cold and cubed
6 Tbsp ice water
1½ cups sugar
1½ tsp salt
1 Tbsp cinnamon
1½ tsp ginger
¾ tsp ground cloves
30 oz pumpkin, pureed and drained
4 eggs
2 cans evaporated milk
1 cup cream
1 tsp cinnamon
⅛ tsp nutmeg
1 Tbsp sugar
1 Tbsp rum
Instructions
Pre-heat oven at 425 degrees
Wash and dry pumpkin.
Cut pumpkin into 8 pieces. Clean and remove seeds.
Place on sheet pan. Sprinkle salt.
Bake for 45 minutes checking and rotating half way through. Pumpkin will be finished when it can be scooped out easily.
Remove from oven and scoop out with spoon into a food processor. Blend until pureed.
Pour into a fine mesh strainer. Do not press pumpkin down the strainer. Just have the water drip through. Can be done and left over night to release all the water.
In a food processor, combine the flour, salt, and sugar.
Scatter the shortening in small chunks over the flour mixture and process until the mixture looks like coarse sand.
Add in the butter and pulse until the butter is the size of small peas.
Pour in the cold water and process until the dough just comes together.
Turn out onto a piece of plastic and wrap well. Refrigerate for at least an hour or up to 2 days.
Whisk together the sugar, salt, cinnamon, ginger, and cloves in a small bowl.
In a large bowl or the bowl of a stand mixer, combine the pumpkin and dry ingredients together.
Beat in the eggs.
Stir in the evaporated milk, adding a little at a time.
Bake at 425 degrees for 15 minutes.
Reduce the oven temperature and bake at 350 degrees for 40-50 minutes until a knife comes out of the center clean.
Allow to cool at least 3 to 4 hours before slicing
Serve with spiced whipped cream
Enjoy!
Combine cream, cinnamon, nutmeg, and sugar in a medium bowl.
Whisk until soft peaks.
Fold in rum.
Serve on top of pie slices
Enjoy!
Roasting a pumpkin actually wasn't much more effort than using filling from a can. Cut and roast a pumpkin, scoop it out, blend and drain. It is so worth trying. You can even roast the pumpkin a few days in advance to make the pie even easier. I have to do this again. Jim even offered to help, realizing how wrong he had been about the taste.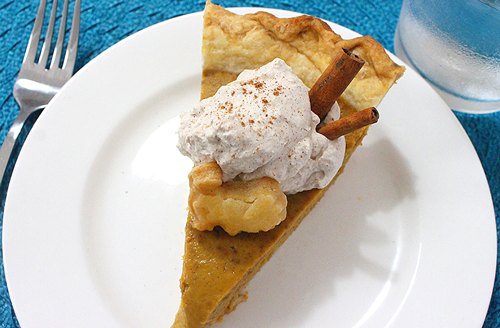 Thanks Jessica for another great pie.