C – Chewy and gooey, but it didn't set.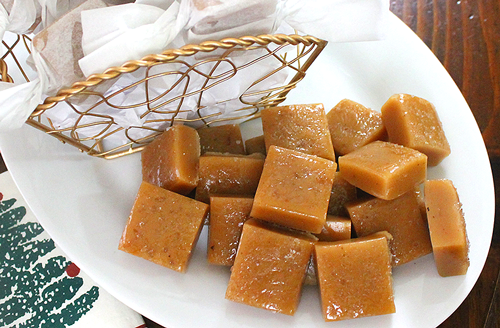 Even the professionals make mistakes. Luckily it wasn't a big one. Candy making can be tough. You need the right tools and perfect timing to execute a recipe like this. Jessica has been on a quest to give Be Mindful. Be Human. some of her favorite holiday sweets recipes. This one topped the list. Salted caramels.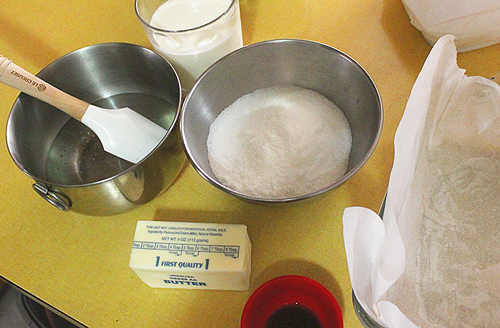 The recipe was easy, but the last few seconds can be nail biting. Just a few seconds under or over can ruin the entire batch. This was the case with the first batch we made.

We are all humans and even the pastry pro Jessica had an off day. We were both scared of burning the caramel and pulled it off too soon. Jessica noticed the color wasn't quite right. It seemed too light. She was right. The caramel didn't set up right. It was chewy and gooey instead of chewy and soft. It didn't have a caramel taste to it either. It tasted great but it didn't taste like caramel. Milky, sugary goodness is all I knew it was. She was about the throw the batch away, but I managed to persuade her to keep it.

One of my favorite things about Jessica is that she is a major perfectionist. She doesn't give up until she likes it. So we tried it again. It worked out perfectly the second time around. I couldn't believe just 5 degrees could make a huge difference in color, texture and taste. It tastes great!

Sugar, cream, corn syrup, butter, vanilla, salt and the right amount of time is all you need. Eating it the day it's made is my favorite. Soft and chewy and melts in you mouth. I think it's the best caramel I have ever had. I loved the sweet and salty components. I really enjoyed the soft and chewy consistency and how I couldn't stop eating them.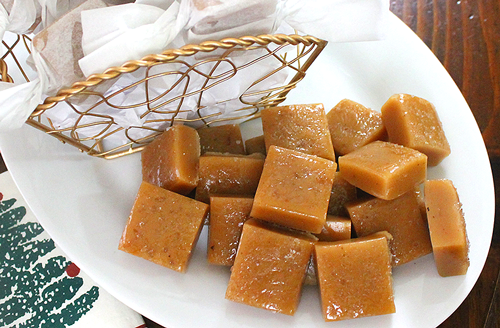 Prep time: 2 hours 20 mins
Cook time: 15 mins
Total time: 2 hours 35 mins
Ingredients
1 cup cream
1 cup sugar
¾ cup corn syrup
½ cup butter
½ tsp vanilla
Salt for sprinkling
½ cup chopped nuts, optional
Instructions
Combine cream, sugar, corn syrup and butter in a medium saucepan.
Gently whisk over medium heat until the mixture reaches 245 degrees.
Remove from heat and add the vanilla.
Pour into an 8×8" pan lined with parchment paper.
Sprinkle salt and nuts over the top of the caramel.
Let set up for a few hours and cut.
Wrap in parchment paper, if desired.
Enjoy!
I think my favorite moment was wrapping them up in parchment paper to look like real candy. They're going to be great to give as presents to friends and family this holiday season.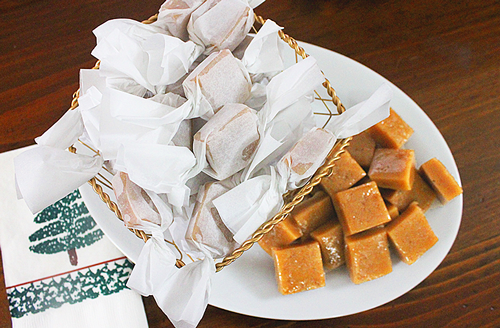 Thanks, Jessica, for sharing this great secret recipe with us.