Update and Redux: J – Monster Wings, Man Wings or whatever over-sized qualifier you want to use, these guys are big, meaty hunks of delicious duck wing. Not one-bite, wonder-where-it-went chicken wings. We tried them last year. They were a big success. Now, they're guranteed a position.
J – Deep fried, marinated duck wings …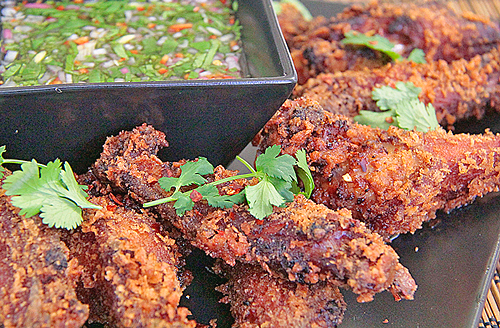 think of them as Monster Wings. I had some one evening at my favorite country French restaurant … to my great surprise. Never expected such a dish from them. Of course, duck and French are forever joined for me. But, with an Asian-style marinade? Deep fried? Nope.

They were three-napkins-messy and oh so good.
Plate was not big enough for how many I wanted to eat. Now, I lust after them.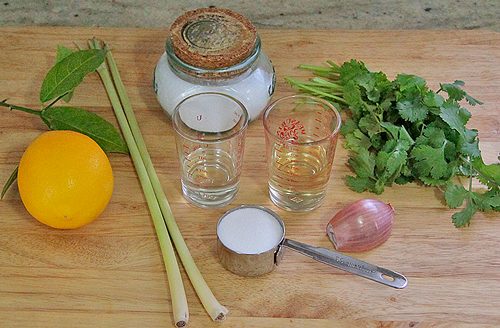 Recently, in the Be Mindful. Be Human. kitchen, I mentioned that I had a new-found desire … and was peppered with two simultaneous and urgent queries: "Who is she?!"
"Deep fried duck wings." I said. "Oh …" less enthusiastically.

Luke mentioned that he had been doing Asian-style marinated, deep fried chicken wings with a lemongrass gastrique and having great success. Sell out every day they are offered.

Not many brain cells needed to make the next connection. Try the recipe with duck wings.

A super tasty, crispy, monster wing that requires several large bites to finish. Very efficient!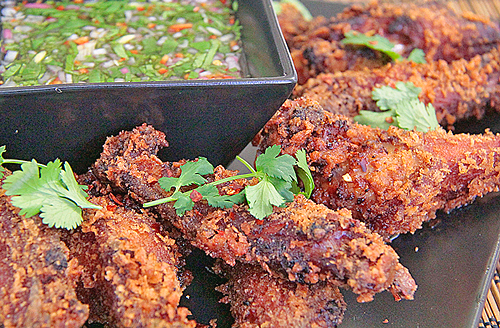 | | | |
| --- | --- | --- |
| Wings Week: Soy Sauce Glazed Duck Wings with Lemongrass Gastrique | | |
Prep time: 45 mins
Cook time: 25 mins
Total time: 1 hour 10 mins
Ingredients
1 large yellow onion, peeled and large chopped
1 thumb-sized piece of ginger, peeled and halved
1 cup Mirin
1 cup Tamari or soy sauce
salt to taste
2 Tbsp Mirin
4 Tbsp rice wine vinegar (unseasoned)
½ shallot, minced
¼ cup cilantro (stems included), chopped
¼ tsp lemon zest chopped
3 tsp sugar
½ tsp salt
2 small stalks lemon grass, minced
5 pounds of duck wings, cut at the joints
Canola oil as needed, about 2 to 2½ quarts
Corn starch as needed
Instructions
Pour soy sauce and Mirin into a pan big enough to hold 5 pounds of duck wings.
Add onions and ginger. Mix well and add salt to adjust for seasoning.
Add wings. Mix well and refrigerate for 3-4 days covered. Stir once every day until ready to cook.
Combine all ingredients.
Serve with duck wings; use immediately.
In a large pot or wok, heat enough canola oil to more than cover wings. About 400 degrees to start. Use a candy thermometer.
Remove wings from marinade and pat dry.
Place wings in a large bowl and cover with corn starch. Mix well and add more corn starch to coat wings well.
Wait 30 minutes, then add more corn starch and mix gently.
Place wings individually into hot oil. Add wings carefully without stirring. Work in batches and make sure wings stay covered with oil.
After about 10 mins, lower oil temperature to about 225 degrees. Gently turn wings. Cook until meat temperature is 150 degrees.
Remove to rack and let cool to edible temperature.
Serve immediately with gastrique.
Enjoy!
Eating these guys sure brings out the cave-person … big, savory, messy hunks.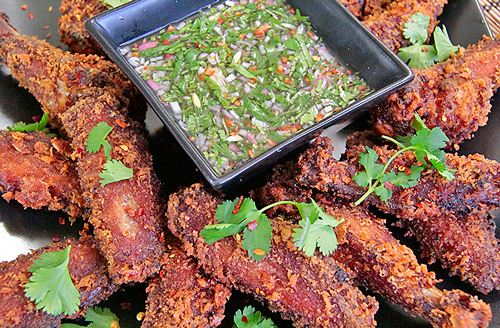 Delicious! Awakens a new lust … for duck.