C – Making crispy hash browns is a lot harder than I thought.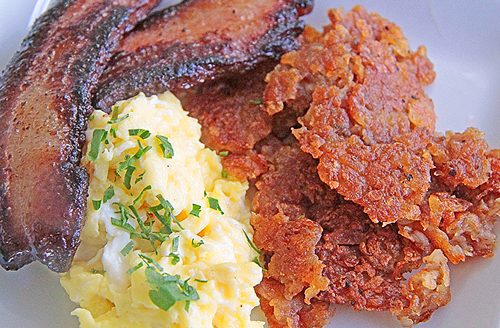 The first time I made hash browns, they were soggy, under-cooked and not the dreamy crispy shredded fried potatoes patties I had planned. The outside was crispy but most of it wasn't. They aren't as easy to make as latkes. Hash browns are definitely different from latkes.
There is no egg involved and the only things required are potatoes and oil. So you really can't rely on anything to crisp them up other than heat and oil.

There are a few techniques needed to make hash browns crispy. First, rinse the shredded potatoes in cold water to remove most of the starch. Then, squeeze out as much water as you can using a cheese cloth.

Removing the starch and the liquid from the hash browns will ensure crispiness. Another thing I didn't know about making crispy hash browns is that you are supposed to mix around and rotate the potatoes to make sure every piece of potato gets cooked. I really thought that was fascinating.
I am so used to the only-flip-over-once-and-don't-touch-it rule for meat. This rule makes everything get thrown out the door. I love this new rule. I like to watch my food like a hawk. I wait until the perfect moment is ready to swoop in and eat.

This is definitely the recipe for that. Just a few minutes on one side and flip. Then, flip again. Also, if you think it's about done, give it a few more flips to ensure the hash browns are extremely crispy.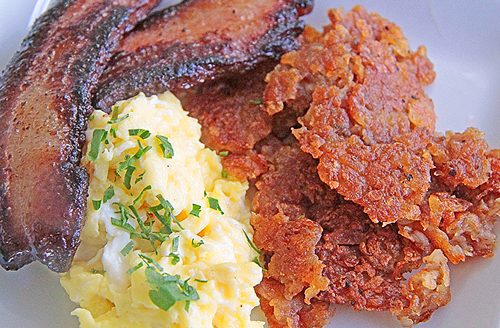 | | | |
| --- | --- | --- |
| Potato Week 2016: Hash Browns | | |
Prep time: 10 mins
Cook time: 12 mins
Total time: 22 mins
Ingredients
4 small Russet potatoes
2 Tbsp butter
Salt and pepper to taste
Pinch of cayenne pepper
Pinch of paprika
Instructions
Peel potatoes and soak them in cold water.
Shred the potatoes. Rinse them a few times with cold water.
Place the shredded potatoes in a cheese cloth and squeeze out all the water.
Heat a skillet or flat top on medium heat. Melt butter and add the shredded potatoes.
Sprinkle salt, pepper, cayenne pepper and paprika over potatoes.
Once the bottom is golden brown flip over. About 3 to 5 minutes.
Flip potatoes over again. You can also mix the potatoes a little so that the white part of comes to the surface and also crisps up. Continue turning until all the potatoes are crispy and still form a patty. If your potatoes are still not getting crispy, add a little more oil or do what we did and cook some bacon along with the potatoes. Use the leftover bacon fat to add to the hash browns to continue to crisp them up.
Serve.
Enjoy!
The taste test. It was just as I dreamed they would be. Extremely crispy homemade hash browns. I loved these and they weren't too hard to make. Now, this is a great treat for breakfast.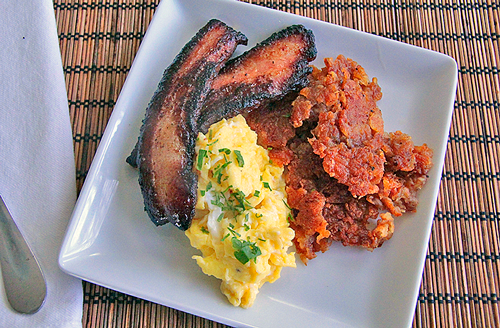 I am so glad that I finally figured out how to make really good, crispy hash browns.