J – This is a ridiculously delicious dish …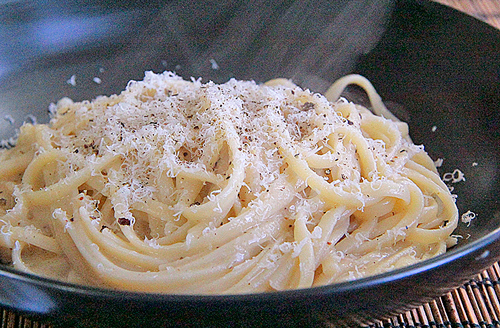 especially for how simple it is. Anthony Bourdain raved about this Roman dish on one of his episodes as a go-to dish for dining al fresco in Italy … with a good bottle of Italian red wine. Of course, I had to try it.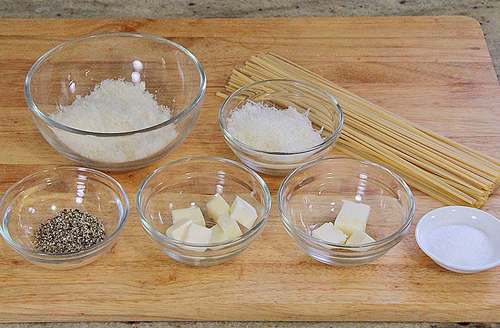 Hey, it's pasta week, right?

Nicely, Christina was up for it. Even did some of the research. Thanks.

I also discovered this dish in a round-about way while watching the Chef's Table episode featuring Massimo Bottura from Modena, Italy. A while back a large earthquake in that area crashed the local Parmesan cheese warehouse, threatening the health of.a few thousand wheels of Parmesan.

Masimo created a Cacio e Pepe Risotto recipe and posted a worldwide Cacio e Pepe competion on social media. The world responded. A few thousand wheels of Parmesan were saved and the town lives happily on.

I love stories likew that. Now, I really had to try this dish.

Christina vetoed risotto. Understood. So, we opted for the straight-up dish using linguine, butter, black pepper, Parmesan Reggiano, Pecorino and pasta water.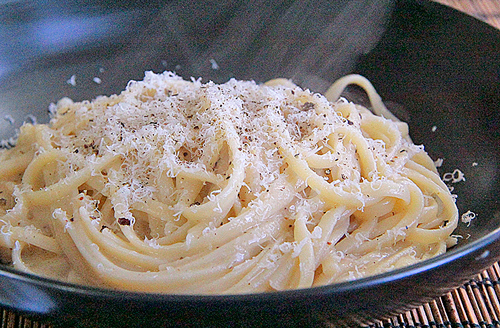 | | | |
| --- | --- | --- |
| Pasta Week 2016: Cacio e Pepe | | |
Prep time: 5 mins
Cook time: 15 mins
Total time: 20 mins
Ingredients
Salt
6 ounces linguine pasta
3 Tbsp unsalted butter, cubed, divided
1 tsp freshly cracked black pepper
¾ cup finely grated Parmesan Reggiano cheese
⅓ cup finely grated Pecorino cheese
Instructions
Bring 3 quarts water in to a boil in a 5 quart pot. Season with salt.
Add pasta and cook, stirring occasionally, until about 2 minutes before tender. Drain reserving ¾ cup pasta cooking water.
In a saute pan, place and melt 2 tablespoons of butter. Add pepper and toast the pepper for a minute or until fragrant.
Add pasta and ½ a cup of the served pasta water. Add the remaining butter.
Reduce heat to low and add the Parmesan cheese. Stir and toss until cheese has melted and coated the pasta.
Remove pan from heat and add Pecorino. Stir to incorporate and coat the pasta.
Transfer pasta to a bowl. Top off with more grated Parmesan and freshly grated pepper.
Serve.
Enjoy!
Super simple and easy to make. Just need to be careful with the heat. Not too much in the saute pan. It even goes off the heat for the final mix.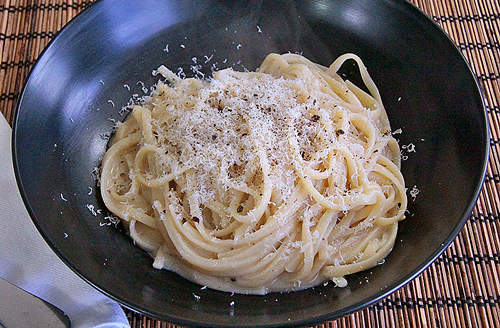 Wow! Rich and delicious. You will want and need more.
Adapted from: http://www.epicurious.com/recipes/food/views/cacio-e-pepe-365162