C – Salads need to be appealing when served at a potluck party.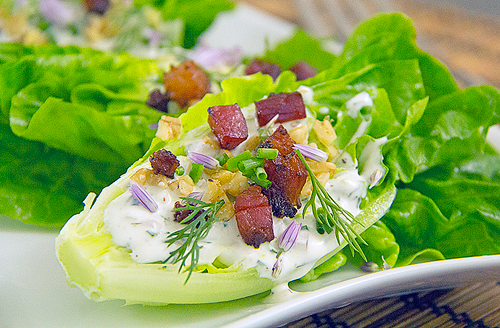 Especially with my friends. I place a platter of salads out at a party and no one will touch it. I usually bring a small dish of salad just for my sake and some health conscience people.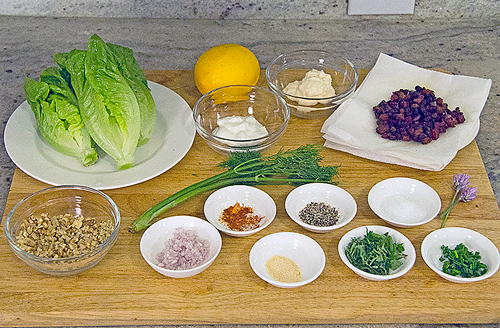 My salads are never plain and boring, either. It's not just lettuce. Filled with lots of colorful vegetables and possibly meats. A few different salad dressings and dips. Still, it's the last thing people eat.

I am still not giving up on making salads for pot lucks. This time things will be different. I am adding bacon, making it hand-held and putting a really flavorful ranch on it. Maybe people will at least try one. If not, they will be all for me.

I honestly don't mind if no one eats these. I could eat an entire platter all by myself. These are the best salad appetizers. The little gems are light, crispy and tender. The bacon gives it a great smokey taste, along with crispy, chewy, meaty flavor. The homemade ranch dressing is full of dill and chive flavor. The walnuts adds a nice crispy crunch.
Everything blends well together. It's not too filling, so you can stuff your face with other stuff … and still say you ate salad. I love that this is a hand-held salad. You just pick one up and eat it. Or, grab one and put it on your plate.

It's not challenging like normal salads, where you have to use tongs or a spoon and fork. Set up is easy, too. Make them as people are eating and pass them around. You don't have to leave them out too long.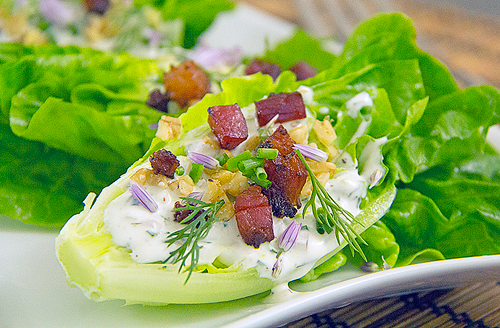 | | | |
| --- | --- | --- |
| Potluck Week 2016: Little Gems Hand-Held Salads | | |
Prep time: 15 mins
Total time: 15 mins
Ingredients
3 Little Gems, large leaves removed, about the first 5 outer leaves, trim the bottom ends
½ cup cooked bacon pieces, we used lardon pieces
¼ cup Greek yogurt
¼ cup mayonnaise
½ small shallot, minced
1 tsp fresh dill, chopped, plus more for topping
1 tsp fresh chives, chopped , plus more for garnish
1 Tbsp fresh oregano, chopped
¼ tsp garlic powder
1 Tbsp lemon juice
salt and pepper to taste
pinch of cayenne
2 Tbsp toasted walnuts, chopped
2 edible chive flowers, pedals only, for garnish
Instructions
Cut the Little Gems in to halves lengthwise and set aside.
Mix the mayonnaise. Greek yogurt, chopped dill, oregano, chives, garlic powder, shallots, lemon juice, cayenne, salt and pepper in a mixing bowl.
Spread about a tablespoon of dressing over the cut side of each of the Little Gems. Leave the top ¼ without any dressing so it is easy for people to handle.
Top with a few pieces of bacon, and walnuts.
Sprinkle on some dill leaves, chives, and chive pedals.
Serve immediately.
Enjoy!
This is definitely a summer salad. I can't wait to share it with my friends.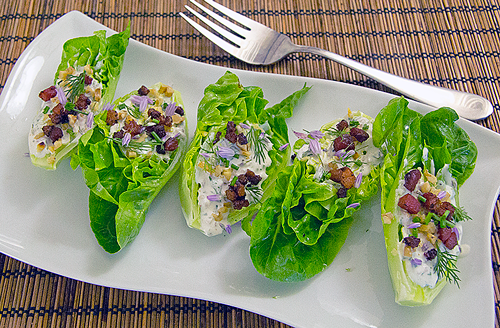 I am sure everyone will try at least one.