Update and Redux: J – I would not have thought to put these ingredients together in any form. Christina's inspiration makes for a wonderful Summer salad. Simple to make. Rich and complex flavors. Works for two or for a crowd. A great Summer salad.
C – Blueberries, pea sprouts and chicken need to go together this Summer.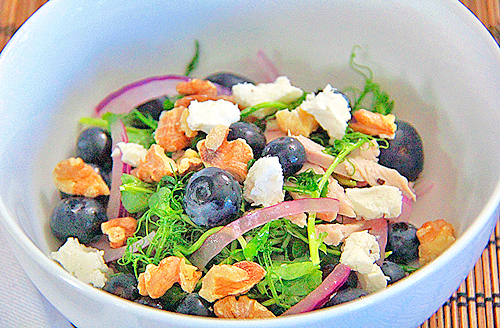 This bowl of salad really feels like Summer to me. It's simple, refreshing and filling. I love all the textures and flavors in this salad. It's wonderful and really easy to make.
The combination is incredible: Crispy, tender pea sprouts, hearty chicken, creamy goat cheese, sweet and juicy blueberries, crispy, toasted walnuts with a tart lemon vinaigrette.

I always try to get every element of a salad all in one bite.

Sometimes, I am successful. Other times, not so much.
This one was a little bit challenging to get it all in a single bite.

But, when you do … and your mouth isn't completely full of food … it's worth it.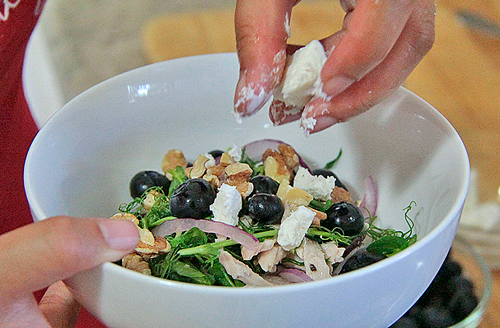 This salad had small pieces of everything. It was perfect to have all the ingredients on a single fork-full.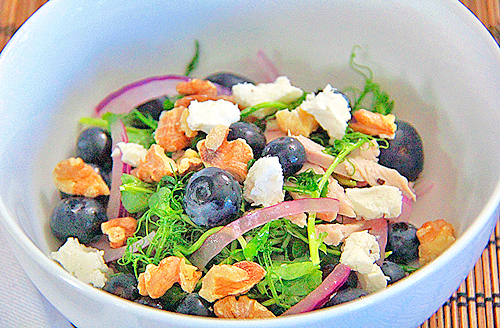 | | | |
| --- | --- | --- |
| Blueberry Week: Blueberry, Pea Sprouts, Chicken and Goat Cheese Salad | | |
Prep time: 10 mins
Total time: 10 mins
Ingredients
½ shallot, minced finely
Salt and pepper to taste
½ a lemon, juiced
A pinch of red chili flakes
1 Tbsp white balsamic vinegar
3 Tbsp grapeseed oil
½ red onion, sliced thinly
Lemon Vinaigrette
1 roasted chicken breast half, sliced thinly
½ cup pea sprouts
¼ cup blueberries
¼ cup toasted walnut pieces
2 Tbsp goat cheese
Instructions
Place shallot, salt and pepper, lemon juice, red chili flakes, white balsamic vinegar into small mixing bowl. Mix well.
Slowly drizzle grapeseed oil while whisking in to emulsify the vinaigrette.
Serve in salad.
Enjoy!
Mix 1 tablespoon of the lemon vinaigrette with the red onion and set aside.
In a medium mixing bowl, place two tablespoons lemon vinaigrette, chicken breast, pea sprouts and mix well.
Place into a serving bowl.
Top with blueberries, walnuts, and goat cheese.
Serve.
Enjoy!
It was definitely an amazing bite.
Hope your having a great Summer and will enjoy some great salads like this one.