C – Oh, my gosh, I almost burned this dish!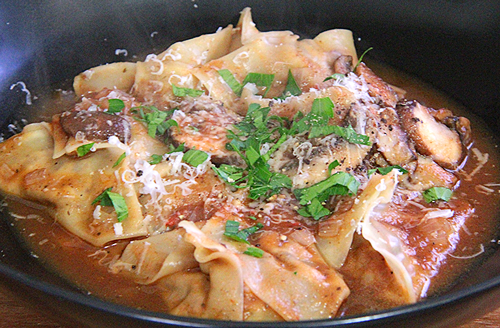 Just 10 more minutes and it would have been a goner. I was so lucky. I was in search of my missing phone in the kitchen, when I smelled something burning. Lucky, it was only burnt just a little on the bottom of the pan.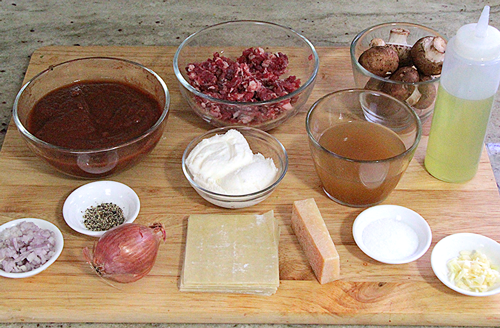 I guess I didn't put enough liquid in the pan before I let it simmer and reduce.

This would have been the most disappointing moment of my week. This week I have had quite a few disappointing moments. This would have been the biggest.
It was the last shoot of the week. We have been saving these little lamb pieces for months. Waiting for a good opportunity to use them.

I would have been kicking myself. Luke would have never let it go. He would have made fun of me every time I stepped into the kitchen … probably.

I don't even want to think about what Jim might have thought. I know he would be disappointed. It would have been a huge mess and a shoot gone to waste.
I was even more lucky that the sauce actually reduced to a great tasting ragu. Oh boy, it tasted great. Ok, maybe it was the perfect time for me to come and check on the sauce. Of course, I usually never walk away from a cooking pot on heat. But, I was way too busy being human to be mindful.

I am so grateful nothing bad happened. I promise not to do that again.

It was a thick, filling and full of flavor. I added some creamy ricotta, Parmesan and an egg to bind it all up. I also used thin wonton wrappers, which didn't make the raviolis to heavy. Sometimes, with thick raviolis, there is just too much dough for the filling to shine.

The taste test was great. The delicious filling was great with the light pasta. I think I made too few of these. Just the opposite of the butternut squash raviolis.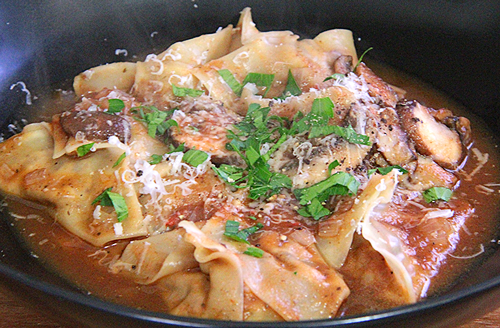 | | | |
| --- | --- | --- |
| Wonton Wrapper Week: Lamb Ragu Ravioli | | |
Prep time: 20 mins
Cook time: 45 mins
Total time: 1 hour 5 mins
Ingredients
1 Tbsp oil
1 shallot, chopped
1 clove garlic, minced
1 pound lamb, cut into ⅛ inch cubes
Salt and pepper to taste
¼ cup red wine
1½ cups homemade tomato sauce, pureed (recipe link below)
½ cup ricotta cheese
1 egg
1 Tbsp Parmesan cheese, grated
20 thin square wonton wrappers
1 Tbsp grapeseed oil
1 shallot, chopped
3 crimini mushrooms, sliced
1 cup chicken stock (recipe link below)
½ cup hoemmade tomato sauce, pureed (recipe link below)
Salt and pepper to taste
Grated Parmesan cheese to top off the dish
Instructions
In a medium sauce pan, place oil and heat on medium high.
Add shallots and cook until softened. About 1 minute.
Add garlic and cook until softened. About 30 seconds.
Add lamb and cook until brown. Add a pinch of salt and pepper to taste.
Add red wine and let reduce until all the liquid has evaporated. About 30 seconds to a minute.
Add tomato sauce and reduce heat to low. Let simmer for 30 minutes. Checking periodically. Add more tomato sauce into the mix, if it is too dry. Salt and pepper to taste.
Once done, remove and let cool overnight.
The next day, add ricotta cheese, Parmesan and egg to the mix. Combine well.
Place a teaspoon of the mixture onto a wonton wrapper.
Place water around the edges.
Fold the front and backside corners up to meet. Do not close the edges between the corners. Then, bring those two sides in to meet each other in the middle.
Crimp to make sure all the edges are connected.
Press the bottom down and it should look like a pyramid.
Repeat with remaining wontons and filling. Set aside.
Add grapeseed oil to a saute pan and heat on medium high heat.
Add chopped shallots. Saute for about 1 minute until softened.
Add crimini mushrooms. Cook until browned. About a 1 minute.
Add chicken stock and tomato sauce. Mix well.
Add salt and pepper to taste.
Reduce heat to low and let simmer.
Once sauce is simmering, bring water to a boil in a separate pot.
Raviolis cook in about 1 to 2 minutes. Add raviolis into a pot of boiling water and cook until the raviolis float. Wait a minute more and they are done.
Once the minute is up, use a flat slotted spoon to remove the raviolis from the pot and carefully place them into the sauce.
Gently toss a few times. Be careful not to break the raviolis.
Remove raviolis and place on a serving plate. Add any remaining sauce on top and around.
Serve with more grated Parmesan cheese.
Enjoy!
Homemade Tomato Sauce recipe
Chicken Stock recipe
I am so glad I didn't burn the house down. There were lots of things I could have burned this week.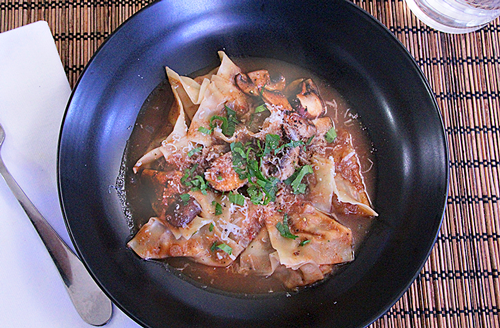 I just didn't expect to burn this one.