C – This is my boyfriend's new favorite dish.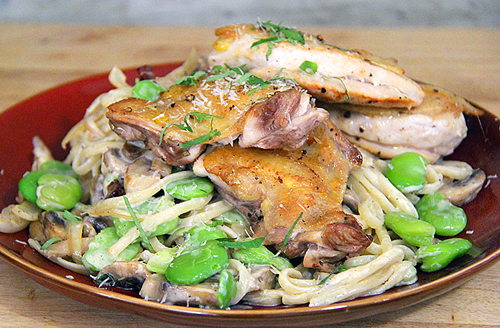 I didn't think he liked it the first time I made it. He had just come home from a stressful day at work. He was tired and hungry. He was quiet … a little too quiet when I served this to him.
He ate only half of it. I guess I am going to be one of those mothers who will be offended when one of her kids doesn't eat all of their food. It just wasn't my day. Oh well. I put the leftovers away.

The next day, all he could talk about was that fettuccine cream sauce stuff he had the night before. I asked why he didn't eat a lot of it. He'd just had a rough day and was too overwhelmed to eat much.

The next day, he ate that fettuccine in full force. He even had seconds. This was his new favorite dish. Thank goodness!

A big question in my mind when I packed this dish away was, what didn't he like about it? But, the real question was more what's not to like. Everything in this dish mingles together and creates a flavor explosion.

Pan seared Shinsin Sun Gold™ Chicken with mushrooms and bacon, all mingling together in a creamy, cheesy sauce. This is really up my boyfriend's alley. He loves stuff like this. Now I have to restrain from making this every time I see him. He loves it so much.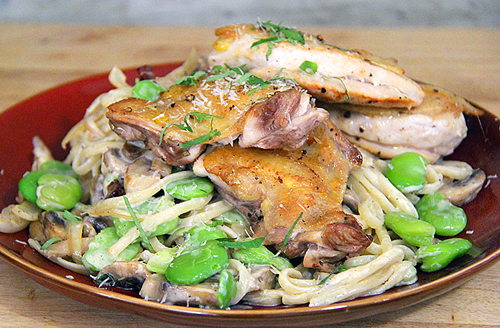 | | | |
| --- | --- | --- |
| Pan-Seared Chicken with Fettuccine Cream Sauce | | |
Prep time: 20 mins
Cook time: 35 mins
Total time: 55 mins
Ingredients
1 Shinsen Sun Gold Chicken, cut into pieced. Save the back and trimmings for making stock.
1 cup of shucked fava beans (You can also use frozen peas. Just blanch them lightly.)
5 large mushrooms, each cut into 6 to 8 wedges
½ box of fettuccini pasta, or enough to serve 4 people. You can also use linguini or papparadelle. Just depends on how wide you like your noodles.
2 slices bacon, cubed
1 Tbsp canola oil
1 yellow onion, julienne
1⅔ cups cream, divided, more if needed
¼ cup Parmesan cheese
1 Tbsp butter
½ bunch fresh oregano
Salt and pepper to taste
Instructions
Preheat oven to 350 degrees.
Salt and pepper chicken. Place chicken in a hot saute pan skin side down. Sear until golden brown on both sides. About 8 minutes.
Once chicken is brown, place in oven. Cook for 15 minutes or until chicken is fully cooked.
In 4 quarts of boiling water, add fava beans and blanch for about 1 minute, just to loosen up the outer skin of the fava beans. Remove from pot and rinse in cold water. Remove skins from beans. Set a side.
Cook pasta according to pasta directions on the box. Drain, do not rinse, and hold warm.
In another saute pan, place cubed bacon piece on medium heat. Cook until crispy and remove from pan.
Place onions into same pan using bacon grease on medium heat. Add salt and cook until slightly brown and caramelized with a crisp consistency. Remove onions from pan.
In the same pan, turn up the heat to high. Add 1 tablespoon of canola oil to pan. Add mushrooms and sear until brown. Add salt and pepper and butter after a minute. Do not cook until water releases from the mushrooms. They will be overcooked. Remove from pan and set aside.
Wash and wipe same pan. Making sure there are no brown bits remaining.
Place 1⅓ cups cream into pan and heat on high. Let simmer and stir occasionally to make sure not to boil over. Let cream thicken for a 2 or 3 minutes. Once done cream should be yellow and bubbles big.
Add pasta to the pan. Combine well.
Add oregano, grated Parmesan cheese, salt and pepper. Combine well.
Add ¼ cup cream to thin it out a little. Add more if needed.
Turn off heat.
Add onions and bacon. Combine well.
Add mushrooms with a slotted spoon. Try not to get any of the juice of the mushroom liquid into the sauce.
Add fava beans. Combine well.
Salt and pepper to taste.
Plate pasta on dish and top with chicken.
Grate more Parmesan cheese and top with fresh oregano.
Serve.
Enjoy!
Thanks, Luke, for showing me how to make this dish and allowing me to impress my boyfriend.
You can get fresh Shinsin Chickens daily from our friends at New American Poultry at 8612 Younger Creek Dr. in Sacramento.