Update and Redux: J – This is my gastrique soapbox … it's really good! Funny name. Fancy sounding. No matter. It's easy. Versatile. Super delicious. And, yes, you can impress your friends with a "new" French technique. In this case, on halibit no less!!
J – Gastrique can be so misunderstood …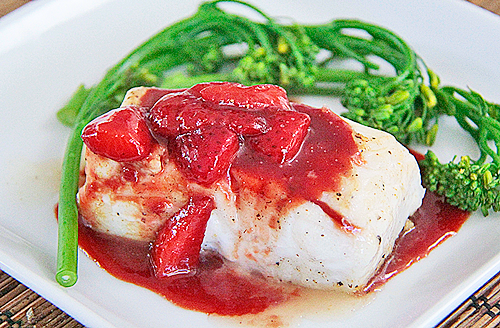 which is totally unfair and unjustified in my book. First, it's a French word, so almost no one can pronounce it. Second, it just sounds funny in English … don't let your mind wander. Well, for those who don't know gastrique, you really need to get cozy. You'll love it.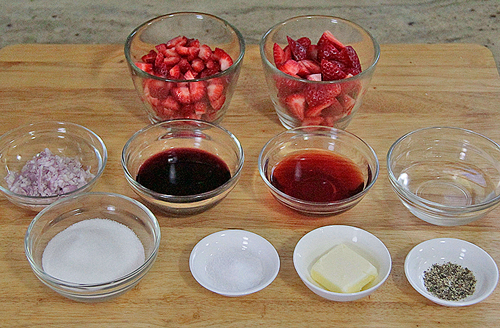 A good, berry-based gastrique on a piece of perfectly pan-seared fish is heavenly.

There is nothing else like it. Sweet-tart, slightly acidic and very rich, this sauce brings out the best in almost any protein.

So, for strawberry week, what else? Strawberry Gastrique.

Actually, you can make a gastrique out of just about any fruit, herb, berry, etc. Luke does a delicious fresh herb gastrique for Asian chicken wings. Oh my!

At its heart, gastrique is a technique that uses the acidity and flavor of a vinegar combined with caramelized sugar to enhance the flavors of the main ingredient, such as fruit, berry or herb.

It works well.
I've made gastrique for awhile. Christina didn't know what it was … in the beginning. Now, she wants to gastrique everything. She thinks it's "better than jam or a compote." I agree. How about Peach Gastrique, for example.

The technique is pretty simple, with one careful part. Caramelizing the sugar requires watching. The moment of caramelization comes … and goes … very quickly. A few extra seconds and it burns.

When it turns golden amber, remove it from the heat immediately and add the vinegar.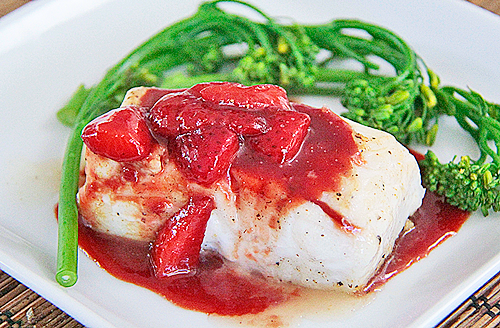 | | | |
| --- | --- | --- |
| Strawberry Week: Strawberry Gastrique | | |
Recipe type:
Sides, Techniques
Prep time: 15 mins
Cook time: 25 mins
Total time: 40 mins
Ingredients
¼ cup waster
¼ cup granulated sugar
¼ cup red wine vinegar
1 Tbsp unsalted butter
1 shallot, minced
¼ cup red wine
1 cup strawberries, chopped
1 cup strawberries, quartered
pinch of salt and pepper to taste
Sugar, if needed
Instructions
In a small sauce pan, add water and sugar. On medium heat, cook until golden brown in color and caramelized. Remove from heat.
Add the red wine vinegar. Mix until the caramel is completely dissolved. If the caramel isn't dissolving, place back on low heat until it melts. Set aside.
In another sauce pan, place butter on medium heat to melt. Add shallots and cook until translucent. About 3 minutes.
Add 1 cup chopped strawberries and wine. Also add a pinch of salt and pepper. Cook for about 10 minutes until strawberries are tender. Let cool.
Once cool, place in food processor. Blend until smooth. Strain strawberries though a fine mesh strainer. Place back into pot and add quartered strawberries.
Slightly warm the caramelized vinegar (gastrique) mixture. Add the mixture into the strawberry mixture. Cook until simmering.
Taste and adjust for seasoning. If you need more sugar, add it.
Serve on fish or protein of your choice.
Enjoy!
For this dish, we used pan-seared Alaskan halibut served with blanched broccolini.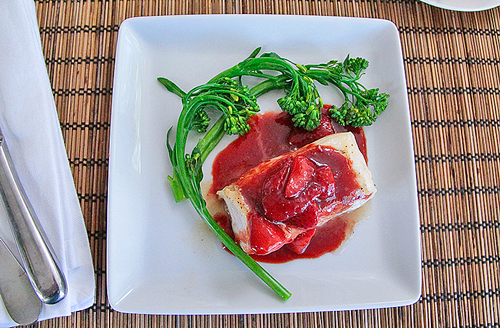 Simple. Beautiful. Delicious.