Update and Redux: J – Salsa is a huge category. I love that there is a great salsa for just about everything. Sweet-savory salsas are one of my favorites. In the Summer, Christina goes a little strawberry crazy … this salsa was a natural outcome. Delicious.
C – I always hate when I buy strawberries and mangoes that are flavorless and unripened.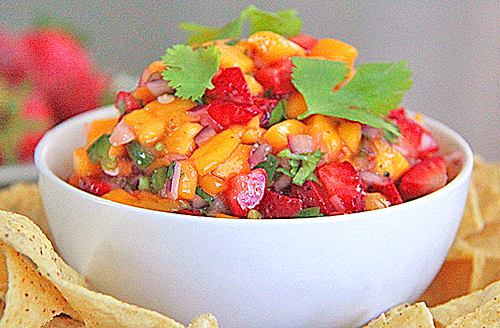 But, I found a good hack for all of this fruit. Make a salsa. One of my favorite things to do with unripened fruit is make salsa. I can add flavor to flavorless fruit. Add some salt and lime, even sugar or honey, to add flavor to the fruit. It brings out the sweetness and fruity flavor.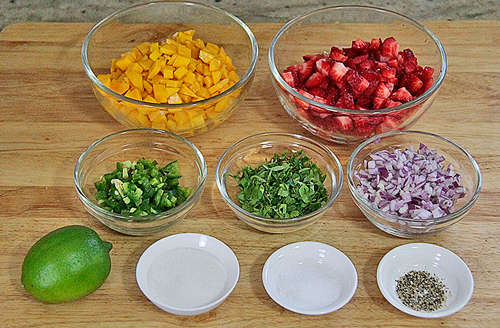 I actually like to find the unripened fruit for salsa because ripened fruit breaks down too much. It creates a mush and it ends up not tasting good.
I like the crispy texture of the mangoes and strawberries.

For this strawberry mango salsa, the fruit was close to being too ripe for me. I should have made it a couple of days before.

I was a bit scared the the mangoes would turn into a puree once the lime was added, since lime "cooks" things.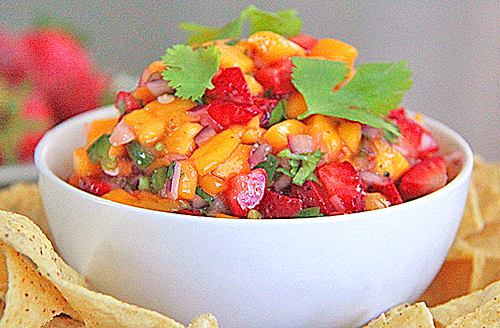 | | | |
| --- | --- | --- |
| Strawberry Week: Strawberry Mango Salsa | | |
Prep time: 15 mins
Cook time: 30 mins
Total time: 45 mins
Ingredients
1 pint strawberries, stems removed and chopped
2 not-so-ripe Ataulfo mangoes, peeled and chopped
1 jalapeno, stem removed and chopped
5 sprigs cilantro, chopped
¼ red onion, chopped
1 lime, juiced
Granulated sugar to taste
Salt and pepper to taste
Instructions
Add all ingredients to a bowl. Mix well. Let it sit (or chill) for 30 minutes.
Serve.
Enjoy!
I was fine this time. You can even use green mangoes. The ideal mangoes are ones that are still firm but have yellow skin.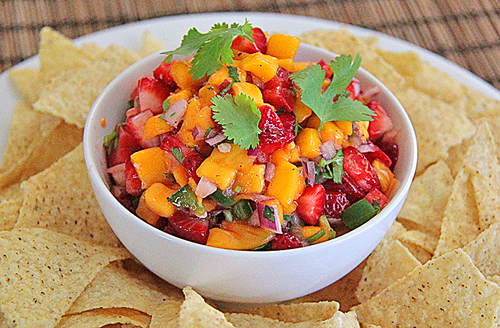 If you end up buying unripened fruit and you want a quick use for them, make a salsa. It will be devoured in no time.