J – I do not normally bake …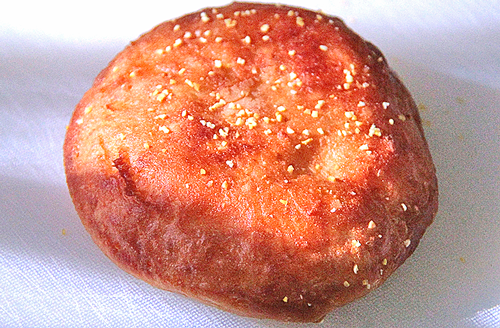 Actually, I almost never bake anything. Get myself into trouble. Yet, we needed some awesome English muffins for fancy breakfast week. You just can't have a breakfast sandwich with store-bought muffins … in my book.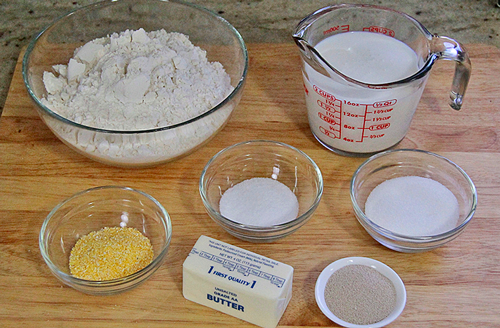 And, they had to be started on the weekend when the Be Mindful. Be Human. kitchen is usually quiet and empty.

The solution wasn't all that hard. Call Luke and he would get a recipe from his wife, Jessica, the baker.

This project was looking very promising . See, Jessica is an awesome baker. Everything of hers we have tried or made has been delicious.

Sunday afternoon project. Easy!

I got all the ingredients … sort of. I couldn't find semolina flour to save my life. Turns out polenta is a pretty good substitute. We already had that.

The beer supply was restocked, also. We were ready to go.

Once we got started, the whole thing was a bit anticlimactic. We spent most of our time hanging out, waiting for the mixer or the dough.

The dough is very wet (sticky). You need to be gentle when forming the muffins. The polenta (or semolina flour) lets them sit lightly on the parchment for proofing.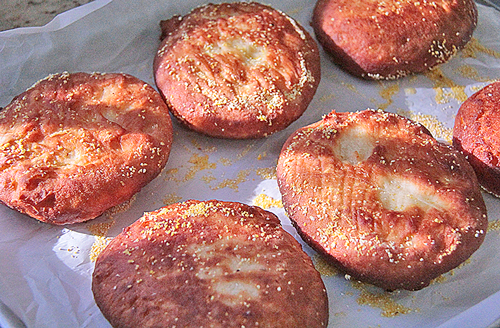 The next morning, Christina, the other baker, fried them up and we baked them off. What a fabulous smell.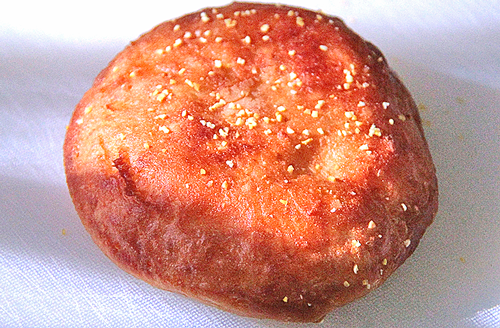 | | | |
| --- | --- | --- |
| Fancy Breakfast Week: Homemade Buttermilk English Muffins from Scratch | | |
Prep time: 26 hours
Cook time: 30 mins
Total time: 26 hours 30 mins
Ingredients
4 cups all purpose flour
¼ cup granulated sugar
1½ Tbsp, plus 1 tsp salt
2¼ Tbsp, plus ¼ tsp yeast
2 cups buttermilk
¼ cup, plus 1 Tbsp room temperature butter
Instructions
In the bowl of a stand mixer add flour, sugar and salt. Then add yeast, buttermilk and butter.
Using a dough hook, mix on #2 speed for 8 minutes.
Remove dough from stand mixing bowl into a large bowl. Cover with plastic wrap and proof for 1½ hours in warm location, or until dough doubles in size.
Roll out dough into 5 oz portions.
Add more all purpose flour if too wet.
Dust parchment lined baking sheet with semolina flour or polenta. Place portions on baking sheet at least 2 inches apart.
Cover with plastic wrap. Place in refrigerator.
Proof for 24 hours.
Preheat oven to 350 degrees
Place ¼ inch of oil into a frying pan set on medium.
Once heated, carefully place muffins into frying pan.
Fry both sides until golden brown. Reduce heat if needed.
Place in a 350 degree oven for about 15 minute or until center is fully baked.
Cool and serve. Can be frozen.
When they came out of the oven, it was very hard to not burn ourselves before they cooled. Finally cut one open and added a bit of butter.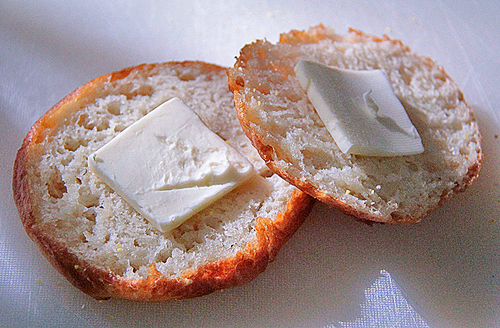 Oh, my! Warm, crunchy, yeasty muffins. Totally worth making.