Update and Redux; J – This delicious dish is one of our "lost recipes" … only because we had a database issue last year. Poof, 45 recipes disappeared from the blog! I was not amused. Fortunately, we have tons of archives, so we just had to reconstruct it. Just is used very lightly here. I'm glad we did, though. It's a great start to green tomatoes week.
C – The tomatoes are still green on the bush.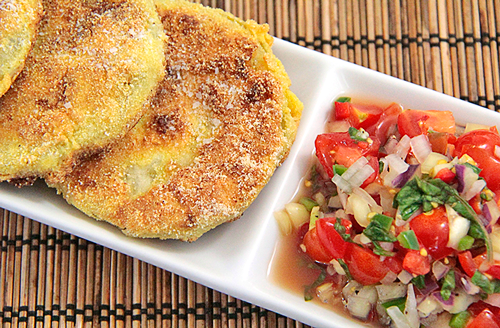 Because of the drought and weird weather in California, we haven't received any ripe tomatoes yet. Other than the Sweet 100s, which have a perfect spot for growing. Lots of sun and lots of water. The others have had some problems.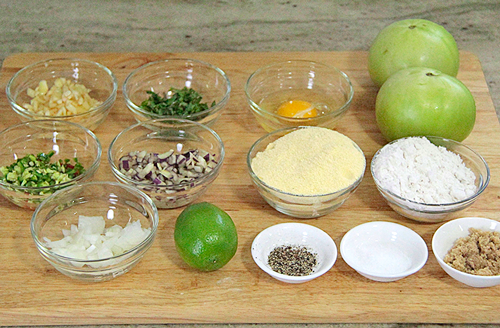 Some very mean raccoons [or skunks] dug them up a few times. And, they didn't have enough water to start. It wasn't a good combination. I want to use tomatoes now!
I couldn't wait. I saw a few of our Early Girl tomatoes on a bush. They were green. Perfect for some fried green tomatoes. I am hoping to eat more than just one slice this year. I just picked a few … not too many. Just enough to make a few fried green tomatoes.

This year I am making them. I am trying a new technique. Luke made a small batch a while ago (add hyperlink). They were great, but the batch was too small. Making a lot this time. Of course, I have a feeling that I am making too many. I don't care. As long as they are good they will be gone.

Using some of Luke's method and trying somethings on my own this time. It seemed to work. I used Luke's technique for macerating the tomatoes with brown sugar and salt. It sort of worked. But, I think I rushed it. Of course, the tomatoes were a lot bigger than when Luke made them, It still worked out.

This recipe has a crispier, firmer shell. Perfect for big slices of tomato. Make sure to cook the outside slowly so it doesn't burn. This will allow the tomatoes to cook through and be soft.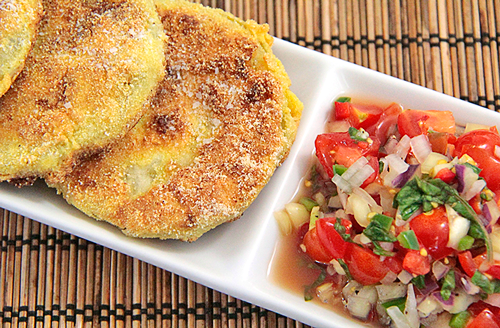 | | | |
| --- | --- | --- |
| Green Tomatoes Week: Fried Green Tomatoes with Pico de Peppers | | |
Prep time: 45 mins
Cook time: 15 mins
Total time: 1 hour
Ingredients
2 sweet peppers multi-color like yellow, orange, red, small dice
1 spicy pepper like jalepeno or Fresno chili, small dice
10 Thai basil leaves, chopped
1 small yellow onion, chopped
1 lime, juiced
10 sweet 100s tomatoes, small dice
Salt and pepper to taste
2 large green tomatoes, sliced ¼ inch thick
2 tsp brown sugar
1 tsp salt, plus more salt for seasoning
½ cup all purpose flour
2 eggs, beaten
½ cup cornmeal
Instructions
Mix all ingredients in a bowl. Set aside for 30 minutes.
Serve with fried green tomatoes.
Enjoy!
Sprinkle brown sugar and salt over both sides of the tomato slices. Let sit for 30 to macerate.
Place each tomato into flour and coat well.
Place the tomato in egg and coat well.
Place into cornmeal and coat well. Set on a plate.
Repeat with the remaining tomatoes.
Heat a saute pan with ¼ inch of canola oil. Heat on medium until warm.
Add tomato slices and cook until golden brown and crisp on both sides.
Remove from pan and drain on a paper towel.
Sprinkle salt over each tomato.
Serve with pico de pepper salsa or any other sauce you like.
Enjoy!
The results are soft, well-cooked tomatoes with crispy outside. Topped with a tasty sauce, this great side dish or snack is ready to go.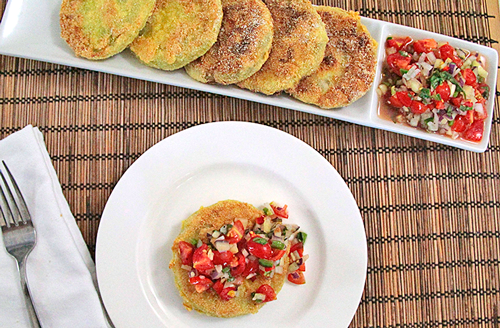 Not being able to wait for ripe tomatoes has it's plus side. Fried green tomatoes with a pico de pepper salsa is perfect.