C – Bahn Mi sandwiches are my favorite sandwiches.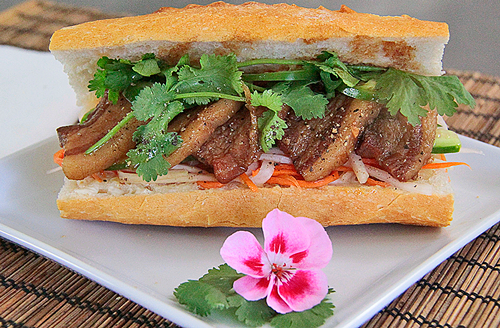 I grew up with them. I used to take them for granted. They used to be $1 for a sandwich at Vietnamese sandwich shops. Inflation has hit and those days have past. I feel a bit old talking about back in my "olden" days.
Nowadays, this street food sandwich averages about $3 to $5, depending on the city and where you get them.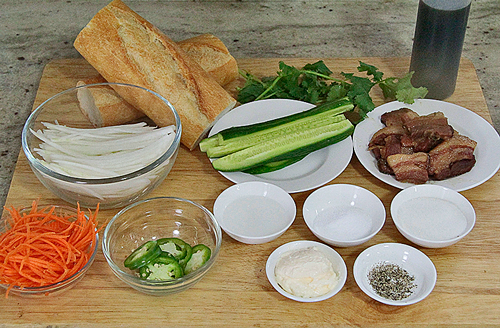 Of course, there are places that serve them as a "fancy" sandwich that can cost up to $10.

I am usually appalled by such a price and never get it.

But, one day I fell for the $10 Bahn Mi sandwich. Was it worth it?

As a cook and a foodie, maybe. I still say I could make it better.

Yeah, I still can't believe I spent $10. That's way too much for it. It was pretty, but just wasn't as good as I'd hoped.

I guess I have high expectations when it comes to bahn mi sandwiches. I grew up with them. They are suppose to be a cheap street food that fills you up. I expect more from a $10 bahn mi than I do a cheap banh mi.

So, what is my perfect bahn mi? One with the perfect balance of meat and crispy vegetables. A few nice, full sprigs of cilantro, with a few bites of jalapeno that surprise me as I go.
This pork belly bahn mi really hit the spot. I guess the best bahn mi's are the ones you make yourself.

There's something about knowing how much to put into a sandwich that makes it so wonderful. It might be the OCD in me … or the food blogger in me … but I made the perfect bahn mi sandwich.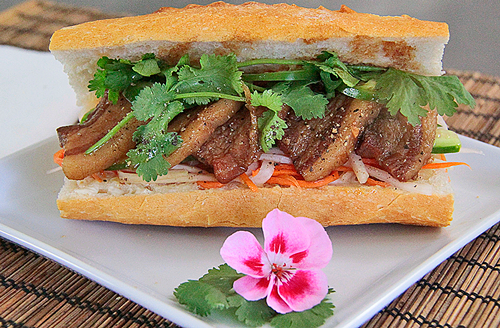 | | | |
| --- | --- | --- |
| Sandwich Week: Pork Belly Bahn Mi | | |
Prep time: 20 mins
Cook time: 2 hours 20 mins
Total time: 2 hours 40 mins
Ingredients
1 pound pork belly, trimmed
1 Tbsp grapeseed oil
2 cloves garlic, minced
1 thumb-sized ginger, peeled and thinly juilenned
2 birds eye chili, chopped
1½ Tbsp granulated sugar
2 Tbsp sake
2 Tbsp dark soy sauce
1½ Tbsp light soy sauce
¼ cup Chinese chives, cut into 1 inch pieces
French baguette (not sourdough) or Vietnamese-style French rolls (we used a French baguette)
5 slices of cooked pork belly for each sandwich, more if desired
1 cup carrot, juillened
1 cup diakon, juillened
Salt to taste
2 Tbsp granulated sugar
3 Tbsp white vinegar
1 cucumber sliced thinly, lengthwise
Soy sauce to taste
2 Tbsp mayonnaise
Freshly ground black pepper to taste
6 cilantro sprigs
1 jalapeno, sliced thinly
Instructions
Slice ½ by 2 inch thick slices of pork belly.
In a heavy bottom pot, place oil, the garlic, juilenned ginger and birds eye chili. Cook for about 1 minute on medium high heat until fragrant.
Add sugar and mix well. Cook until the sugar has caramelized into a golden brown.
Add the sake and let cook for about 1 minute.
Add dark soy and light soy sauce. Mix well.
Add the pork belly and enough water to cover the pork. Mix well.
Add chives and mix well.
Bring to a boil and reduce to a low simmer for 2 hours, or until the pork belly is tender but still holds it shape.
Remove pork belly slices from pot and use for sandwiches or eat with rice.
Mix carrots, diakon, 1 tablespoon sugar, 1½ tablespoon vinegar and salt to taste together in a bowl. Taste and adjust seasoning as needed. It sould be perfectly balanced. Not too sweet, salty or tart. Set aside.
Do the same for the cucumber slices with the remaining sugar, vinegar and salt.
Place bread under a broiler and toast. Be careful not to burn.
Slice bread in half lengthwise but don't cut it all the way through.
Spread mayonnaise on the bottom.
Place cucumber slices on the bottom.
Add pork belly on top.
Top with jalapeno slices.
Add cilantro.
Drizzle some of the sauce from the pork belly mixture.
Drizzle soy sauce over top.
Sprinkle fresh ground pepper.
Serve.
Enjoy!
I made sure that every bite would have everything in it. What's the perfect bite? A bit of crispy bread, a flavorful piece of meat, some crunchy diakon, carrot and cucumber, aromatic cilantro, creamy mayonnaise, and a thin slice of jalapeno. It's a lot. It's also the most satisfying thing on the planet.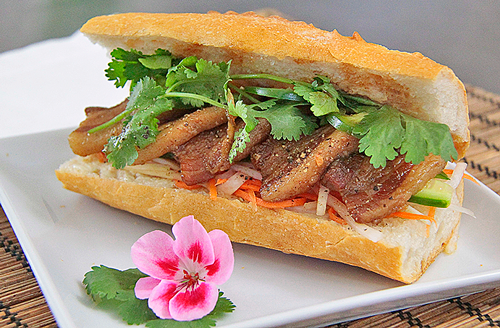 I hope you understand why I can eat this every day, if my health would let me. It's amazing in flavor and so good … as long as it doesn't cost me too much.