Update and Redux: C – Beet stew for a cold Winter day is a wonderful way to warm up and stay healthy. It's delicious and loaded with lots of our favorite Winter vegetables
C – I haven't braised anything in a while.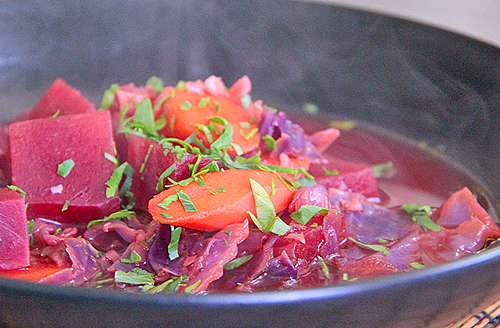 I almost forgot how. But, it's like riding a bike. Once you learn you never forget. Braising is simple. The challenge is in braising vegetables. Some vegetables need different techniques to cook them. Our braised asparagus recipe required us to cook the asparagus in liquid until the liquid was completely gone and the asparagus was brown.
The braised leeks were even more confusing. Braise the leeks and then remove them from the pan and sear them before eating.

So when I wanted to braise beets, I didn't know what to do. Beets can't be seared like the leeks or browned like the asparagus. I decided to use a method similar to braising meat for this recipe.

When you braise meat, you add flavor to the bottom of the pan before braising. You sear the meat and brown it. I didn't think searing beets would be a good idea, so I didn't try it. I did caramelize the onions, carrots and cabbage before braising everything for an hour.

The results were great. It's a rich and delicious chunky soup. Great for a cold winter day. I love all the roasted flavors and the different textures of the vegetables. The carrots were sweet and tender. The onions caramelized and sweet.

The beets were tender and made the entire soup purple. It was delicious. I love the added acid from the wine. It really helped balance all the flavors.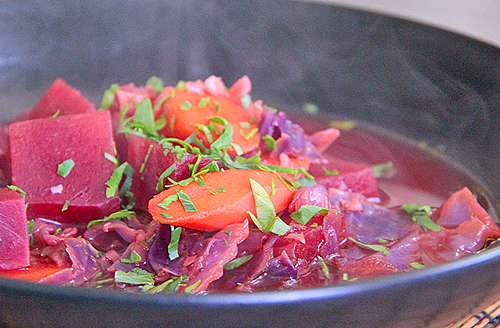 | | | |
| --- | --- | --- |
| Braising Week 2016: Braised Beet Carrot Cabbage and Onion Stew | | |
Prep time: 15 mins
Cook time: 1 hour 10 mins
Total time: 1 hour 25 mins
Ingredients
1 Tbsp grapeseed or canola oil
1 small red onion, sliced
1 clove garlic, minced
4 sprigs fresh thyme leaves
Salt and pepper to taste
Pinch red chili flakes
½ cup dry white wine
2 large carrots, peeled and sliced on a bias
½ small red cabbage cut into cubes
2 large red beets, peeled and cut into 1 inch cubes
Enough chicken or vegetable stock to cover the vegetables. About 3 cups.
Instructions
In a heave bottom pot or dutch oven, place oil into pan and heat on medium-high heat.
Add red onions and saute until softened and slightly caramelized on the sides.
Add garlic and cook until fragrant. About 1 minute.
Add thyme leaves and a pinch of red pepper flakes, salt and pepper. Mix well.
Add white wine, reducing until no liquid remains.
Add carrots, cabbage and another pinch of salt and pepper. Cook until char marks appear
Add beets and another pinch of salt and pepper. Mix well.
Cover vegetables with chicken or vegetable stock and bring to a boil. Reduce to low and simmer covered.
Let simmer for about 1 hour or until beets are tender. Season with more salt and pepper to taste.
Serve with parsley or thyme to garnish.
Enjoy!
This might have been the easiest braising recipe. I think I'll be braising a lot of soups now. Adding lots of flavors by browning the vegetables and meats before I add liquid. Then, cooking it for a long time on low heat.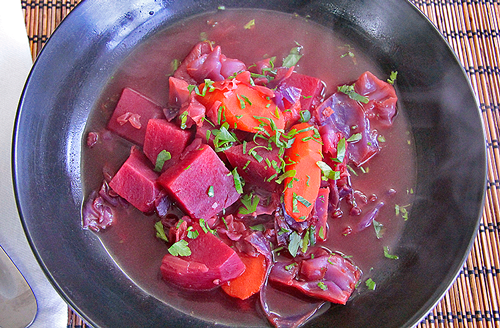 It's so easy. All you need is a thick pot and patience.