J – This is a deeply satisfying sandwich.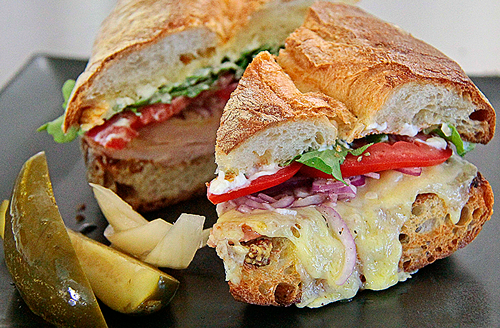 Borrowing liberally from the writing of one of my favorite food seekers (I have no shame), eating this sandwich touches a basic instinct we have for food and fire: Smokey, succulent chicken breast with rich, creamy Irish cheddar between pieces of thick, crusty ciabatta bread.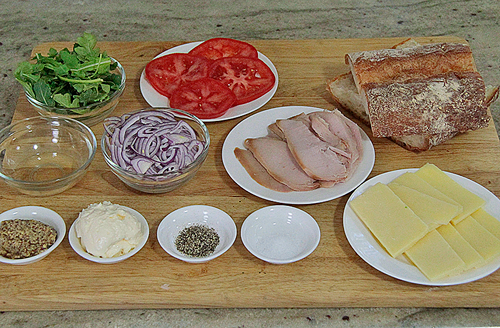 Hungry! Now!
And, it becomes way more satisfying when you do your own smoked meat.

I can be seduced by a great sandwich … or I can by turned off totally by a mediocre one.

This sandwich week, I have been seduced oh so well.

A Chorizo Torta that redefines the category. A Pork Belly Bahn Mi that goes back to the roots of bahn mi in Vietnamese communities. A Chicken Paillard riff on an Eric Ripert dish. Wow! This dish is a fitting conclusion to our week.

Great sandwiches shine with great ingredients. Or, just don't do it.

I must encourage doing your own smoking and buying really great Irish cheddar and having super fresh ciabatta bread. It makes all the difference.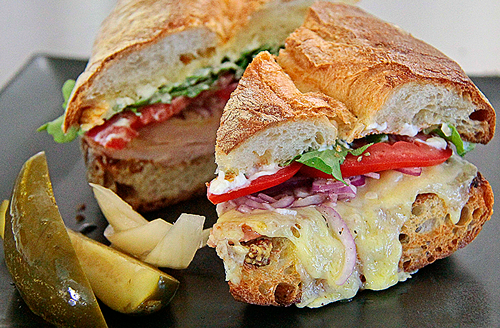 | | | |
| --- | --- | --- |
| Sandwich Week: Smoked Chicken with Irish Cheddar on Ciabatta Sandwich | | |
Prep time: 20 mins
Cook time: 6 mins
Total time: 26 mins
Ingredients
One 5-inch section of Ciabatta bread loaf, split horizontally
½ red onion, sliced as thin as possible
1 Tbsp white balsamic vinegar or any other type of vinegar you like
Salt and pepper to taste
2 Tbsp Dijon mustard
1 large, smoked chicken breast (recipe link below)
2 oz Irish cheddar, sliced
4 slices of tomato
1 handful arugula
1 Tbsp mayonnaise
Instructions
Turn on the broiler to high.
Mix red onion with vinegar, salt and pepper together. Mix well and set aside.
Toast the bun crust side up under broiler for 2 to 3 minutes or until desired crisp.
Flip over and drizzle oil on the inner side of the bread and place under broiler until crispy and golden brown.
Remove from oven.
Generously, spread mustard on the bottom side of the bread.
Layer chicken on top of the bottom bread slice.
Top with cheese.
Remove the top of the bread from the pan.
Place bottom portion of the bread in the broiler to allow cheese to melt. About 2 to 3 minutes until cheese has melted and is bubbling. Remove from oven.
Top onions over the cheese.
Top with sliced tomatoes. Sprinkle salt and pepper to taste.
Top with arugula.
Spread mayonnaise on the top piece of bread.
Top with the top piece of bread.
Cut sandwich diagonally.
Serve with pickles.
Enjoy!
Smoked Chicken recipe
Smells of toasty ciabatta bread and melted cheddar filled the kitchen. We could hardly wait for the sandwich to be assembled.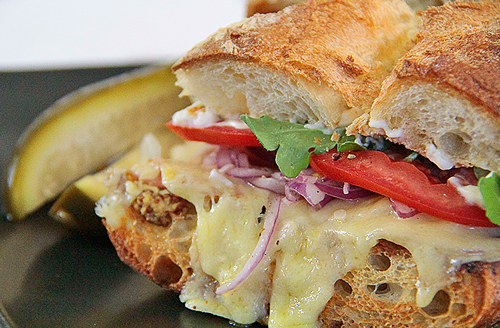 Smokey chicken, creamy cheese, crunchy onions and arugula on warm chiabatta. Deeply satisfying.