Redux and Update: J — Last Fall when Scrivner at Azolla Farm gave us a huge basket of sunchokes, he said it didn't matter how many we took. He was expecting to harvest about 2000 pounds. We didn't need that much. This soup/puree/shooter has a very nuanced flavor … you keep trying more. It's so seductive. Wow.
J – This soup is unexpectedly good …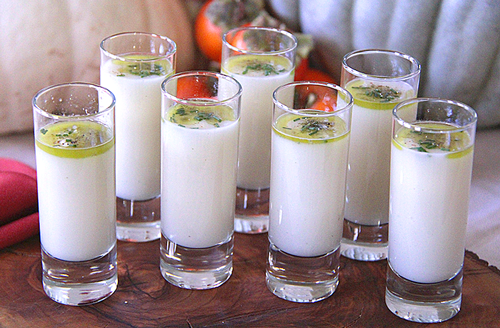 and much lighter than you would imagine. That's the unexpected part. This started out as a "what else can we do with sunchokes" conversation. See, we got all these sunchokes from Scrivner at Azolla Farm … a big mound of them. He was just starting to harvest what he estimated was going to be between 1000 and 2000 pounds!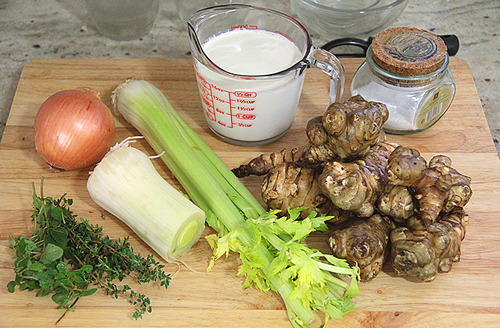 Soup sounded interesting. That would use a couple of pounds at least.

This dish takes very little time to prepare. The most time is consumed peeling and cooking the sunchokes. Of course, all our peelers were dead, dead! So, Luke used his knife … not amused. Note to self, replace peelers.

Be sure to leave the sunchokes in water after peeling. They turn dark quickly.

Make this dish early. After cooking and blending, you can hold it warm for a good while. If you do hold for awhile, you may want to add more cream before serving. Finish with crème fraiche and chive oil when you serve.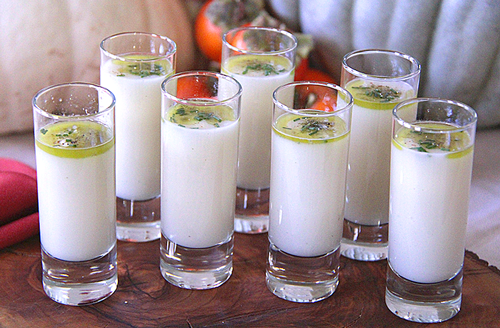 | | | |
| --- | --- | --- |
| Sunchoke Puree with Chive Oil and Creme Fraiche | | |
Prep time: 30 mins
Cook time: 15 mins
Total time: 45 mins
Serves:
8 to 12 depending on serving size
Ingredients
2 pounds sunchokes, peeled. Leave them under water until ready to use.
1 Tbsp grapeseed oil
¼ a small leek, chopped
½ onion, cubed
1 celery rib, chopped
1 Tbsp fresh oregano
1 Tbsp fresh thyme
3 oz cream
Salt and pepper to taste
Creme Fraiche
Chive oil, (see link below for recipe)
2 sprigs chive, minced
Instructions
Place sunchokes in a large pot filled with water. Bring to a boil and cook for 10 to 15 minutes until soft.
In a small sauce pan, place oil, onions, leeks, celery, oregano and thyme. Cook until soft about 5 minutes.
Once sunchokes are done, drain and leave about ½ inch of water in pot.
Place onion/leek mixture into large pot.
Add cream to pot and puree well using an immersion blender.
Strain soup through a fine sieve into a bowl. Blend again. It will get lighter in texture. Add more cream while blending, if desired.
Return it to the pot. Salt and pepper to taste.
Serve with a dollop of crème fraiche and a squeeze of chive oil. If served in a shot glass make sure to have small spoons for serving, since the crème fraiche and the chive oil needs to be mixed in.
Sprinkle a few chive leaves on top.
Serve.
Enjoy!
Chive Oil recipe
This was kind of fun served in shot glasses … but, you do need the small spoons.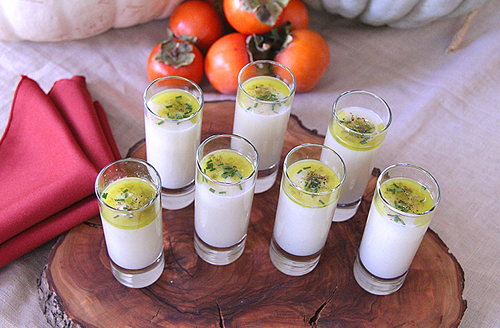 Thanks, Luke, for this great idea. It was really tasty!