C — I make a good meatloaf.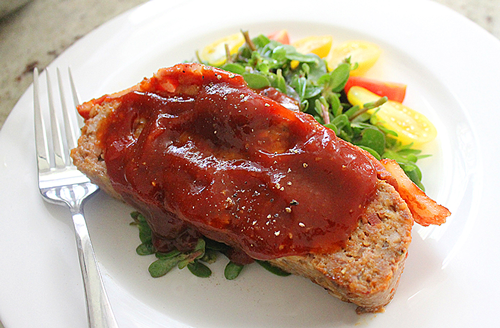 I am so proud of it. I hate to pat myself on the back, but it's really good.

What makes it so good?
It's moist. It might be too moist for some. I add bacon into the loaf to keep it really moist. Of course, it depends on the type of meat you use too. 80/20 chuck is what I prefer and fatty pork. It's actually not too fatty, because the fat drips off when you cook it. Don't be scared.
It's really flavorful. I saute the onions and the sauce together and then combine with the meat. Much better results. The added bacon within the loaf also helps with the flavor.
Oh, and then there is bacon on top. It's like a little crispy treat with your meat. So a mundane piece of ground meat meets pork-fatty goodness. Delicious.
My favorite part is the sauce I put on top. I always have to make more than I think is needed, because we slather this stuff on. Hot meets sweet in a good way.

Try this you must.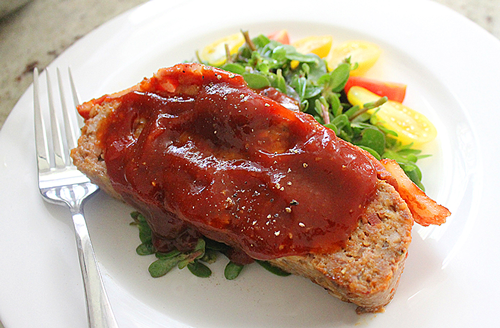 Prep time: 20 mins
Cook time: 1 hour 30 mins
Total time: 1 hour 50 mins
Ingredients
1 cup ketchup
½ tsp ground cumin
1 tsp Worcestershire sauce
¼ cup Sriracha sauce (or any other hot sauce)
¼ cup brown sugar
¼ tsp garlic powder
1 Tbsp unsalted butter
Ground pepper to taste
2 Tbsp extra-virgin olive oil
1 onion, finely chopped
2 cloves garlic, finely chopped
1 Tbsp Worcestershire sauce
Salt and pepper to taste
1½ pound 80/20 ground chuck
1 pound ground pork
2 eggs
1½ tsp fresh thyme leaves, finely chopped
1 cup panko breadcrumbs
12 slices of bacon, 4 slices chopped, the rest left whole (or more, if needed, to cover the entire loaf)
Instructions
In a medium sauce pan on medium heat, combine ketchup, cumin, worcestershire, hot sauce, and brown sugar.
Bring to a simmer and cook for about 3 minutes.
Set aside.
Preheat oven to 350 degrees.
In a medium saute pan, heat oil and cook onion and garlic until soft. About 5 to 7 minutes.
Stir in ketchup and Worcestershire sauce.
Season with salt and pepper and simmer for 2 minutes.
In a large bowl, combine ground beef, ground pork, cooked onions, bacon pieces, ketchup and onion mixture, eggs and thyme. Add panko breadcrumbs and mix well.
Place foil or parchment paper on a medium-sized baking pan. Form the meat into a loaf on the sheet.
Lightly coat the top with some of the glaze.
Lay bacon slices across the loaf width-wise, with the pieces overlapping each other just a bit. Press the bacon to the meat to make sure the pieces stay on.
Place in oven and bake until the meatloaf is firm, about 1 to 1½ hours.
Remove from the oven and set aside to cool before slicing.
Serve with the remaining glaze.
Enjoy!
Maybe for a special treat when you want really good comfort food and want something that will make your taste buds go wild.
Enjoy!
Recipe adapted from Marc Taft, Chicken and the Egg, Marietta, GA