C — Martha Stewart, you're my hero.
Well maybe not hero, more like you're my role model. Well, maybe not that either. I like you a lot. I think that's better. Ever since I was young, my brother and I really enjoyed watching Martha Stewart Living. Until it went off the air because of her … you know. I didn't like her talk show. She brought out her true colors with that one. The lady can do everything though. Cook. Clean. Craft. She is willing to try everything. I aspire to be like her.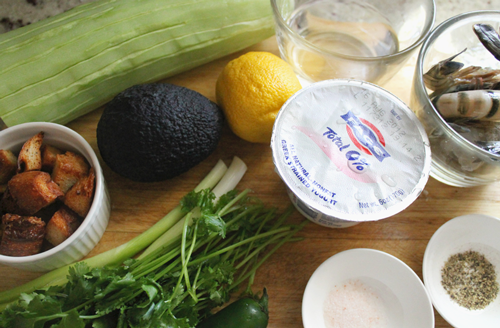 Remember that big zucchini I got from my bootcamp friend? Well, I also brought home a crazy big cucumber that day. It was making me feel guilty for not making anything with it. And it was taking a lot of space in my refrigerator. And I don't waste food. After days of looking for a good cucumber recipe, nothing cried out to me. I thought soup would be easy. It was harder than I thought.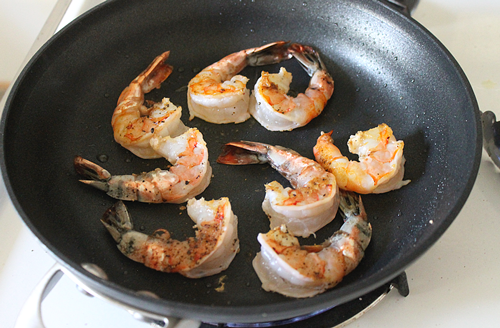 Every one of the recipes called for something I didn't have and didn't want to go out and buy. Dill and curry were the top contenders. I didn't have either. I was about the give up when … I finally found one. Yay! Martha's of course. Spicy, sour, creamy, cool and simple. Martha you are my hero. Maybe.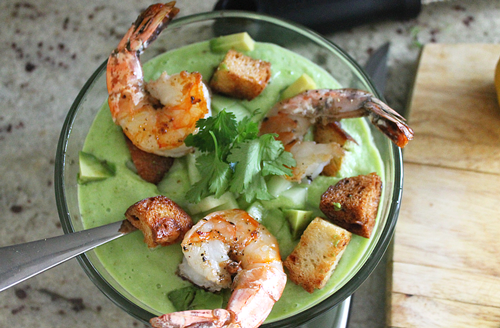 Prep time: 45 mins
Cook time: 3 mins
Total time: 48 mins
Ingredients
1 English cucumber, peeled and diced (¼ cup reserved for garnish)
1 avocado, pitted, peeled, and diced (¼ cup reserved for garnish)
½ teaspoon finely grated lemon zest, plus 1 tablespoon fresh lemon juice
¼ cup coarsely chopped fresh cilantro, plus sprigs for garnish
1 scallion, white and pale-green parts only, coarsely chopped (about 2 tablespoons)
1 jalapeno, seeded and coarsely chopped
1 cup nonfat plain yogurt
1 cup cold water
1½ teaspoons coarse salt
¼ teaspoon freshly ground pepper
½ pound of shrimp
Salt and pepper to taste
1 tablespoon grapeseed oil
Instructions
Puree ingredients in a blender.
Divide soup and reserved cucumber and avocado among 4 bowls.
Cover with plastic wrap. Refrigerate 30 minutes.
On medium high heat, in a skillet, add oil, and grill shrimp. Shrimp will be done when pink and curled to the "C". About two minutes on each side.
Remove soup from refrigerator. Top with shrimp. Garnish with cilantro sprigs and croutons. Serve.
Enjoy!
Adapted from
http://www.recipebridge.com/g/134/2148017868/chilled-avocadocucumber-soup