C – Winter. It's my least favorite season.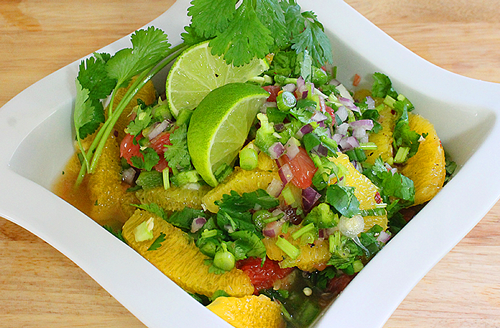 I am not a big fan of the cold. I can't wait until Spring starts and it warms up again. I guess I have to make the most of it. My favorite part of winter might be the fruit. It's citrus season! I love oranges, grapefruits, tangerines, limes and lemons. I love it even more because they are on sale everywhere. They taste great this time of the year. Its when oranges, grapefruit and tangerines are nice and sweet … not sour.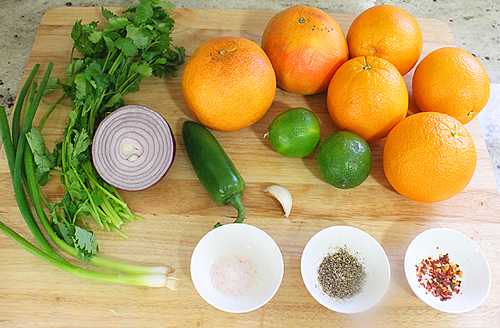 I couldn't wait to make this grapefruit orange salsa, when I saw citrus on sale. It was time. Jim wasn't too fond of the idea of me buying grapefruit. I guess he's not a big fan. I guess I am going to have to change his mind on that.

Grapefruit orange salsa is a fresh clean tasting dish for a cold winter day. I needed a change from all the braised and heavy winter dishes we've been making. Something fresh and light sounds so nice right now.

This was it. I felt healthier with every bite. Sweet juicy oranges and grapefruit, crunchy onions and a spicy kick of peppers, with some tartness of lime juice rounding it all out. It was a perfect balance of flavors.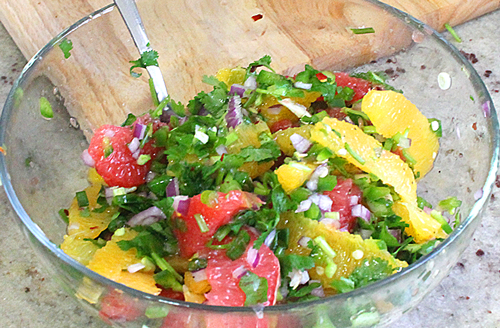 I loved it. I think Jim did, too. It really went well with chicken. Jim suggested it should go on some fish next. He liked it, ate it all up and asked to make it again. Success! That made me happy.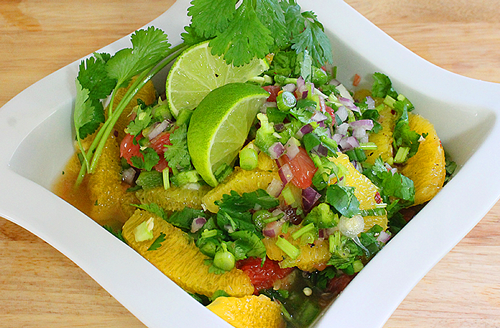 Recipe type:
Sides, Sauces
Prep time: 20 mins
Cook time: 15 mins
Total time: 35 mins
Ingredients
4 oranges
2 ruby red grapefruit
2 green onions, chopped
¼ red onion, chopped
¼ cup cilantro, chopped
1 garlic clove, finely minced
1 jalapeno, chopped (optional: seeds removed, depends on the amount of heat you need)
Salt and pepper to taste
Dash of red pepper flakes (optional: depends on how spicy you like it)
Juice of a lime
Instructions
Using a sharp knife, peel the oranges and grapefruits.
Working over a medium bowl, slice in between the membranes to release the citrus sections.
Mix orange and grapefruit first in a large bowl, then add the rest of the ingredients. Mix well.
Let salsa mixture marinate for at least 15 minutes.
Serve with chicken, steak, fish or other protein.
Enjoy!
A cheap, healthy, refreshing winter meal for under $5.00.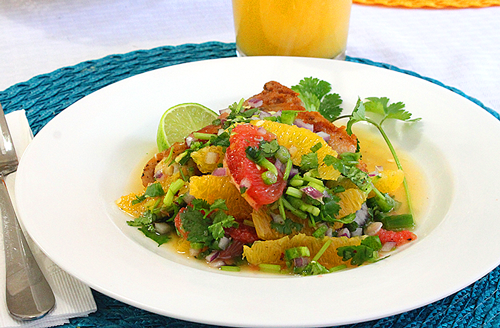 I couldn't ask for anything more.