Update and Redux: C – Winter means lots of potatoes. Confit might be one of the richest ways to cook potatoes. If you want a different way to cook potatoes, this is a must try. I will warn you that this isn't for the faint of heart. It's not the healthiest way to cook potatoes … but it sure is a tasty way.
J – I had these in Paris …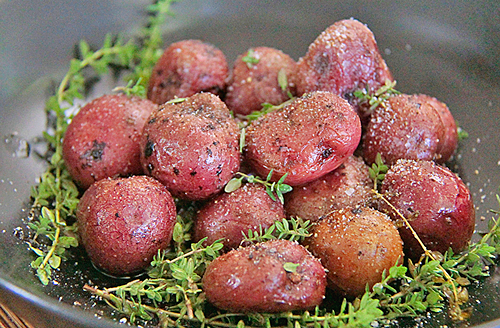 and didn't even realize it. They came with the onglet (hanger) steak I had at Pirouette. Creamy little potato nuggets with jus overtop. They definitely didn't put enough on the plate for how good they were.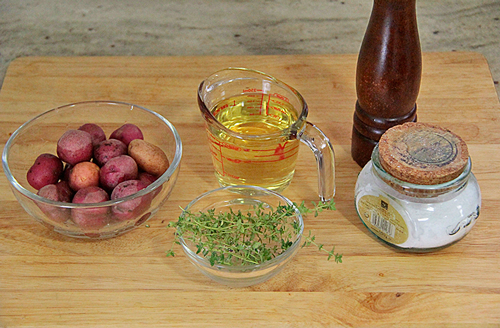 But, I was in Paris. I was having a delicious lunch at a nice restaurant. Everything was so well balanced. Appreciate what is in front of me.

What a great reason to make them here in the Be Mindful. Be Human. kitchen. Besides, Christina wanted to CONFIT EVERYTHING!

The potatoes were super simple to do. So tasty. We ate half of them right away for lunch, with some smoked Guinea Fowl I had made earlier.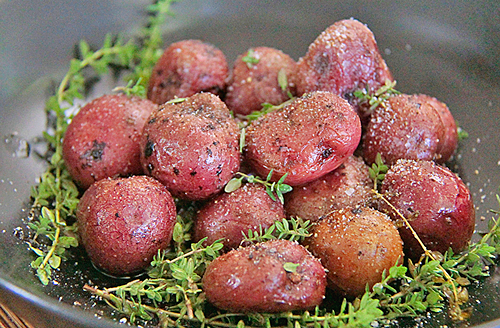 | | | |
| --- | --- | --- |
| Confit Week: Potato Confit | | |
Prep time: 5 mins
Cook time: 1 hour
Total time: 1 hour 5 mins
Ingredients
Smallest Fingerlings or Yukon Gold potatoes you can find, about 1" to 1¼" round. Make sure they are similar in size.
Grapeseed or canola oil enough to cover the potatoes
3 sprigs fresh thyme
Salt to taste
Instructions
Place a single layer of potatoes in a sauce pot.
Add thyme sprigs.
Completely cover with oil.
Bring potatoes to a simmer and reduce to very low. Let cook until completely cooked and creamy on the inside. About 45 minutes to 1 hour.
Remove from pot and drain on a paper towel.
Season with salt and pepper to taste.
Serve.
Enjoy!
You can serve them hot or warm and they refrigerate well. Nice.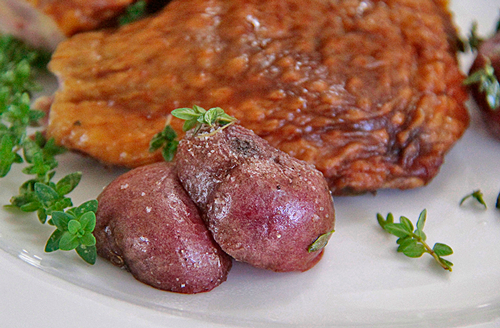 The only drawback, if it even counts, is that you need to make lots because they disappear quickly.