C – It's a Cambodian breakfast.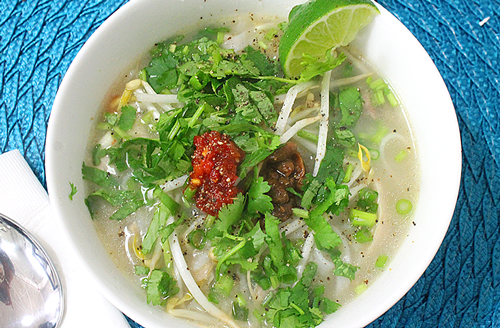 Rice soup in the morning. "It helps with digestion," my mom says. She loves it and eats it every morning. She love it plain. Just very-well-cooked rice and water. I hate it plain. It's like eating oatmeal plain. I can only eat it when I am sick.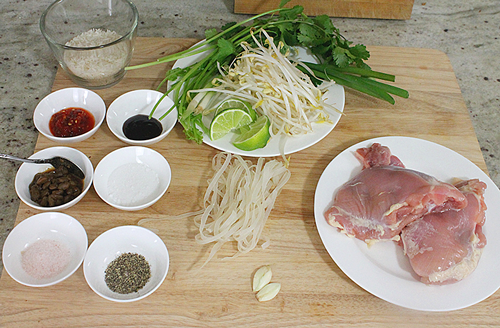 Rice soup when I am sick has always been something I could count on when I am at home with my parents. It helps bring the temperature down from a high fever. I really don't know what it does. But, it really helps.

It's one of those old family remedies I would see my grandmother making. It must be the amount of water or the broken down grains of rice that does the trick. Whatever it is, it works. I cut grains out of my diet for the most part. But, I just couldn't cut out rice soup. It just helps me feel so much better. Especially, chicken rice soup.

It's always a treat when chicken is added to it. I love that it changes complexity and gives even more benefits. Chicken flavored broth and broken down rice with green onions, cilantro, lime and bean sprouts. It will make a sick person feel 100% better. I look forward to this every time I am sick.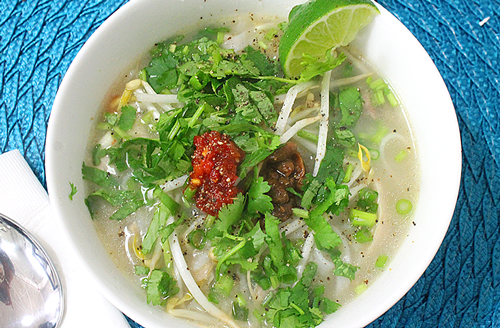 | | | |
| --- | --- | --- |
| Chicken Rice Soup Cold Remedy | | |
Recipe type:
Soups, Mains
Prep time: 20 mins
Cook time: 1 hour
Total time: 1 hour 20 mins
Ingredients
5 quarts of water
1 garlic clove, mashed
2 skinless chicken thighs
¼ cup white rice
1 cup chicken stock
½ cup rice noodles
Salt to taste
1 cup bean sprouts
2 green onions, chopped
10 sprigs cilantro, chopped
1 lime, sliced
1 tsp sugar
Pepper to taste
Salted soy bean (optional)
Hoisin Sauce (optional)
Hot sauce (optional)
Instructions
In a large pot, bring water to a boil. Add garlic clove and chicken into pot. Cook for 15 minutes.
Remove chicken from pot and set a side to cool for about 10 to 15 minutes.
While chicken is cooling, add white rice to the pot.
Once chicken is cooled. Shred chicken into bit sized pieces and add back into the pot.
Add the cup of chicken stock.
Cook until rice grains are cooked and extremely soft. About 20 to 25 minutes.
Add rice noodles cook until tender about 5 minutes.
Serve in a bowl with a bit of bean sprouts, green onions, cilantro, a squeeze of lime, a ¼ teaspoon of sugar and pepper.
Add salted soy bean, hoisin sauce and hot sauce if desired.
Mix well.
Enjoy!
Jim looks forward to me making it too. He really enjoys the special breakfast, even though he's never sick. It's more of a preventative wellness soup for him.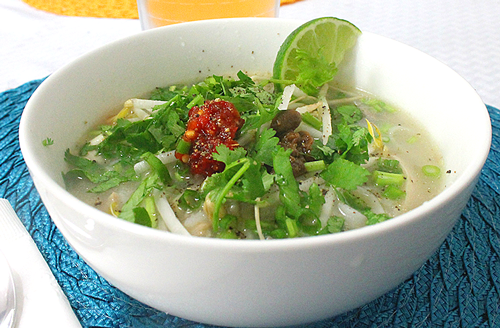 I am feeling a lot better today. It's a great start to my day with this soup in me.