Update and Redux: J – Simple basil pesto is a staple in the Be Mindful. Be Human. kitchen … uh, freezer. This is a very easy pesto recipe, so we always make a bunch. Freeze in silicon ice cube trays, which are roughly a tablespoon for each cube. Pop them out when frozen and store in the freezer. Use as needed. Your guests will think you worked extra hard.
J – I'm a huge fan of basil pesto.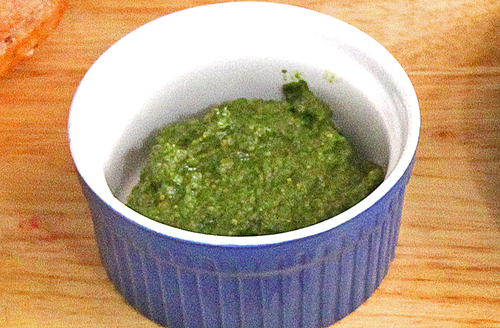 I've also had some really-not-very-good "green stuff" that passes as basil pesto. I think the trouble with most of them is that the recipe is too complicated.
Here's a simple, fool-proof recipe we've used many times with great success.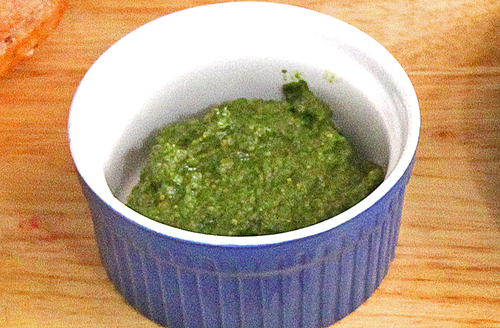 Prep time: 15 mins
Total time: 15 mins
Ingredients
2 cups fresh basil, leaves only
3 cloves garlic, more if you prefer
½ cup Parmesan cheese, grated
⅓ cup toasted pine nuts
½ cup olive oil
Salt and pepper to taste
Instructions
Place basil in food processor. Pulse-chop until fine.
Add Parmesan cheese and garlic. Pulse few a few seconds until incorporated.
Add pine nuts and chop until fine.
In a slow and steady stream, pour olive oil through the food processor spout while blending. Blend until fine.
Add salt and pepper to taste. Mix well.
Serve with lamb.
Enjoy!
Enjoy!