Update and Redux: J – These ideas don't come out of nowhere. You can't dream them up … you have to be there to get it. Each time we visit Scrivner at Azolla Farm, life gets more interesting. And, our food gets way more interesting. Beets and white watermelon! How cool is that? Totally worth making.
C – We had fun at Azolla Farm!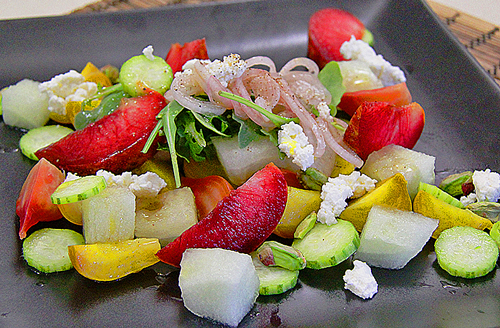 We helped out picking wonderful vegetables and fruits for their shipments. Now, it was our turn to do the picking. What are we going to make with all this produce? It's like going to the best and freshest grocery store ever. This is literally farm to table.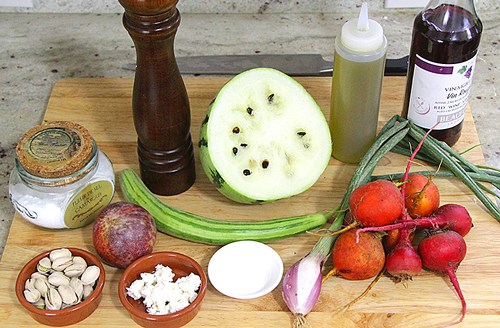 Luke, Jim and I all agreed that the best option to show off Azolla Farm was to make a salad. We picked multiple colors of beets, got an Armenian cucumber, found a white watermelon and took a torpedo onion. We didn't want to take a lot of things, since this is a working business. Just enough ingredients to make a few dishes. Everything else we had in the Be Mindful. Be Human. kitchen.

I think Luke was being very mindful picking things that were colorful, flavorful and texturally pleasing. I really liked this salad. Beets were orange and red. They were the freshest and sweetest beets I have ever eaten. It makes sense, since we picked them only an hour before we cooked them. Vegetables start to lose their flavor and nutrients right after you pick them. The sooner you cook and eat them the better.

The torpedo onion was nice and strong. Luke even commented how fresh it was. His eyes watered from the heat of the onion. I think the thing we were most curious about was the white watermelon. Have you ever seen a white watermelon? We hadn't. It was cute and small and, yes, the flesh was white.

Luke made a restaurant quality salad for us to try. It was really simple. The only thing we had to wait on was cooking the beets. The dish was beautiful. We are so grateful to get all these wonderful produce for this amazing salad. It tasted wonderful too. The beets were small and sweet. They paired well with the pluot and the cucumber.

My favorite part would have to be the white watermelon. It was lightly sweet and really absorbed the vinaigrette Luke made. Add some feta and torpedo onion to the bite. Wow, it was an amazing, flavorful bite. The onions were sharp, yet cooled down nicely with the watermelon.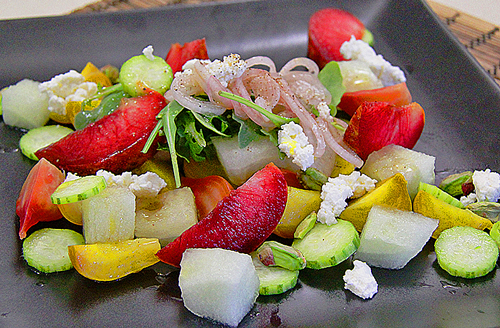 | | | |
| --- | --- | --- |
| Two-Beet, White Watermelon and Pistachio Salad | | |
Prep time: 35 mins
Cook time: 1 hour
Total time: 1 hour 35 mins
Ingredients
4 small beets (we used 2 orange and 2 red)
½ small torpedo onion, sliced thinly
½ pluot, sliced
¼ small white watermelon, cubed and seeds removed (any color watermelon will do, we had white)
½ striped Armenian cucumber, ¼ inch slices
¼ cup arugula
20 pistachio nuts, shucked
1 tablespoon red wine vinegar
1 tsp sugar
3 Tbsp olive oil
¼ cup feta cheese
Salt and pepper to taste
Instructions
Place beets in two different pots. One for red and one for orange. Add water to cover. Add salt to taste in each pot. Bring to a boil. Cook until soft on a low boil. About 1 hour. Remove from water and chill to room temperature. Peel and slice vertically into quarters.
Meanwhile, place torpedo onions in a small bowl. Add 1 tablespoon red wine vinegar, a pinch of salt, a pinch of pepper and a pinch of sugar. Mix and set aside.
Place beets on platter. We crisscrossed the two different colors.
Add watermelon on top.
Place a pile of arugula on top.
Top with pickled onions.
Reserve the pickling juice. Drizzle olive oil into the vinegar combination, whisking until emulsified. Set a side. This will be the vinaigrette.
Add cucumbers on the sides of the dish.
Place pluots around sides.
Sprinkle pistachios.
Drizzle vinaigrette over top.
Sprinkle with feta cheese.
Serve.
Enjoy
I think I picked my way through most of this salad trying to find this pairing. You have to try this. It was so good.
Thanks Azolla Farm … and the great team behind it … for allowing us to explore and taste. You have some of the best and freshest product we've found anywhere. We really enjoyed the experience.