J – Life gets really interesting when there's a mystery envelope involved.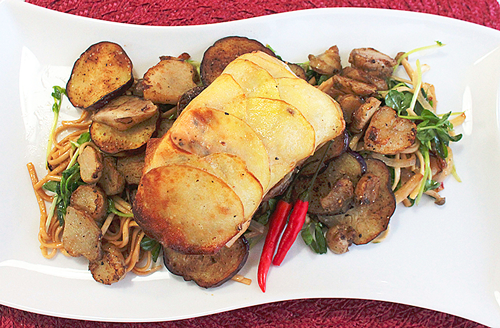 Valentine's Day is, of course, the perfect occasion for at least one mystery envelope. Let your creative mind wander on this one … hehe. Ok, stop. I'm talking about food, now. This dish is the one for you. A really memorable night needs a really memorable dish … and a bit of mystery to build excitement.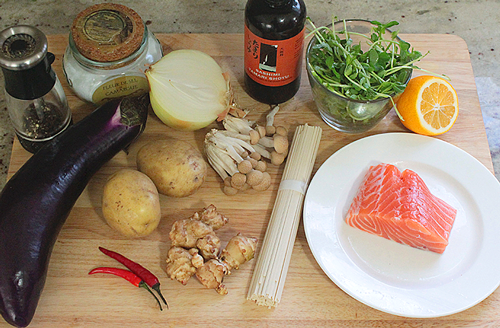 Imagine a plate with this mysterious potato envelope as the center piece, presented on Asian-style noodles and vegetables. Imagine your special somene guessing what delicious morsel is inside. Once they open this beautifully wrapped potato package, they will find a perfectly cooked piece of salmon.

A special dish for your special someone on Valentine's Day. The beginning of a wonderful evening.

Luke introduced us to a fascinating technique of wrapping salmon in very thin potato slices. At first, it takes a bit of practice … but not much. The starch in the potatoes helps hold them to each other as you do the wrapping.

Do one side, then the other. Fold the edges around the piece of salmon and press firmly between your hands when you are done.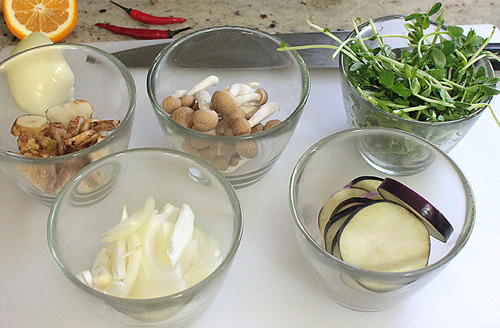 Have the pan and oil heated, timing to have it hot just as you're ready. Next, gently place the salmon envelope in the pan and let the first side get a bit cooked. Add the butter at the beginning. Turn over carefully and do the second side.

After a minute or so, place the pan in the oven. Wait about 15 to 18 minutes and, voila, a mystery envelope with a crispy crust.

The Asian-style veggies are another nice surprise. They come together very quickly. You can do them all while the salmon is in the oven. Cook them separately, of course. Then, combine them right before serving, when the fish is just out of the oven.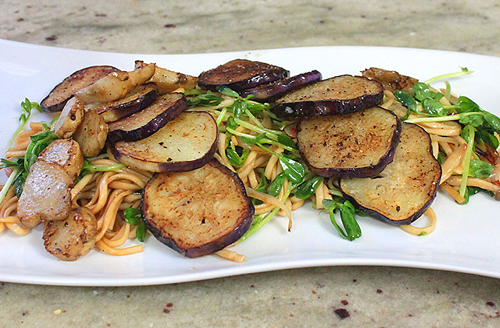 The presentation on a platter was stunning … and mysterious. A unique preparation with unique ingredients.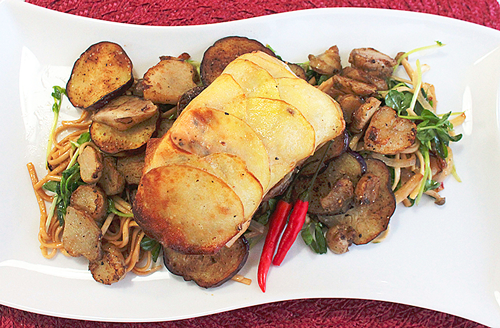 Prep time: 25 mins
Cook time: 35 mins
Total time: 1 hour
Ingredients
8 oz salmon
1 Yukon potato, mandolin-sliced at 1/16 inch
1 Tbsp grapeseed oil
1 Tbsp unsalted butter
3 Tbsp grapeseed oil, divided
¼ medium Japanese eggplant, ¼ inch sliced
1 sunchoke, sliced
¼ cup pea sprouts
¼ cup Bunashieji mushrooms (also known as Beech mushrooms)
½ roll of Udon noodle
¼ teaspoon Sashimi Tamari Shoyu (enough to coat the noodles)
Salt and pepper to taste
1 Tbsp butter
½ tsp fresh lemon juice
½ white onion, sliced thinly
5 Thai basil leaves, chiffonade
1 Thai chili (optional)
Instructions
Preheat oven to 350 degrees.
Salt and pepper salmon.
Place thinly sliced potatoes around the entire piece of salmon using the shingling method. To shingle, overlap each slice of potato by about ⅓, kind of like shingles on a roof. The back side doesn't have to be as pretty as the top.
Place salmon with the shingled potatoes in a hot saute pan with oil. Reduce heat to low and cook until potatoes are lightly golden brown. About 5 minutes on each side.
Once browned place saute pan in oven. Cook for about 18 minutes.
Serve on top of vegetables and Udon.
Enjoy!
Cook Udon according to package instructions. Drain and let cool. Add a bit of oil so the noodles don't stick to each other.
In a large bowl, add Udon and tamari sauce. Add enough tamari to coat the Udon and set aside.
In a large saute pan, heat 1 tablespoon grapeseed oil to medium high. Add onions and cook for about 1 minute.
Add mushrooms and chilis to saute pan. Add salt and pepper. Cook for another minute.
Add onion/mushroom mixture to the large bowl and mix well with the udon.
Into the bowl add, basil and lemon. Add more tamari to taste.
Add more grapeseed to the same saute pan. Add sunchokes and cook until they are brown. Add salt and pepper. Add a splash of water midway through to make sure they are fully cooked. Once water has evaporated sunchokes will be done. About 5 minutes. Take out of the pan and set aside.
Add a tablespoon of butter to the same pan. Cook eggplants until tender, turning once. About 5 minutes. Add salt and pepper to taste.
Place Udon mixture onto a serving platter.
Arrange sunchokes and eggplants into two straight lines diagonally. Place salmon envelops on top.
Serve.
Enjoy!
The taste was delightful. Rich salmon and crispy thin potatoes combined well with the Asian flavors and freshness. Yum!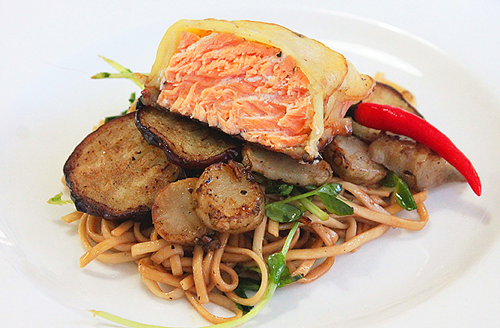 Thanks, Luke, for this great mystery dish.