J – I can just about live on fish tacos.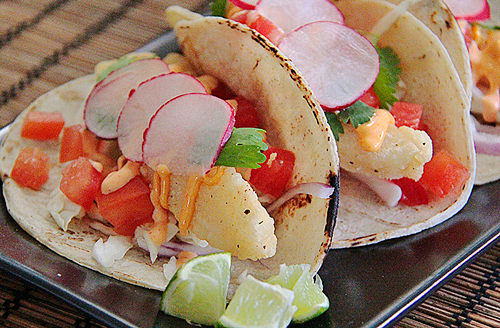 So, when we decided to do Taco Week, I was the first to raise my hand for fish. I don't think I'm alone, either. The Sunday morning Farmer's Market fish taco vendor in the Berkeley area has become so popular … very long lines on Sunday … that they decided to open a full time restaurant.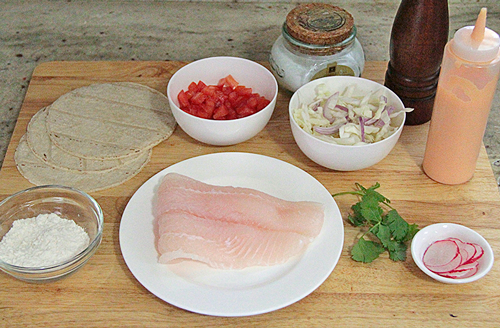 They're doing just fine.

What is it about a fish taco that makes it so delicious? Fresh, lightly deep-fried white fish? Crunchy veggies? A spicy sauce? Fresh corn tortillas?

I think it's all of the above. Fresh ingredients are super important. When the flavors combine in that first bite, the freshness shines.

One time, we got some fish not from our regular fish monger. It seemed alright. But, when we took our first bite, the difference was clear. We tossed them all!

Random Rule #156: Know your fish monger.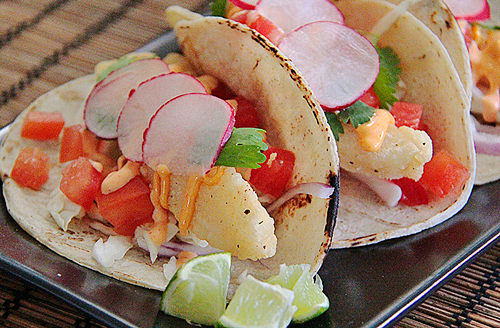 Prep time: 10 mins
Cook time: 4 mins
Total time: 14 mins
Ingredients
4 to 6 corn tortillas. How many you use depends on the amount of fish in each taco.
1 pound fresh white fish (red snapper, halibut, and cod)
3 Tbsp all-purpose flour
Salt and pepper to taste
Canola oil to cook the fish
Shredded cabbage
Sliced red onion
Chiptole mayonnaise
1 radish, sliced thinly
12 to 24 cilantro leaves
¼ to ½ tomato, chopped
Instructions
Heat oil a pan to 350 degrees.
Cut fish into strips.
Salt and pepper the fish.
Dredge the fish with flour and cover completely.
Add fish to oil. Cook until golden brown. About 3 to 4 minutes. Once done, place on paper towel to let oil absorb.
Heat tortilla over an open flame for a few seconds.
Top the tortilla with a few pieces of cabbage and onion.
Top with fish, tomato, cilantro and chipotle mayonnaise.
Repeat to make more.
Serve immediately.
Enjoy!
Preparing these tacos is super easy. Be sure to have all the ingredients ready and the fish tempered to room temperature. Heat the tortillas on the flame while the fried fish is draining oil.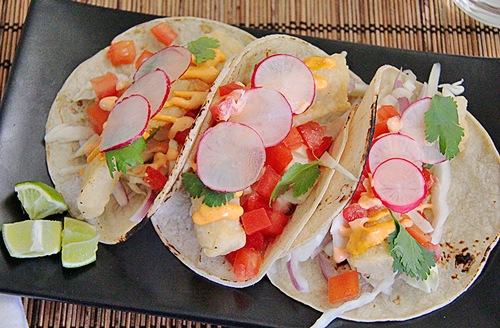 They tasted so good! Be ready to run out, though. These guys barely lasted the photo shoot.