C – Happy Cambodian New Year!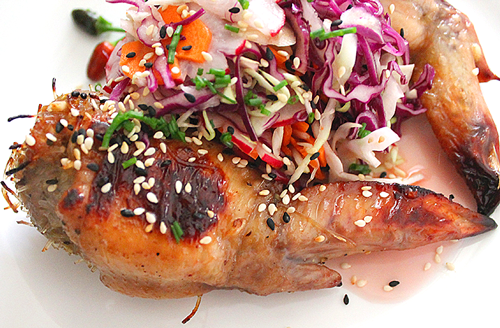 This week I posted a few recipes for Cambodian dishes. Some traditional. Some not. Each one has made a special place in my heart. I really hope you enjoyed my sharing of these dishes. And, I hope my mom isn't too mad at me for putting some of these recipes out for the world to see.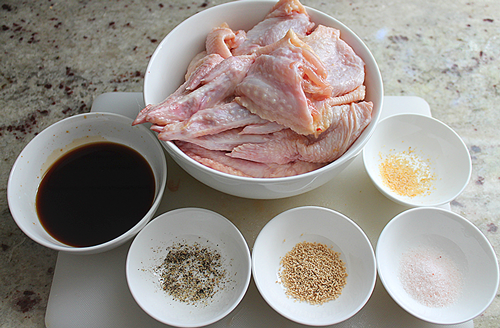 Cambodian style pork stuffed chicken wings is definitely a New Year tradition that I couldn't wait to share with you. Each time the New Year comes around, one of the things I look forward to the most is going to temple.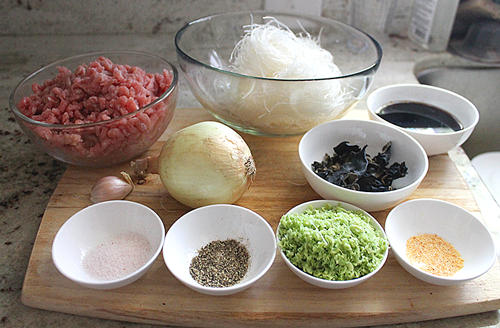 Not for the religious reasons, but for the food. One, in particular, is pork-stuffed chicken wings. At my Buddhist temple there is music, fun activities and lots of food that people bring. There is also lots of food that people sell. It's like a fun street fair that goes for about a week, rain or shine.

Every year my brothers and I would go out in search of the pork-stuffed chicken wings vendor. There was only one. If you didn't keep your eyes peeled you would miss it. One chicken wing was never enough. But, the sticker price was always a shock to me. I wouldn't dare buy a second. I knew that I could probably figure out how to make them myself. And, that I did.

New Years hasn't been the same since I learned how to make these pork-stuffed chicken wings. There isn't much we look forward to anymore. You have to be really careful when pulling the bones out of the chicken wings. You can easily rip the skin off and disaster will happen. You wouldn't be able to stuff them completely. It took me a few years to really perfect the technique and feel where the meat is attached to the bones. After a while it gets pretty easy.

I love these chicken wings. Crispy chicken wings are like a sausage casing for the pork/glass noodle/peanut mixture. It's filled with great spices and seasoning like onions, garlic and lemon grass. What's not to like?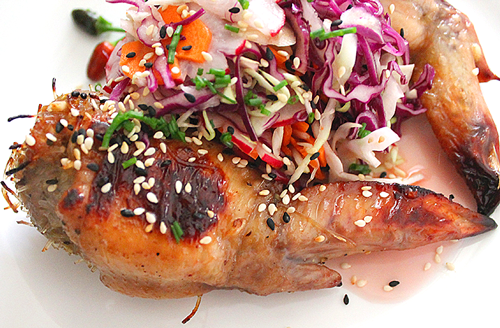 | | | |
| --- | --- | --- |
| Cambodian-Style Pork-Stuffed Chicken Wings | | |
Prep time: 45 mins
Cook time: 45 mins
Total time: 1 hour 30 mins
Ingredients
12 chicken wings, winglettes removed
2 Tbsp gourmet sauce
Salt and pepper to taste
¼ tsp garlic powder
1 pound ground pork
1 onion, chopped
1 garlic clove, minced
¼ tsp garlic powder
2 Tbsp lemon grass, minced
Salt and pepper to taste
4 dried cloud mushrooms, rehydrated, cut into small pieces
2 Tbsp gourmet sauce
½ cup peanuts, chopped into small pieces
2 small bundles clear glass noodles, soaked and cut into small pieces
Instructions
Preheat oven to 425 degrees.
Remove the bone from the meaty part of the wings. Place a sharp paring knife in the cut of the bone and meat. Loosen up the meat around the bone and move meat along the bone until all meat is released. Locate the joint and release the bone there. Take care to not cut the skin.
After bones are removed, place chicken-wing units in bowl and add gourmet sauce, garlic powder, salt and pepper. Set aside.
In a large bowl, place ground pork, onions, garlic, garlic powder, lemon grass, cloud mushrooms, gourmet sauce, peanuts, clear glass noodles, salt and pepper . Mix well.
For each wing, take a tablespoon of pork mixture and place into the chicken wing canal. Fill wing completely. Wrap skin and condense wing unit.
Continue with the rest of the chicken wings until filling is gone and chicken wings are filled.
Place stuffed chicken wings on a single layer of a baking sheet with parchment paper or non-stick aluminum foil in a preheated 425 degree oven. Cook for 40 minutes until pork is done. Flip wings over half way.
Let rest for 10 minutes.
Serve with rice and a salad.
Enjoy!
This really goes really well with a salad or eaten with rice. It's my family's favorite treat.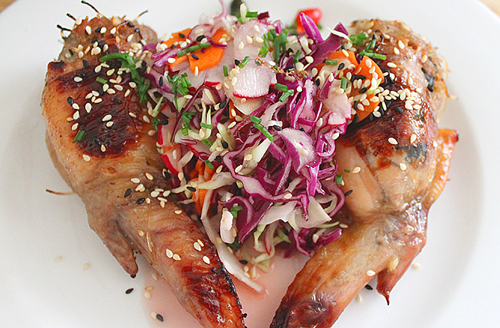 I make it once a year and usually not during Cambodian New Years, just in case we want to be nostalgic and buy a few at temple.