Update and Redux: J – This is definitely a better breakfast … if you are really hungry. It will set you up for most of the day. Easy to make. Portable. Filling. Delicious.
J – A good breakfast burrito should set you up for the day …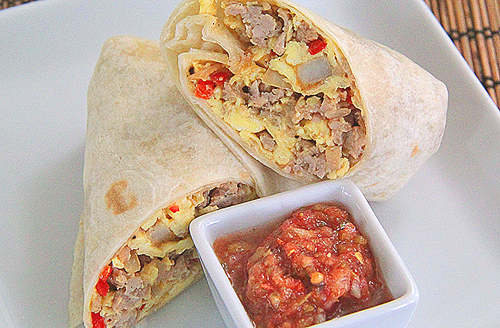 especially, these guys. Don't let the 9-inch size fool you. It's done that way for portability. They are fully loaded and super tasty. We left out beans and rice. Partly by preference and partly for ease-of-eating.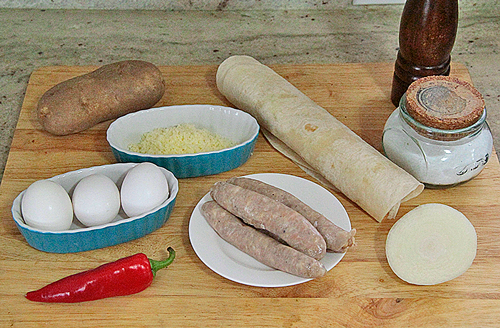 Actually, this recipe is very flexible.

You can make all kinds of substitutions. Sweet potatoes for Russet. Add red peppers. Leeks for white onions. Spicy sausage for chicken apple. Most any kind of melty cheese.

And, for Christina and the other vegetarians, just substitute mushrooms for the sausage. Saute them on high, tossing until they are golden brown.

Creativity reigns.

Breakfast burritos go back a very long way … long before Luke, who introduced them into the Be Mindful. Be Human. kitchen.

The trick is to use really interesting ingredients that fit the burrito theme.

For quick and easy breakfasts, the other ingredient trick is to use ingredients that will hold well in the refrigerator after assembly. Lettuces just won't do.

Prep is super fast. Make sure to cool everything to room temperature before assembly. Otherwise, you'll get mushy burritos later on.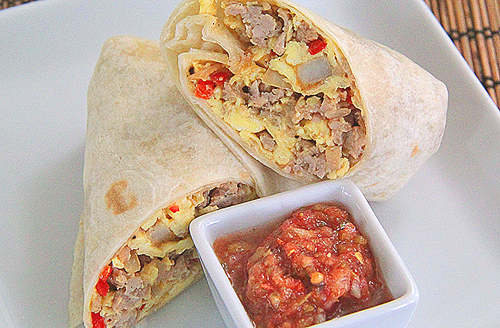 | | | |
| --- | --- | --- |
| Quick and Easy Breakfast Week: Breakfast Burrito | | |
Prep time: 15 mins
Cook time: 20 mins
Total time: 35 mins
Ingredients
Grapeseed oil
1 Russet potato, peeled and diced
1 Fresno chili, seeded and chopped
½ white onion, chopped
3 breakfast sausage, casing removed and crumbled
3 eggs
½ cup Jack cheese, grated
salt and pepper to taste
3 9-inch flour tortillas
Instructions
Heat a medium saute pan on high. Add a tablespoon of oil and cook the potatoes until they are golden brown. Remove from pan and set aside until they are completely cooled.
In the same pan on high heat add crumbled sausage into pan. Cook until brown and juices are clear. Remove from pan and let cool completely. Remove excess oil from pan, but keep about a tablespoon for the Fresno chili and white onions.
In the same pan on high heat. add Fresno chili and white onion and saute until translucent. Remove from pan and let cool completely.
Crack the three eggs into a mixing bowl. Beat until combined. Place them into a oiled saute pan and cook until lightly scrambled.
Place eggs into a mixing bowl and add the cooked potatoes, sausage, pepper/onion mixture and cheese. Mix loosely. Let cool for a few minutes.
Meanwhile, warm up the tortillas over an open flame for a few seconds on each side to warm them up.
Place ⅓ of the cooled mixture in the center of a tortilla.
Fold from the bottom of tortilla up to cover the mixture.
Fold in the side edges so they meet in the middle.
Roll up the bottom to meet the top.
If eating right away crisp in a pan on all sides or eat it as is.
Or, let burritos cool completely before wrapping individually in aluminum foil. Store in the freezer or refrigerator until ready to eat. Heat in microwave for 3 to 5 minutes without the foil.
Serve.
Enjoy!
Luke and I made them on a weekend. One was all I needed. Yum.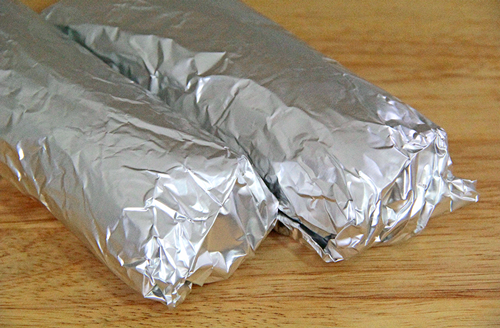 Totally worth making. Great for breakfast or lunch.