J – I couldn't believe Christina had never made gumbo!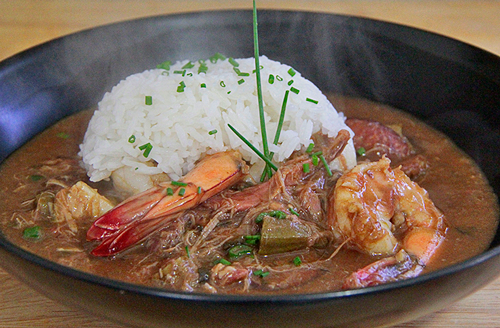 What a treat she was missing. Good, rich gumbo always evokes memories for me. I must be part Cajun. Every time I hear bayou music, or Dr. John and The Night Trippers, or someone with a New Orleans accent, I want to make some type of Gulf Coast dish.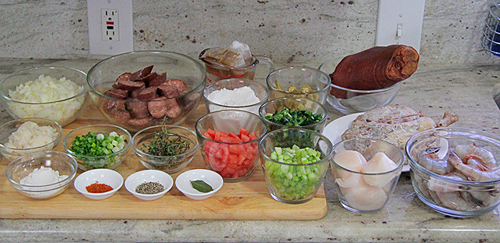 Now, we get to make a whole week of delicious Cajun treats.

I've been making gumbo for years. And, since Cajun Week and Mardi Gras were fast approaching, it was time to make some serious gumbo.

Not satisfied with my Gumbo-Ya-Ya, throwing-it-together style, Christina thoroughly researched gumbo … using her friend, the Internet.

She found a good one and then we adapted it to include some of our own special ingredients.

Duck fat … of course! Fresh herbs. Smoked ham hock. Brown chicken confit. Homemade duck stock … how rich can it get?

Richer. Incredible, spicy andouille. Fresh, large shrimp and dry scallops from our fish monger.

"First you make a roux" is the first line of Gumbo YaYa. Pay attention to your roux … I think I feel a random rule about to happen.
Roux takes a bit of constant attention to get right. But, without it, the gumbo has much less flavor depth.

Remember, all this time is worth it … you're ending up with 6 quarts!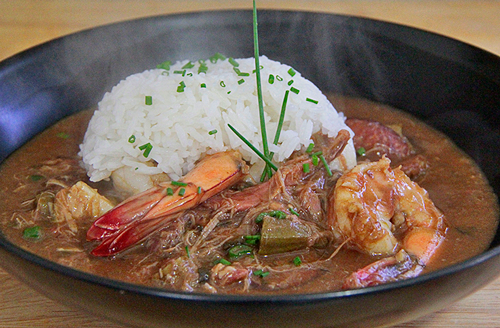 | | | |
| --- | --- | --- |
| Cajun Week: Chicken Confit, Andouille and Seafood Gumbo | | |
Prep time: 30 mins
Cook time: 4 hours 30 mins
Total time: 5 hours
Ingredients
2 Brown chicken confit legs, bones removed (see recipe link below)
1 cup all-purpose flour
½ cup duck fat
2 Tbsp all-purpose flour
6 cups duck or chicken stock (see recipe link below)
1 pound andouille sausage, thickly sliced
1 large onion, chopped
1 cup diced Pasilla peppers
1 cup chopped celery
4 green onions, chopped
1 Tbsp fresh thyme
1 bay leaf
1 tsp ground black pepper
¼ tsp cayenne pepper, or to taste
1 cup diced fresh tomatoes
1 smoked ham hock
2 cups water, or as needed
1 cup pickled okra, rinsed and sliced
1 pound large shrimp, peeled and deveined
4 large scallops, cut into quarter
1 Tbsp chopped green onion (optional)
Instructions
Heat duck fat in a medium pot. Whisk 1 cup flour into the duck fat. When cooked, the flour/fat mixture will make a thick, smooth and dark roux.
Turn heat to medium-low and cook the roux. Stir constantly, until it turns a rich, reddish-brown color, about 40 minutes. Do not leave the pot.
Whisk 2 more tablespoons flour into roux and cook for 2 minutes. The roux should thicken and get a little darker. Do not overcook.
Whisk duck stock into the roux, 1 cup at a time, until all stock has been incorporated. Remove roux mixture from heat.
Brown andouille sausage in a large pot or Dutch oven over medium heat, about 8 minutes
Stir in onion, peppers, celery and 4 green onions. Cook until onion is translucent, about 10 minutes.
Stir thyme, bay leaf, black pepper and cayenne pepper into sausage mixture, followed by diced tomatoes. Stir to combine.
Push smoked ham hock into the center of the sausage and vegetables.
Pour roux mixture over ham hock along with enough water to cover. Stir to mix.
Place chicken confit legs into mixture.
Bring to a simmer, then turn heat to low. Cover with a lid set at an angle to let steam out.
Simmer slowly, stirring occasionally until ham hock is tender, about 4 hours. Skim as much fat as possible off the top as it simmers.
Remove ham hock to a bowl and let cool. Stir pickled okra into gumbo.
Pick meat from ham hock and return meat to the gumbo.
Simmer gumbo for 45 more minutes.
Turn heat to medium-high, bring gumbo to a boil. Stir in shrimp and scallops.
Cook until shrimps are bright pink, about 3 minutes.
Stir in 1 tablespoon green onion. Taste and adjust seasoning
Serve with a small bowl of white rice inverted on top.
Enjoy!
Brown Chicken Confit recipe
Duck Stock recipe
Time for a gumbo party! Oh wait … it's Mardi Gras. How perfect.
This gumbo was over-the-top amazing. You must make it! Who knows, you might get some beads at the party.
Adapted from: http://allrecipes.com/Recipe/Chef-Johns-Duck-Sausage-and-Shrimp-Gumbo/Detail.aspx?evt19=1