C – It was the end of the work week and I wasn't going shopping until Monday.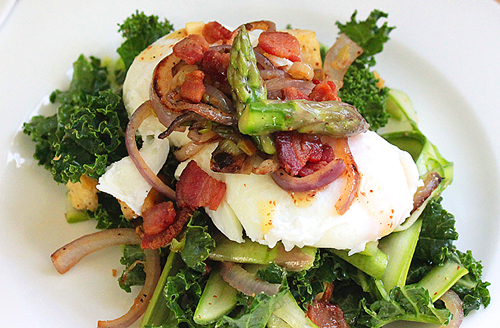 A busy schedule in the Be Mindful. Be Human. office was making me have to find new ways to use everything in the refrigerator. I had to make something amazing out of the usual stuff. There are always a few staples in the Be Mindful. Be Human. refrigerator: eggs, onions, garlic, bacon, mushrooms, potatoes and kale.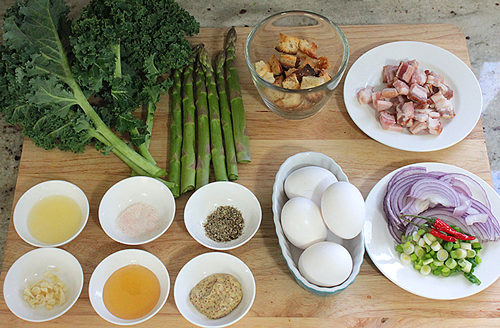 These staples can take you a long way to enjoying a lot of different meals. They are great for breakfast, lunch and dinner.

This asparagus-as-ribbons salad all started with a few of these ingredients and some leftover asparagus Jim didn't use. I just hoped he wasn't saving it for something special, because I was wanting to make something amazing and different from our usual end-of-the-week sandwich.

This salad is a take on a typical frissee salad with poached eggs and lardon. It's simple and very filling. The hardest part was poaching the eggs and cooking the bacon. The dressing was nice and easy. Using the bacon fat in the dressing made it more flavorful and rich.

Having the fresh kale, crispy bacon, croutons and creamy eggs, with ribbons of fresh asparagus to top it off, was amazing.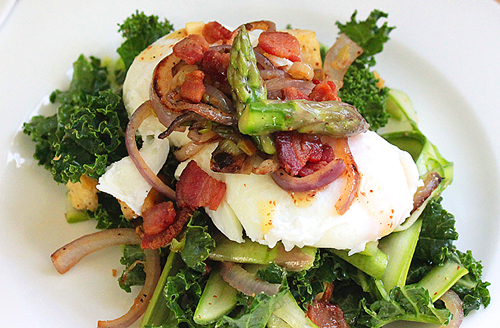 | | | |
| --- | --- | --- |
| Asparagus-Ribbon Salad with Poached Eggs and Bacon | | |
Prep time: 15 mins
Cook time: 10 mins
Total time: 25 mins
Ingredients
4 eggs
1 Tbsp white vinegar
6 asparagus
½ cup croutons
5 stalks kale, broken into small pieces
2 slice bacon ¼" thick, cubed
1 Tbsp grape seed oil
¼ red onions, sliced
2 green onions, chopped
2 red Thai chili sliced (optional)
1 clove garlic, minced
1 Tbsp mustard
1 Tbsp honey
1 Tbsp lemon juice
Salt and pepper to taste
Instructions
With a carrot peeler, peel asparagus into strips. Reserve heads.
In a saute pan on medium heat, cook bacon until crispy, about 7 minutes. Remove from pan and reserve oil for salad dressing.
In the same pan with grape seed oil, heat pan to medium high and add red onions, green onions and chilies. Cook until tender and slightly browned.
In another saute pan fill with water ¾ of the way. Bring water up to almost simmering, about 190 degrees. Add vinegar. Gently crack one-egg-at-a-time into the pan.
Once egg whites turn opaque flip to the other side (about two minutes). Cook for about 2 minutes on each side.
Remove from pan with a slotted spoon and place on a paper towel to dry. Repeat for other three eggs. Eggs can cook simultaneously.
In a small mixing bowl, add garlic, honey, mustard, lemon and bacon fat. Mix until well combined. Salt and pepper to taste.
In a large bowl, place half of the dressing on the bottom of the bowl, add asparagus ribbons, kale, onion mixture and asparagus heads. Toss and place into two serving bowls.
Sprinkle bacon.
Top salad with eggs, each.
Drizzle more dressing over top of eggs.
Serve immediately.
Enjoy!
I love doing a spin on the usual recipe. I also love making these crazy salads with the same ingredients. This one was particularly good.
For some strange reason they all taste different … but really good.