C – Wow! I am so surprised I made this and could actually eat it.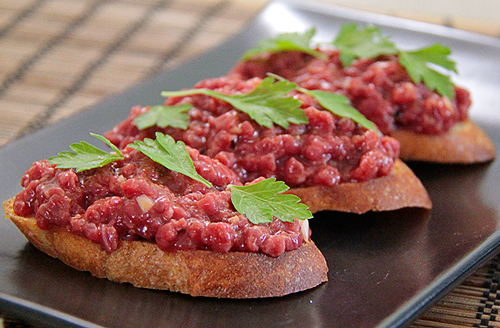 I usually get sick eating straight-up raw things. I did it? Really? I am not grossed out? I think I have been working at Be Mindful. Be Human. for a while. This wouldn't have happened if I didn't have to try things at least once or twice to make sure they were good.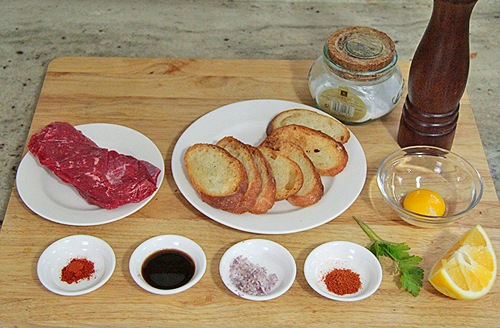 I am not sure I am proud of myself. But, I am happy I don't get sick. Well, maybe, it's because we buy expensive, top-quality stuff. I also do an extreme amount of research before handling raw meat and serving it to people. I am so glad I do the research. … so I won't get myself sick or others.

When Jim and I went to Cafe Rouge, I was a bit reluctant to eat the lamb tartare. I just wasn't sure if I was going to feel alright if I ate a lot of it. Luckily Jim and I split it. I felt fine. It was delicious. I ended up taking a picture of it to make sure I could deconstruct it when I got back.

This is not your normal tartare. It had a different taste to it. It was simpler. The only thing I wished they would have done was cut up the meat a bit smaller. It was a bit tough to eat.

Back in the kitchen, I looked at the picture, remembered what the taste profiles were and went to work. I cut up the lamb pieces really small and added fresh, flavorful ingredients to the mix. Served it immediately and enjoyed the flavors.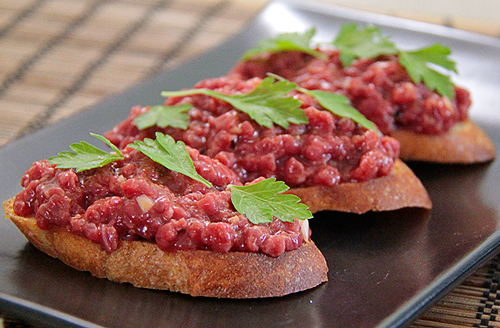 | | | |
| --- | --- | --- |
| Cafe Rouge Redux: Lamb Tartare Crostini | | |
Prep time: 45 mins
Total time: 45 mins
Ingredients
½ pound top round lamb
1 egg yolk
1 Tbsp Worcestershire sauce
¼ lemon, juiced
¼ tsp paprika
½ shallot, minced finely
Salt and pepper to taste
Parsley for garnish
6 toasted crostini
Instructions
Freeze the uncut lamb for 30 minutes.
Remove lamb from freezer. Cut the lamb into thin slices against the grain. Then, cut into very small chopped pieces. Make sure that all the pieces are clearly cut.
Mix salt and pepper, Worcestershire sauce, lemon juice, paprika and shallot in a small bowl. Taste and adjust seasonings if needed.
Add mixture to the lamb and add yolk. Mix well.
Serve on top of the toasted crostini.
Top with parsley to garnish.
Serve.
Enjoy!
I was surprised I recreated their dish. I really liked it. I loved the lemon and shallot combination. I cut up the lamb perfectly, so it wasn't tough for us to chew.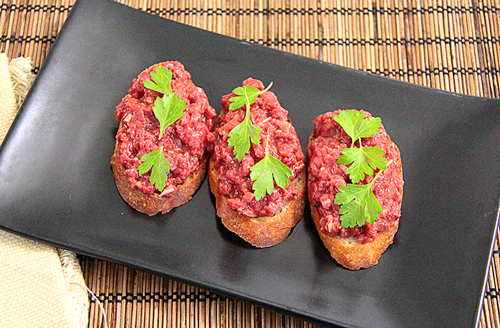 Yay! This was definitely a Cafe Rouge redux success.