C – I really like to go out to eat for only two reasons.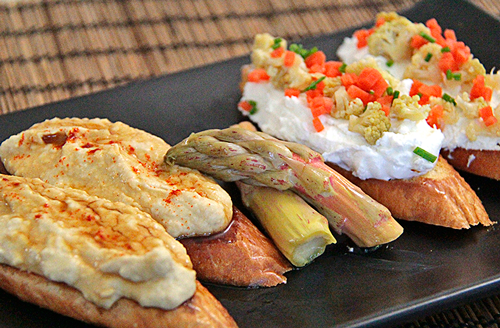 First, and most important, I am so lazy I can't get myself to cook anything when there is nothing to eat at home. Second, I found a restaurant that has interesting things and want to try something new. Cafe Rouge was one that looked interesting to me.
Jim ordered an interesting appetizer. These hummus and goat cheese crostini came along with the lamb tartare. This dish was so simple, yet really creative.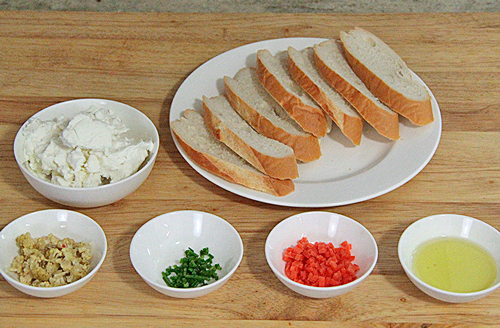 Jim and I couldn't guess what was on top of the hummus and had to ask the waiter. Pomegranate molasses! It was delicious and really made the hummus pop.

Plain hummus can be boring and one-dimensional at times. Adding a new element can help balance the flavors and made it something new. The pomegranate molasses added moisture and a sour sweet element that really enhances the savory hummus.

I was addicted. I was so glad to make it at home. I definitely didn't get enough when we were at the restaurant.

The goat cheese also popped with flavor. They placed carrot and cauliflower pickles on top of the goat cheese. A surprising combination. We figured we could make it taste even better with even better pickles and chopping them even smaller.

I love trying to figure out how to make things better. It's the perfectionist in me. Also, I just want to try to put a spin on things that will make my life a little easier. They made the chunks of pickles a bit big for me. I didn't like how it wasn't distributed well.

Ours was perfect, little pieces of pickled carrot (for the color, really) and pickled cauliflower all over the goat cheese. Also, I wanted a little more pomegranate molasses on top of the hummus crostini.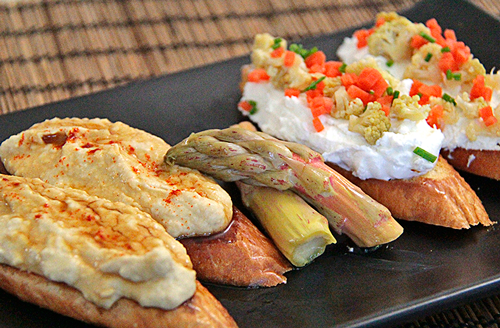 | | | |
| --- | --- | --- |
| Cafe Rouge Redux: Crostini — Hummus with Pomegranate Molasses and Goat Cheese with Pickled Vegetables | | |
Prep time: 20 mins
Total time: 20 mins
Ingredients
One 15-ounce can garbanzo beans
¼ cup fresh lemon juice, about 1 large lemon
¼ cup tahini
½ of a large garlic clove, minced
2 Tbsp olive oil, plus more for serving
½ to 1 tsp kosher salt, depending on taste
½ tsp ground cumin
2 to 3 Tbsp water
Dash of ground paprika for serving
3 slices French baguette, thinly sliced, toasted to make crostini
1 Tbsp pomegranate molasses
Goat Cheese with Pickled Vegetables Crostini
8 oz goat cheese
2 pieces of pickled carrots and cauliflower, brunoise (diced very fine)
Salt and pepper to taste
3 crostini, toasted
Instructions
In the bowl of a food processor, combine tahini and lemon juice. Process for 1 minute. Scrape sides and bottom of bowl then turn on and process for 30 seconds. This extra time helps "whip" or "cream" the tahini, making smooth and creamy hummus possible.
Add the olive oil, minced garlic, cumin and the salt to whipped tahini and lemon juice. Process for 30 seconds, scrape sides and bottom of bowl then process another 30 seconds.
Open can of chickpeas, drain liquid then rinse well with water. Add half of the chickpeas to the food processor then process for 1 minute. Scrape sides and bottom of bowl, add remaining chickpeas and process for 1 to 2 minutes or until thick and quite smooth.
Creating the Perfect Consistency
Most likely the hummus will be too thick or still have tiny bits of chickpea. To fix this, with the food processor turned on, slowly add 2 to 3 tablespoons of water until the consistency is perfect.
Scrape the hummus into a bowl then drizzle about 1 tablespoon of olive oil over the top and sprinkle with paprika.
Store homemade hummus in an airtight container and refrigerate up to one week.
Pile on a large spoonful of hummus over one crostini. Drizzle pomegranate molasses over top. Repeat with the remaining crostini.
Serve.
Enjoy!
Goat Cheese with Pickled Vegetable Crostini
Mix salt and pepper in the goat cheese.
Add a large amount of goat cheese to the crostini to completely cover.
Sprinkle pickles over goat cheese.
Serve.
Enjoy!
All in all, I am so glad to have tried this at the restaurant. I am even more glad to be able to make this at home. There's something about making it at home that taste better.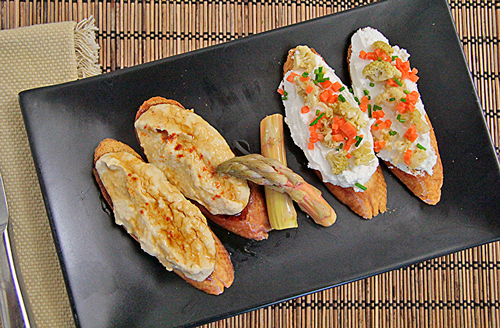 Maybe it's the fresh ingredients or the feeling that I know what's in it. What ever it is, I am glad I can do it.