C – I am so glad the tuna confit worked out.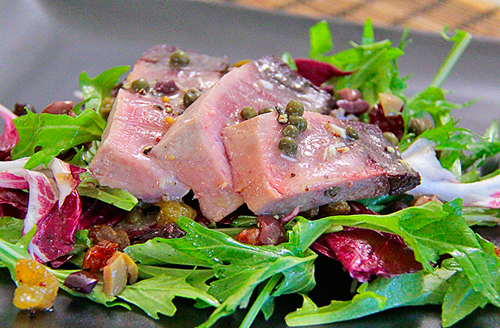 Now, on to making something with it. This salad was what started the idea to make tuna confit. Jim went to Cafe Rouge and loved it. When we went another time, I wish ordered this, instead of what I really ordered (that story later on in the week).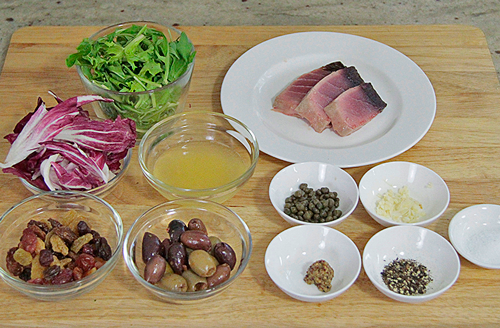 I wouldn't have been disappointed with this salad.

It's a very French salad, Jim says. It made sense. Capers, olives, lemon and raisins really made it unique. The flavors of salty, sweet and a bit tart combined really well. Of course, the best part was the tuna confit. Everything was delicious.
It's everything I like in a salad. A few tasty lettuce leaves. A lot of interesting components like raisins and olives. A dressing that isn't too heavy. Perfectly distributed throughout the salad.

Loved this salad. Be sure to get a bit of everything in one bite. It's heavenly.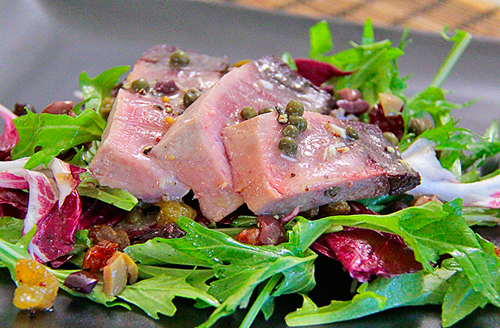 | | | |
| --- | --- | --- |
| Cafe Rouge Redux: Tuna Confit Salad | | |
Prep time: 10 mins
Total time: 10 mins
Ingredients
4 radicchio leaves, torn into small pieces
1 cup mizumi leaves
3 slices of tuna confit
¼ cup multi-colored raisins
¼ cup pitted olives, chopped
1 Tbsp capers
¼ tsp dijon mustard
Salt and pepper to taste
1 clove garlic, minced
¼ lemon, juiced
4 Tbsp grapeseed oil
Instructions
In a small mixing bowl, place lemon, mustard, garlic, capers, salt and pepper. Mix well.
Slowly drizzle the oil into the bowl while whisking. Whisk until emulsified. Set aside.
In another small bowl, add 1 tablespoon of dressing, olives and raisins. Toss well.
Add the mizumi and raddichio leaves with a few tablespoons of dressing and toss well.
Place the green parts on a plate.
Top with the olives and raisins.
Top with the tuna confit.
Drizzle more dressing over the tuna confit.
Serve.
Enjoy!
I am so glad Jim asked me to try making this salad.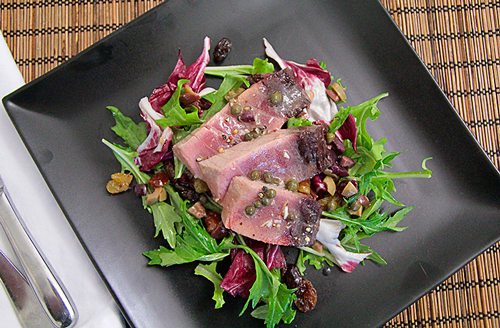 It was a great redux of a great idea.