J – This year we went non-traditional!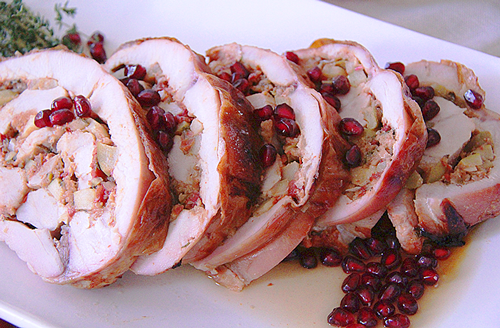 Whole roasted turkeys are way overrated. They take much too long to roast. And, no matter what most people do, the breast meat is usually overcooked. So, we broke down the bird and got three great turkey dishes for dinner, an amazing stock and leftovers you really want to eat!
The first dish is the one in the world's longest post title, above. While it takes a bit of preparation over three days, each step is pretty easy.
The results were truly amazing. I almost never like turkey breast. I loved this one! Given the length of the instructions, I'm going to stop talking now. Enjoy!
De-Boning The Turkey Breast
While this is not all that hard to do, you could also have your butcher do it for you. Remember to brine a day or so after you get home with the prepared breast. Save all the trimmings and bones for stock. Leave the leg quarters whole for use in the next two recipes.

When finished, you will end up with a single, long piece of butterflied turkey breast (both sides connected). This technique achieves super moist meat and a really elegant double spiral in each slice.
Brining
Brining is a must, both for flavor and moisture. The herbs and spices give it a nice Fall taste. The salt and brown sugar enhance richness and help retain moisture.

Herb Stuffing
The stuffing is where the magic of this technique lies. Super moist and flavorful. Rolling the stuffing in the breast infuses deliciousness throughout the meat.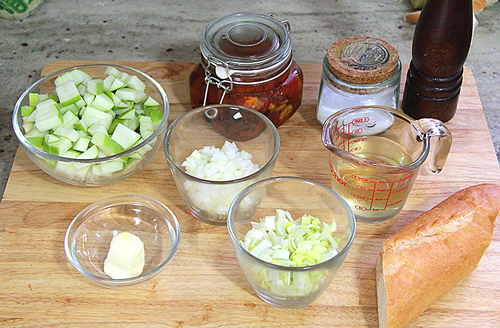 Stuff it.

Roll it. Tie it up!
Roast it to 150 degrees. Let it rest. It will continue cooking and rise to about 160 degrees.
Mushroom Veloute
Unlike traditional gravy, this "mushroom sauce" doesn't use pan drippings. It's still really rich. You can just call it gravy, if you want.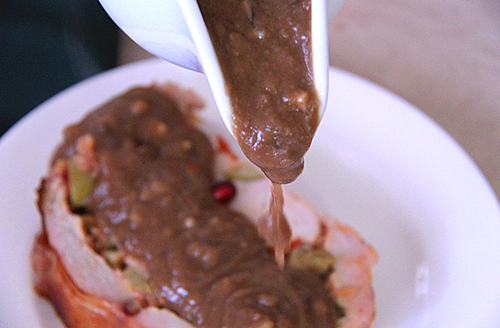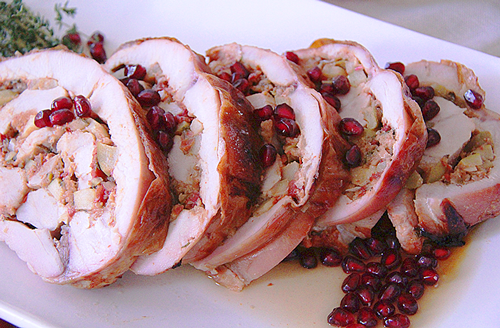 | | | |
| --- | --- | --- |
| Roasted Boneless Turkey Breasts, Herb-Stuffed and Double-Rolled with a Shiitake Mushroom Veloute | | |
Prep time: 3 hours
Cook time: 3 hours
Total time: 6 hours
Ingredients
1 Tbsp coriander seeds
1 Tbsp whole cloves
1 Tbsp fennel seeds
1 Tbsp star anise
1 Tbsp juniper berries
4 bay leaves
1 shallot, cut into four pieces
½ cup brown sugar
1 sprig sage
2 sprigs rosemary
1 cup salt
Turkey pieces
Stuffing for the Turkey Breast Roll
1 Tbsp grapeseed oil
½ onion small dice
1 small leek, well washed, white and light green parts chopped
1 Tbsp butter
1 cup sliced oven dried tomatoes (recipe below)
½ day old French (not sour dough) baguette, majority of the crust removed and cubed.
¾ cup white wine
2 green apples, cored and chopped
1 cup reconstituted turkey jus
1 Tbsp thyme, chopped
1 Tbsp sage, chopped
Roasted Boneless Breasts, Herb-Stuffed and Double-Rolled
Butterflied turkey breast, brined (see above)
Turkey stuffing (see above)
2 to 3 Shiitake mushrooms, whole
3 cups turkey stock
2 bay leaves
5 parsley stems
4 Tbsp butter
½ cup flour
3 sage leaves, chopped
5 Shiitake mushrooms, chopped
Salt and pepper to taste
Instructions
In a small saute pan, toast coriander, cloves, fennel, star anise and juniper berries.
In a large pot, place 3 quarts of water. Add shallots, bay leaves, sage, rosemary, salt and brown sugar into the pot. Bring to a simmer.
Add toasted spices and mix well.
Once salt and sugar are dissolved, turn off heat and let cool.
Add an additional quart of water into the pot to allow the water to cool faster.
Let the brine cool to room temperature.
Add turkey breast into a half hotel pan or a deep roasting pan. Pour over top to completely cover the top of the turkey.
Cover and let sit in refrigerator for 48 hours.
Remove from brine after 48 hours. Place on a wire rack, uncovered, in the refrigerator to drain overnight.
Stuffing for the Turkey Breast Roll
In a saute pan, add grapeseed oil, leeks and onions. Cook until soft.
Add wine.
Then add butter, let melt.
Add sage and thyme.
Add apples. Cook until soften.
Add some salt and pepper. Mix well.
Add oven roasted tomatoes. Mix well.
Add bread. Mix well.
Add turkey jus. Mix well.
Taste and season with salt and pepper if needed.
Place on baking sheet to let cool. It will be easier to work with when rolling.
Roasted Boneless Breasts, Herb-Stuffed and Double-Rolled
Preheat oven to 350 degrees.
Open the butterflied turkey skin side down.
Place ½ of the stuffing on one side of the breast. Repeat the remaining on the other side. Spread evenly.
Roll each side to the center.
Then tie up to make sure nothing falls out.
Place on a wire rack on a baking sheet.
Place in oven and cook for about 2 hours and 15 minutes or until internal temperature is 150 degrees.
Remove from oven and let cool for 15 to 30 minutes before cutting. The juices need to settle, which allows the turkey breast to stay moist.
Slice.
Serve with mushroom veloute.
Enjoy!
Place 2 to 3 whole Shiitake mushrooms, turkey stock, bay leaves and parsley stems in a small sauce pan and let simmer on low heat for about an hour.
After an hour or so, strain stock and return it to the pot on very low heat until ready to make gravy.
In a sauce pot melt butter.
Once butter is melted, sprinkle in flour while continually whisking.
Continue to whisk the butter and flour mixture until you reach a deep brown color. Do this slowly so you don't burn the mixture.
Once a deep dark brown, slowly add stock into butter/flour mixture.
We added about 2 cups of stock. It was the perfect consistency.
Add sage and chopped Shiitake mushrooms.
Taste and add salt and pepper as needed.
Serve with the turkey breast.
Enjoy!
Slice and Show Off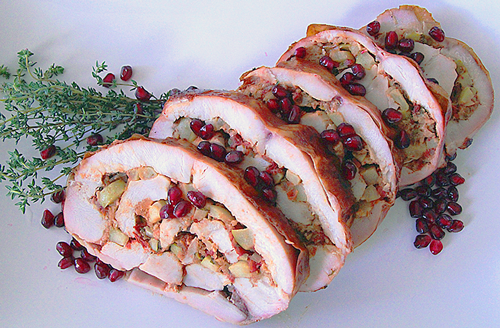 Enjoy!